NEWS
JFA Women's Football Day Talk Event held online
09 March 2023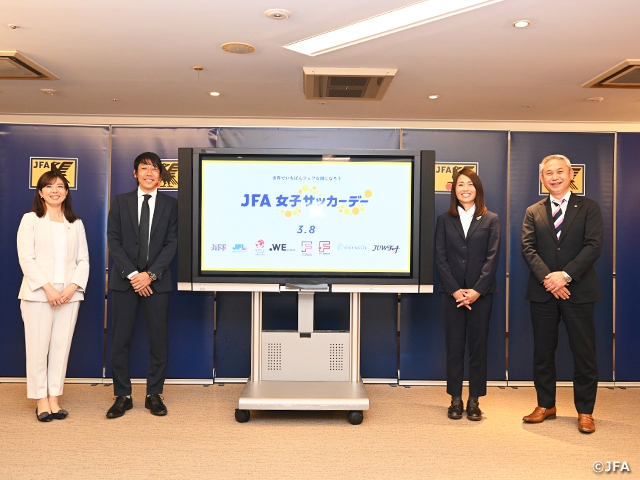 On Wednesday 8 March, the JFA Women's Football Day Online Talk Event was held in honour of International Women's Day. With the FIFA Women's World Cup Australia & New Zealand 2023™ just around the corner, a talk session was organised with the topic "What Japanese women's football can and should do to broaden the circle of smiles."
Speaking about the WE League, which is now in its second season, ANDO Kozue (Mitsubishi Heavy Industries Urawa Reds Ladies) said: "I am thankful that the new professional league has made me want to play professionally myself," as the veteran striker shared the changes the league has brought to the players' lives: "Before, I used to work in the morning and practice in the evening, but now I can train in the morning and spend the afternoon taking care of my body and practising individually, which has helped me develop at a faster rate." TAKATA Haruna, Chairperson of the WE League, spoke of the significance of the league's professionalisation: "I feel that the WE League is helping Japanese women's football to catch up with the rest of the world, which is rapidly evolving before our eyes."
Commenting on the Nadeshiko Japan (Japan Women's National Team) who will be competing in the FIFA Women's World Cup™, SASAKI Norio, Chairperson of the JFA Women's Committee, said: "The players have made great progress and their confidence is growing. We will continue to improve and strive to live up to everyone's expectations at the FIFA Women's World Cup™ starting in July and raise the stature of women's football in Japan even higher."
The main slogan of Nadeshiko Japan's support campaign – "With dedication and a smile towards the goal" - was introduced, along with key visuals showing the players with serious expressions and smiling faces, as Ando reflected on her experience: "When we won the FIFA Women's World Cup Germany 2011™, we were able to get through the nerve-wracking penalty shoot-out in the final with a smile on our faces, and I think that smile has carried over to the current team." Commenting on the correlation between Nadeshiko Japan's success and the growth of the WE League, Chairperson Takata commented: "The competition within the WE League to make the national team is getting more and more intense. It adds a new perspective to the league and by having more players of the WE League playing for the Nadeshiko Japan, people will feel closer to the league, so I hope we can work together to make it more exciting. Mr. NAKAMURA Kengo, who is serving the national teams as JFA Role Model Coach, also added: "The players of the SAMURAI BLUE (Japan National Team) who are currently playing for clubs overseas started out playing in the J.League, so I think the WE League has a lot of potential as well. I hope the players will show their abilities with the national team, and then return their experience back to their clubs, which should bring more excitement to the league."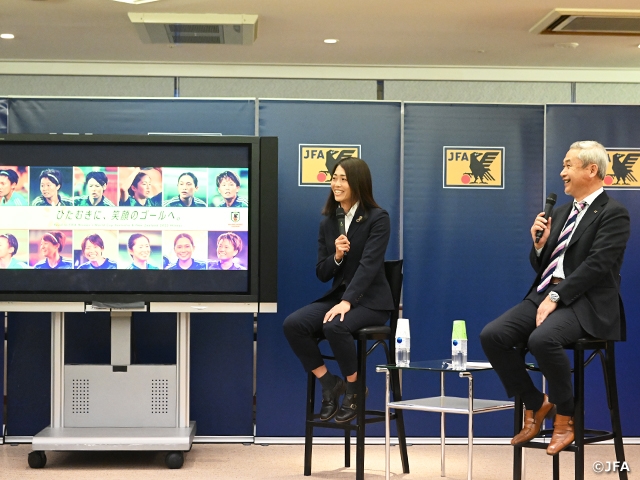 A lively discussion took place for about an hour, and during the Q&A session after the online event, the four speakers offered a variety of opinions on what needs to be done to close the gap with countries in Europe, issues related to the registration of girls in the U-12 age group, and second careers for WE League players.
Participants' Comments
ANDO Kozue (Mitsubishi Heavy Industries Urawa Reds Ladies)
I strongly believe that the Nadeshiko Japan will win the FIFA Women's World Cup™ once again. The players are training and competing with an eye on the world stage, so please support the WE League where the competition is hotly contested.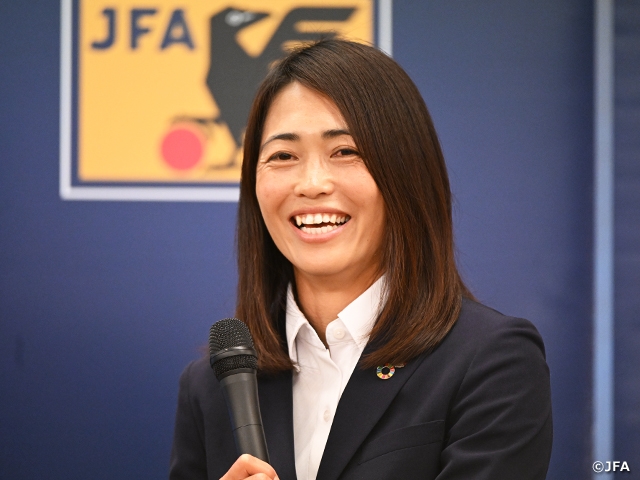 NAKAMURA Kengo (JFA Role Model Coach/Kawasaki Frontale Relations Organiser)
The J.League had its ups and downs, and I think that the Nadeshiko Japan can greatly benefit in the future by building up the WE League one step at a time, without expecting too much too soon. We hope that Nadeshiko Japan's success will boost the growth of the WE League.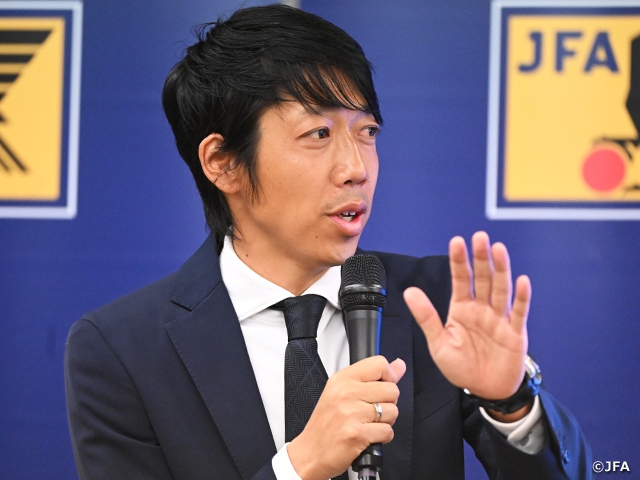 TAKATA Haruna (Chairperson of the WE League)
This will be the first FIFA Women's World Cup™ since the WE League was founded, so we hope that the players from the WE League will play an active role in the tournament and help to increase the awareness and popularity of women's football.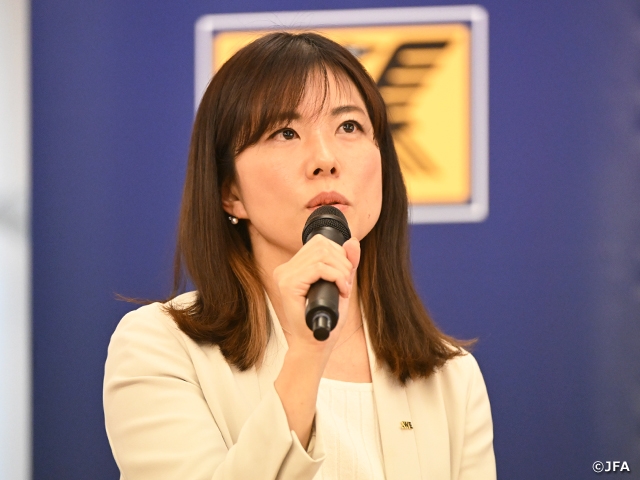 SASAKI Norio (Chairperson of the JFA Women's Committee)
Proving more platforms where girls can experience kicking a ball is definitely the future of Nadeshiko Japan. Considering the promotion of women's football to be of utmost importance, JFA will keep up its promotion of the game in the future.