NEWS
Workshop for the development of women's football held as part of the UEFA Assist Programme
29 March 2023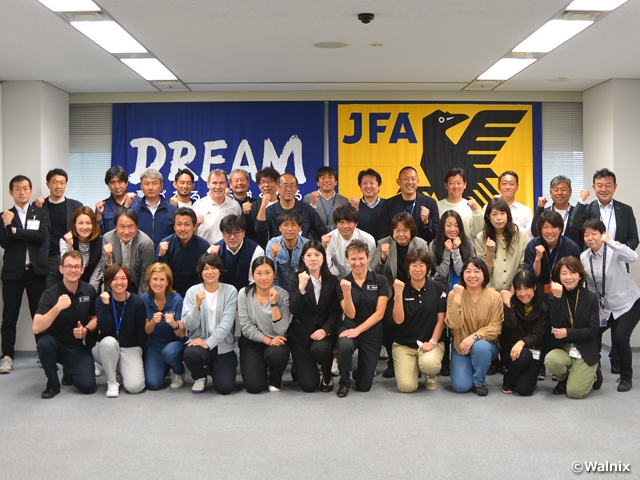 Japan Football Association (JFA) organised a workshop for the development of women's football on Thursday 23 and Friday 24 March at JFA House as part of the UEFA Assist Programme. Following the women's leadership course held on Monday 20 and Tuesday 21 March, the two-day workshop aimed to share the "best practices" in developing the environment and management of women's football and was attended by 39 participants, including executives and managers from JFA, prefectural football associations, WE League and WE League clubs, JFA national coaching staff and JFA coaches. The programme was lectured by Ms. Priscilla JANSSENS, Mr. Chris MILNES, Ms. Eva PASQUIER, and Mr. Jarmo MATIKAINEN from UEFA.
This event brought together members, regardless of their gender, who are leading Japanese football in their respective fields. To start the Programme, IMAI Junko, Vice-Chair of the JFA Women's Committee, said, "We have not had many opportunities to get so many people together like this before. We want to make this an opportunity for everyone to think about the future of women's football in Japan." In the session on "Governance and Gender Equality," there was a discussion on why gender balance is necessary in organisations and what they think about the role of women in football, with participants commenting that "Women are in the minority in football. We may be able to make an impact on Japanese society by showing women flourishing in such an environment," while some pointed out, "It is important that women and men are given the same rights equally." The lecturers also stated that the lack of women in managerial positions within UEFA has been raised as an issue and that "It is necessary to give women more opportunities in order to achieve a better balance in the organisation. Everyone must work together to ensure that women and men are given equal opportunities and rights, including salary and the opportunity to speak out."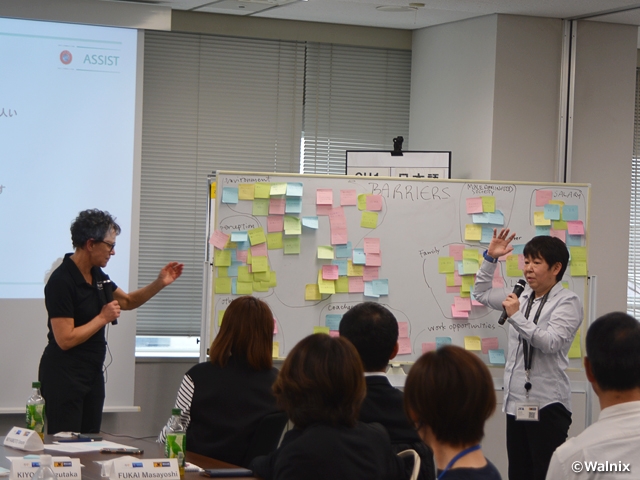 Gender equality within JFA was also reviewed. It shows that five (16.7%) out of the 30 members of the Executive Committee, four (5.1%) out of the 79 members of the Congress, one out of the 21 committee chairpersons, and 11 (17.5%) out of the 63 administrative managers are female (as of 2022). These are by no means sufficient numbers and the UEFA lecturers asked the participants to "Think about the obstacles that prevent girls and women from entering the world of sport and football. What do you think are the factors that prevent women from staying, settling, and continuing in the football world?" as the participants wrote down their opinions on post-its, which were then shared with the whole group. It was suggested that these gender balance issues may be resolved by appointing inspiring individuals who could serve as role models and reveal the potential of women. On the other hand, it was also said that "It is also important that the right person is appointed for the right job, not just because they are women, but because they have the right quality and aptitude for the job. Men and women can generate great power by supporting each other."
Examples of marketing, branding, and revenue generating web contents in women's sport were also presented. Citing the example of the prestigious Italian club Juventus, which redesigned its logo in January 2017 as part of its rebranding process, the lecturer explained that "by making the design simple, they made it easier to incorporate it into various products, such as merchandise and apparel. People who are not necessarily fans of the club might buy the merchandise simply because they like the design. The simple logo also meant that it doesn't cost much for production," pointing out that revenue can be generated through ingenuity and creativity.
Since 2022, the UEFA Women's Champions League has consistently surpassed previous records for viewership and attendance. UEFA has renewed its league logo in 2021 and also created an anthem, which was created to make the players feel that something new is on the horizon and to symbolise female empowerment in a bold way. It was mentioned that "the anthem for the Women's Champions League, which was created with considerable attention to detail, has lyrics in English, French, and German, just like the anthem of the men's league, and it is becoming a favourite theme tune for the players as well." Participants commented that the anthem was powerful and conveyed their passion for the games and the league. Other promotions, which have led to the growth of the league, its clubs, and players, were also presented at this time.
Other issues discussed during this session included the social purpose and role of football, and the impact of competition structure on player development, while technical data from the UEFA Women's EURO was also shared. The participants also discussed areas that should be prioritised in the development of women's football in Japan and conducted group work on four themes derived from the discussion: 1) brand development, 2) women's development in football, 3) club development, and 4) football in grassroots and schools. Each group set a goal based on the theme and developed a specific plan, which was then presented to the rest.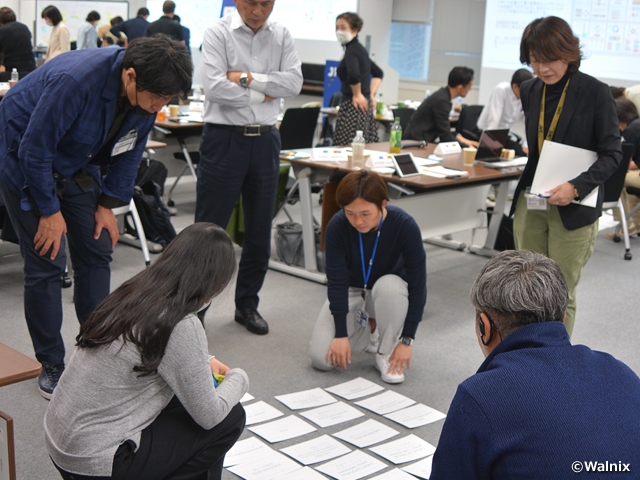 The UEFA lecturers told the participants, "We urge you to complete the plans you made in this workshop as soon as possible. If you share the plan with us, we can provide you with information and support. It is important that you take action now." The UEFA Assist Programme was attended by a variety of people, including JFA President TASHIMA Kohzo, who visited to offer encouragement. The programme served as a meaningful platform for the advancement of women's football in Japan.
Participants' Comments
Mr. MATSUSHIMA Koji (Director of Hokushinetsu FA, Director of Ishikawa FA/Chair of Women's committee)
We had the opportunity to learn about a wide range of cutting-edge strategies and initiatives related to women's football, as well as in-depth and sophisticated methodologies on how to continue, improve and achieve our goals. In light of the gender issues that have been raised in recent years, a group session was held at this workshop, in which the participants identified four important keywords: (1) brand development, (2) keeping women involved in football to develop their skills, (3) club development, (4) grassroots, and discussed the importance of the impact women's football has on our society and what needs to be done to sustain and develop this environment for the better. Our group focused on grassroots development during this group session, under the direction of Chairperson SASAKI Norio of the JFA Women's Committee. In response to the UEFA lecturers' advice that "it is not enough to have a strategy, but also to have a timetable, allocation of responsibilities, solid and feasible operational plan, a system that enables repeated implementation and review, and a plan that allows us to always check the current status," we were able to create a more detailed plan that included an objective, realistic interim targets, and time frames for achieving our goals for the enrichment and development of grassroots.
As someone who works in a position closest to the players, I found this workshop very helpful, as it served as a great opportunity to organise my thoughts. It also served as a great reminder of the value of creating a process and collaborating with others to achieve goals, as well as what we need to do to make football more accessible to the kids in our community. I had a wonderful time at this workshop and made many new acquaintances with whom I can share my experiences. I would definitely like to attend more workshops like this in the future.
Ms. INOUE Yukie (Director of Aichi FA/Chair of Women's committee)
The session on "Governance and Gender Equality" held on the first day got us thinking about the way an organisation ought to be, the purpose of the departments and committees, and gender balance. The UEFA lecturers brought home to us just how differently women are treated in European and Japanese football. The success of the UEFA Women's Champions League and Women's EURO 2022, the high value of each competition, and the hard work and social responsibility required to get there were also very fascinating to hear about. On the second day, we used "SMART" to set goals for the branding of women's football in Japan. We were able to discuss in depth what we can do before the Women's World Cup, which starts in July, and what we need to do afterwards.
Through the two-day workshop, we were able to touch on many dreams and hopes, such as:
・To make women's soccer a sport that children want to play and that their parents want them to play.
・Women's football will become a sport that many people want to get involved in and challenge themselves in.
・Women's football clubs become an indispensable local resource.
・Japan will become a place where men and women alike can enjoy playing football at any time.
I don't know what I can do, but I hope I can contribute to creating an environment that empowers women to take on challenges with confidence.