NEWS
Goalkeeper A Coach Training Course Module1 Held
02 March 2022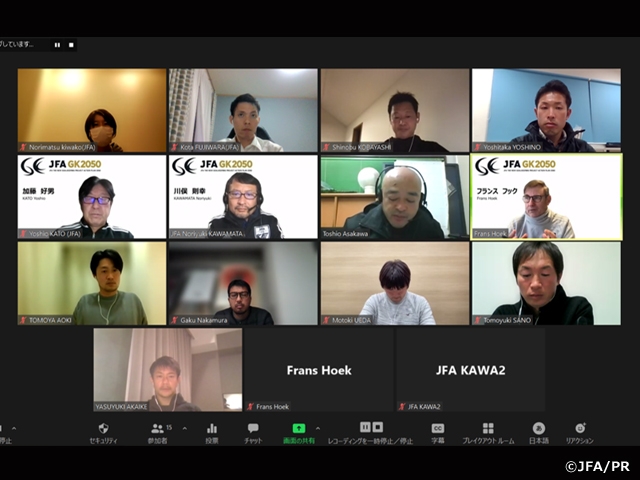 Japan Football Association (JFA) conducted a Module1 Central Meeting for the Goalkeeper A Coach Training Course online on Monday, February 21 and Tuesday, February 22. The course was originally scheduled to be conducted face-to-face, but in view of the recent situation of the Corona disaster, it was decided to conduct the course online in two sessions.
The aim of this course is to educate people who can coach goalkeepers in professional clubs, and at the same time, to develop people who can be active goalkeeper coaches in the world and become leaders of Japanese football coaches. The content of this course is equivalent to the UEFA GK-A level, and by actively using digital technology, we will increase communication between instructors and participants and improve the overall quality of this course.
The first day of this course began with a word of greeting from Mr. NISHIKAWA Seidai, Director of coach education Development. Next, Mr. Frans HOEK, a legend in the world of goalkeeping coaches and a lecturer of this course, Mr. KAWAMATA Noriyuki, a goalkeeping project leader, and Mr. KATO Yoshio, a goalkeeping project member, gave a general explanation of the course.
During the self-introductions, each participant presented a specific goal that they wanted to achieve in this course, and the instructors, students, and staff shared that they would work together to achieve the high goal. After that, we had a few group meetings to have conversations and proceed with the central meeting.
On the second day, participants reviewed the first day's central meeting at group meeting and Mr. Hoek gave an excellent presentation on a variety of topics. After that, there was a briefing on future activities and assignments, and Module1 of this course came to an end.
Instructor Comments
Mr. Frans HOEK
Many thanks to the JFA who makes this all possible. I am very excited and proud to start this 2nd (UEFA) JFA GK course. It's a huge step on the way of making Japanese coaches and goalkeeper coaches better and because of that making the goalkeepers better. Looking forward to work with my colleagues Mr. Kawa and Mr. Kato with this 2nd top group and hungry Japanese goalkeeper coaches. The 1st one was already very exciting and interesting. With these experiences we will continue on the next level to this 2nd one. Again a step closer to our JFA 2050 AIM. We will raise the bar of coaching! Many thanks to the JFA who makes this all possible.
KAWAMATA Noriyuki, GK Project Leader
The GK-A course was successfully started this year 2022 too. I want to say thank you so much to participants, tutor (Mr. Frans Hoek, Mr. Kato Yoshio), administrator, interpreter and other many people who support this course. We must start this course by online because of COVID-19. We know that online can give same as big influence for participants. I would like to make every effort to make this a fulfilling course for all of participants, as a place for you to study and improve your skills to become the best GK coaches in the world.
KATO Yoshio, GK Project Member
It is my great pleasure to be able to host the 2022 GK-A coaching course. We will be able to learn about the current situation in Europe by having Mr. Frans as our chief tutor as he did last year. Football is constantly evolving and so is the role and style of play of goalkeepers. Let's keep learning so that we Japanese coaches can keep up with the rest of the world.
In order to help more people understand the GK project, we have set up a Q&A section below. If you have any questions, please fill out the form below.
https://forms.gle/JUgs6n9NyErTpjTB7
Participants' Comments
Mr. UEDA Motoki (FC IMABARI)
I was very much looking forward to attending this course. I don't have many opportunities to have in-depth discussions about goalkeeping in my daily life, so I had a great time today. Once again, I felt the importance of organising my opinions and having discussions.
Mr. NAKAMURA Gaku (Gunma Football Association, FA Coach)
It was a pity that we could not meet face-to-face as it was held online, but the two days were very rich in content. I hope to learn a lot of things through this course.