NEWS
GK Level 1 Instructor Refresher Course held online
14 May 2021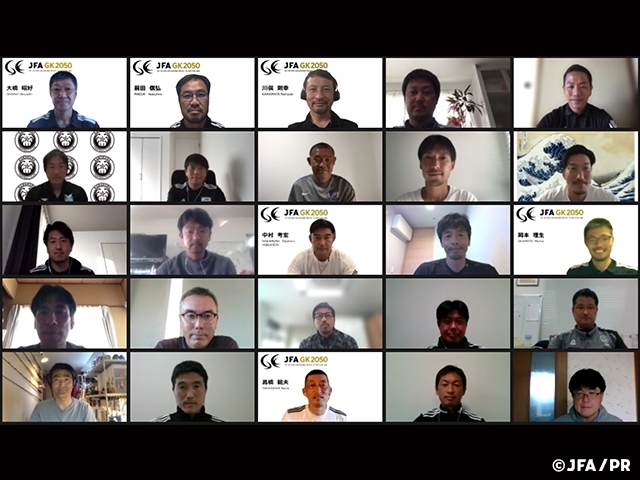 On Sunday 9 and Monday 10 May, JFA held the GK Level 1 Instructor Refresher Course online.
This refresher course was held for the instructors of the GK Level 1 Coaching Course and the members of the GK Project. In addition, instructors from each prefectural FA attended the course, as the GK Level 1 Coaching Course is scheduled to be held at each prefecture starting this year.
The participants went over the curriculum of the GK Level 1 Coaching Course on the first day. They then held group discussions to evaluate the past courses. The contents of the lectures were discussed on the second day, as the participants talked about the issues and solutions to hold the course at each prefectural FA.
At the refresher course, newly joined instructors were seen addressing their concerns, while members of the GK Project, KAWAMATA Noriyuki, OHASHI Akiyoshi, and MADEA Nobuhiro, shared their opinions based on their experience, creating a platform for active discussions.
In order to allow more people to understand the GK Project, we have set up a Q&A section below. If you have any questions, please fill out the form below. (Form written in Japanese)
https://forms.gle/JUgs6n9NyErTpjTB7
Participants' Comments
Mr. ABE Yosuke
It was a very meaningful course where I was able to exchange various information and it made me feel the need to improve my skills. Although the course was held online, the discussion was held with reference to the actual instruction footages, so I was able to visualise myself becoming an actual instructor. I am very thankful to be given this opportunity to participate in this course.
Mr. SAWANO Koji
As the representative of Yamaguchi prefecture, I am very grateful that the course was held online to prevent the spread of COVID-19. Thanks to the course materials, video footages, and the guidance of the JFA instructors, I was able to clarify all the points that I felt were vague. This course made me realise once again that the instructor's presence is a great factor for the success of the Level 1 Coaching Course, which is the first step to the GK licence. I will give my best efforts to prepare a positive course in Yamaguchi.