NEWS
A pre-course of the Goalkeeper Class A Coach Training Course held online
29 January 2021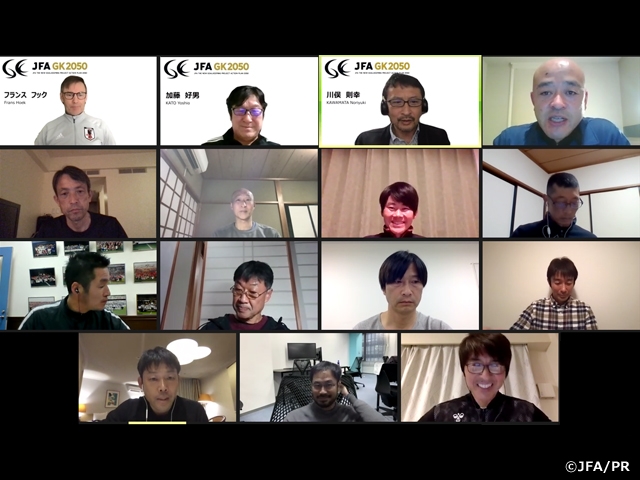 On Monday 24 January, JFA held a pre-course of the Goalkeeper Class A Coach Training Course online. The course was held in order to develop coaches that can instruct GKs at the professional level, as well as to develop GK coaches who can thrive at the world level and become leaders among the Japanese coaches. The content of the course will be equivalent to the UEFA Goalkeeping A Licence, and through active utilisation of digital technology, participants will be given more opportunities to communicate with instructors, improving the overall quality of the course.
The course started with the opening speech given by Coaches Training Director SUZUKI Jun, followed by lectures held by Mr. Frans HOEK, who is a legendary figure in the GK coaching scene, GK Project Leader Mr. KAWAMATA Noriyuki, and GK Project member Mr. KATO Yoshio.
Each participant then announced their goals they wanted to achieve through this course, putting the instructors, participants, and staffs on the same page to strive to achieve their goals.
Instructors' Comments
Mr. Frans HOEK
I am excited and feeling proud to start this Goalkeeper Class A Coach Training Course. This is a major step to improving Japanese coaches and GK coaches, who will take active roles to improve the overall level of Japanese GKs. I am looking forward to working with Mr. Kawamata, Mr. Kato, and GK coaches of Japan, who are so eager to learn. We will raise the level of coaching through this course, and we would like to thank JFA for making this course possible.
Mr. KAWAMATA Noriyuki
The Goalkeeper Class A Coach Training Course, which was supposed to start last year, was delayed by a year due to the spread of COVID-19. However, we were able to hold an online course ahead of the main course, and I would like to thank Mr. Hoek, the staffs, and participants for making this possible. In order to win the World Cup by 2050, we must have the number one GK development system, and coaches will be the key factor. We would like to work with the participants and give our utmost efforts to provide a platform where coaches can acquire experience and strive to become the best coach of the world.
Mr. KATO Yoshio
It was our long-cherished desire to hold the Goalkeeper Class A Coach Training Coursee, which is the highest license among GK coaches in Japan. Through this course, we will work with the participants to deepen our understanding regarding the international football scenes and the position of GK. Let's all try to acquire knowledge and experience from our chief instructor, Mr. Hoek, and strive to reach a new level. Let's also take this opportunity to face ourselves and work on solving our issues with an open mind.
Participants' Comments
Mr. HAMANO Yukiya (Urawa Red Diamonds)
Since it is a newly established licence, I would like to give my full cooperation to make it a good one. I would also want to make the most of this course for my own growth. I strongly believe that the growth of the coaches will benefit the players and the overall football community of Japan.
Ms. TODOROKI Natsuko (National Training Centre Coach/Women's Football)
Thank you very much for allowing me to participate in this Goalkeeper Class A Coach Training Course. Through this first online pre-course, I was able to brace myself ahead of the main course. I am looking forward to communicating with many people and acquiring new knowledges.