NEWS
S-Licence Coaching Course 2020 Module 3/Intensive Course (9) Participant's Report Vol. 12
30 November 2020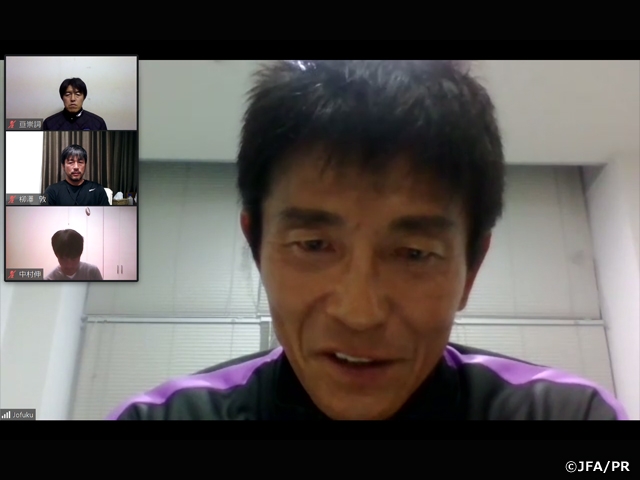 The S-Licence Coaching Course 2020 has entered the ninth week of its intensive course. For the first time, all lectures were held online, but with the support and understanding of the lecturers, the participants were able to take part in productive and high quality course.
Module3 Intensive Course⑨
Duration: Mon. 16 - Thu. 19 November
Mon. 16 November
Presentation
Team Building: FUKUTOMI Shinya (Tokyo Denki University)
Tue. 17 November
Laws of the Game: OGAWA Yoshimi (JFA Referees Committee)
Game Empathy: Ray Olivier
(JFA Senior Manager, Refereeing Strategy Management)
Professional coaching theory: JOFUKU Hiroshi (Sanfrecce Hiroshima)
Wed. 18 November
Terms/Regulations: HARIMA Kengo (JFA Legal Management Department)
Professional coaching theory: OKUNO Ryosuke (Thespakusatsu Gunma)
Thu. 19 November
Course Review/Discussion
Exam Guidance
Next week we will share the report of coach YANAGISAWA Atsushi (Kashima Antlers Youth).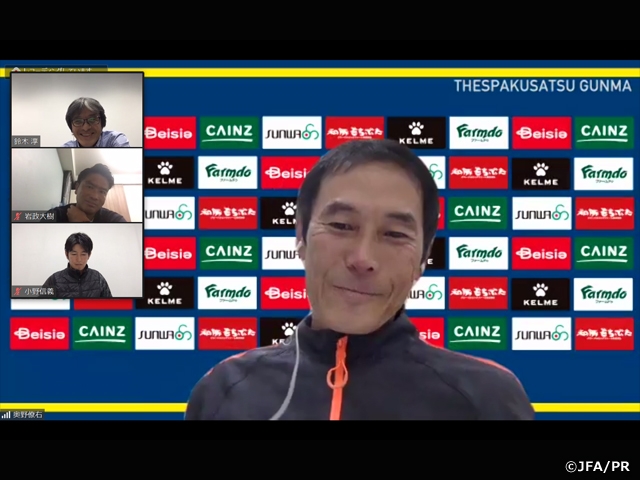 Comment
Coach YASUDA Yoshitaka (Oita Trinita)
The online intensive course, which started in September, has entered the final week. On the first day, the final two presenters held their "20 minute presentation," which we all took turns in the past three weeks. After each presentation, we evaluated and discussed about each other's presentations, which really allowed us to focus on our "word choices" and "expressions."
We then took part in a lecture on "Team Building" held by Mr. FUKUTOMI Shinya. We learned that team building is a process to train our minds, which will have major impact on the skills and tactics of the team. Although skills and tactics may have limits, a mindset can be effective against any opponent.
On the second day, Mr. OGAWA Yoshimi and Mr. Ray OLIVER held a lecture on "Laws of the Game/Referees." Their lecture really made us reconfirm the importance of respect. In order to showcase a spectacular match, everybody in involved in the match must be willing to cooperate and have respect towards each other. Sanfrecce Hiroshima's coach Mr. JOFUKU Hiroshi followed with his lecture on professional coaching theory. From his own experience, he taught us how each club has its own character and the difficulties of managing a club. He also mentioned that, in order to understand your own character as a coach, you must first become a coach. I was strongly moved when he told us how an actual coaching experience will make you realise that you are not perfect.
Mr. HARIMA Kengo from the JFA Legal Management Department lectured us on "Terms/Regulations Theory" on day three. Through case studies and quizzes, he taught us how domestic and international transfers, and compensation system for player development work in real life. Thespakusatsu Gunma's coach Mr. OKUNO Ryosuke followed with his lecture on professional coaching theory, where he shared us with his approach and philosophy to set the team's seasonal goal and how to accomplish those goals.
The final day featured a lecture on "What are strategies?" given by Mr. SUZUKI Jun. Through his lecture, he taught us the importance to focus on "how" we win matches, to set goals and make plans accordingly to achieve that goal, and to intentionally create advantageous situations to win matches. With this year's S-Licence Coaching Course being held online for the first time, each lecturer has given their full support to make this course work within the limited time frame and circumstance. I would like to take this time to express my sincere gratitude towards them, thankyou very much.