NEWS
S-Licence Coaching Course 2020 Module 3/Short-course (4) Participant's Report Vol. 13
01 December 2020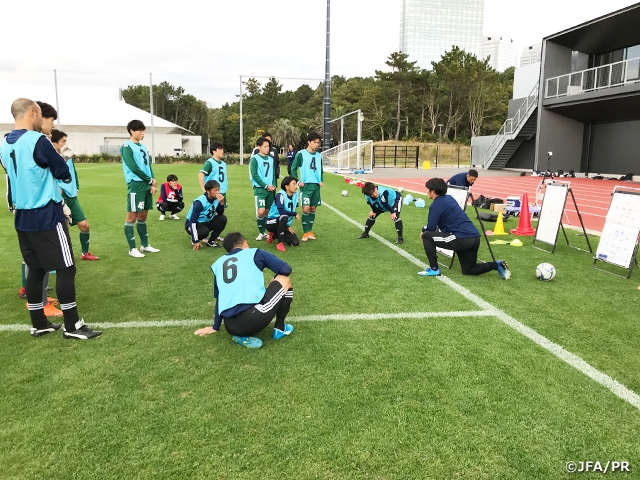 Since August, the short course of the S-Licence Coaching Course 2020 has taken place each month, making this the fourth short course. As per usual, SmartAmp tests were conducted to all participants, making sure that no one involved in the course is positive for COVID-19. With this being the final short course ahead of the final exam, participants worked until late night each day to prepare for the coaching sessions and held discussions to further understand the curriculums.
Module4 Short-course④
Duration: Mon. 23 - Fri. 27 November
| | |
| --- | --- |
| Mon. 23 November | Guidance, Coaching session |
| Tue. 24 November | Coaching session |
| Wed. 25 November | Coaching session |
| Thu. 26 November | Coaching session |
| Fri. 27 November | Guidance, Coaching session |
Next week we will share the report of coach RAKUYAMA Takashi (Shenzhen FC U15).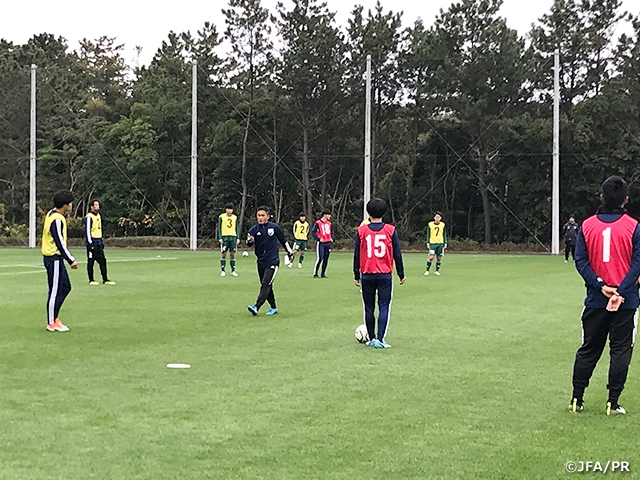 Comment
Coach YANAGISAWA Atsushi (Kashima Antlers Youth)
Our fourth and final short course took place at Prince Takamado Memorial JFA YUME Field this week. Despite this year's pandemic, the course was made possible with the support of so many people. With the number of confirmed cases of COVID-19 increasing each day, the course had to be held under strict management and protocols, but with the support and commitment of the JFA staffs, we were able to continue with the course, and I would like to thank everybody for all of their support.
Continuing from the previous three short courses, we held practical coaching sessions, simulating a specific opponent. This time we simulated to play against a team with a 4-4-2 formation and constructed our sessions based on our own themes. The coaching sessions are always held under a tense atmosphere and despite spending hours in preparation, there are always unpredictable situations where are flexibility and decision making skills are tested, which are essential qualities for a coach.
We saw many injuries (including myself) at this short course, and it must have been tough for the coaches. However, such situation can easily happen in real life, so in a sense, we were given the opportunity to conduct sessions under restricted circumstances, similar to a real life situation.
There was a delightful news prior to this short course, as coach KURAISHI Keiji led Tegevajaro Miyazaki to be promoted to the J3, becoming the first team from Miyazaki to play in the J.League. During the course, the instructors and participants threw a surprise party for Mr. Kuraishi, as everyone applauded when he mentioned, "I was able to implement what I have learned at this course to guide my team to get promoted."
This year, the S-Licence Coaching Course was held under a unique format. The participants did not spend as much time facing each other as usual, but we were still able to build a strong bond. I am saddened by the fact that this course will come to an end in a few more weeks, but I believe that this bond and relationship we have nurtured at this course will last forever. We are now left with the final exam. We will cherish the time we spent at this course and continue to strive to become a coach that can help the development of football in Japan.