NEWS
S-Licence Coaching Course 2020 Module 5/Intensive Course (10) Participant's Report Vol. 14
15 December 2020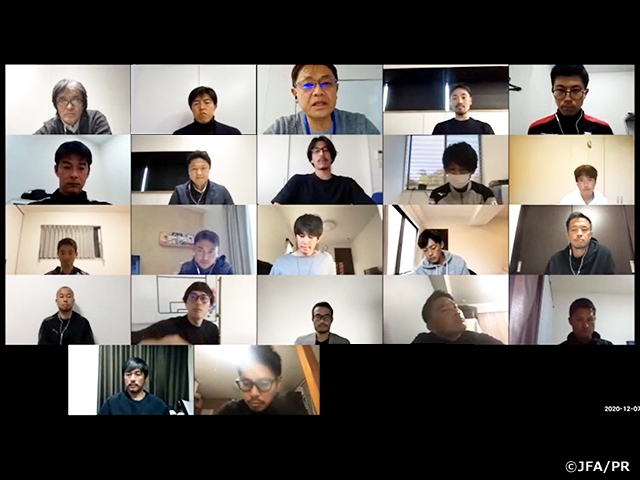 This year's S-Licence Coaching Course has entered the final phase and the participants took both of their written and oral exams online.
Module5 Intensive Course⑩
Duration: Mon. 7 - Thu. 10 December
Mon. 7 December
Physical Conditioning
YASUMATSU Mikinobu, KANNO Atsushi (Physical Fitness Project)
OTSUKA Shunsuke (Hokkaido Consadole Sapporo)
Tue. 8 December
Written exam, Oral exam
Wed. 9 December
Written exam, Oral exam
Thu. 10 December
Written exam, Oral exam
Next week we will share the report of coach WATARI Takashi (Okayama Yunogo Belle).
Comment
Coach RAKUYAMA Takashi (Shenzhen FC U15)
Despite being affected by the pandemic, the S-Licence Coaching Course 2020 has entered the final two weeks of the curriculum. This week we took part in the final lecture sessions and took our exams.
On the first day, an online course on physical conditioning was held. During the lecture, Mr. Yasumatsu introduced us the evaluation method and standard values for a conditioning process utilising GPS. Mr. Otsuka from Consadole Sapporo explained us how the evaluation table worked when applying with the conditioning data. Utilising data collected from J.Clubs during the past seasons, Mr. Kanno lectured us on the reciprocity between physical data and match results. In modern football, physical fitness is becoming more and more essential and teams are required to showcase a stable performance throughout the year. This lecture gave us a wonderful experience to learn the basics of data utilisation, which is an essential component to keep the team conditioned through the season.
From the second to fourth day, the written exams were held in the morning, while the oral exams were held in the afternoon. During the oral exam, we used video footages to identify the scenes that needs to be addressed and held discussions with the instructors. The written exams included the topics we learned throughout the course, such as football expertise, coaching theory, management theory, and sports science, and it allowed us to reorganise all the topics in our heads.
We were given a guidance session on the final day to go over next week's coaching session, which will be our final exam. We will condition ourselves for this exam, while we try to go over everything that we covered over the past four months. I will prepare myself in the best way possible for this final exam.