NEWS
Fourth round of the Emperor's Cup JFA 101st Japan Football Championship to take place on 18 August
16 August 2021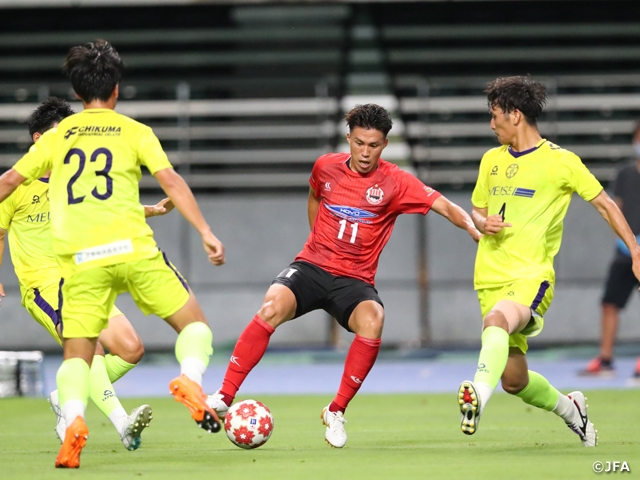 The round of 16 (fourth round) fixtures of the Emperor's Cup JFA 101st Japan Football Championship are about to take place on Wednesday 18 August nationwide.
The round of 16 is almost entirely constructed by J1 and J2 teams, except for the presence of Verspah Oita (Amateur seed), who is the only team remaining from leagues below J3. In the third round, V. Oita won over Ococias Kyoto AC (Kyoto), who was considered as the dark horse after defeating Sanfrecce Hiroshima (J1) in the second round. The amateur seed will now face Jubilo Iwata (J2), who is currently leading J2 and seeking for their return to J1.
V. Oita qualified for the Emperor's Cup as the amateur seed after winning the JFL last season. TONE Rui, who has been a member of V. Oita since joining the club after graduating from university, has already scored three goals in this tournament. The Oita side is carrying great momentum and enthusiasm to cause more upsets to make a deep run.
One of the fixtures that feature a J2 side challenging a J1 side, is the matchup between Kashima Antlers (J1) and V-Varen Nagasaki (J2). The two sides have clashed at the semi-finals of the 99th Emperor's Cup, where Kashima won 3-2.
Despite losing to Kashima, Nagasaki showcased tenacious efforts to put up a strong fight against a J1 club, as coach TEGURAMORI Makoto, who was the head coach of Nagasaki at the time, commented after the match, "We hope to use this bitter experience as motivation to construct a club that can proudly represent Japan." The current team is led by coach MATSUDA Hiroshi, who has a strong reputation for building organised defence, the team is clearly heading towards the right direction after he took over the helm mid-season. The Nagasaki side will try to earn a win that can bring more momentum to their league matches.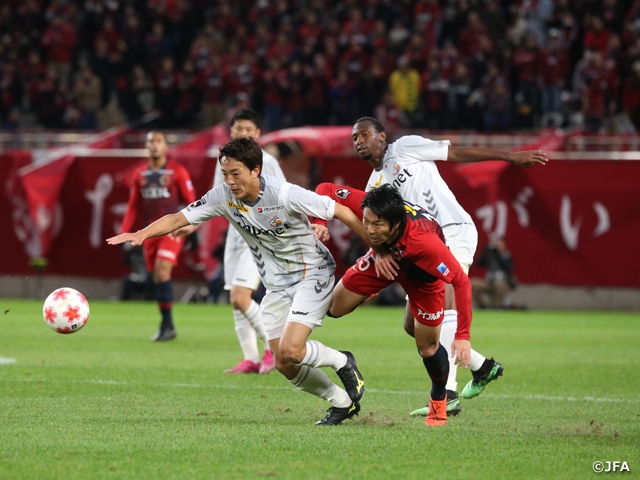 Kyoto Sanga FC (J2) and Thespakusatsu Gunma (J2) are also seeking to cause an upset, as the two J2 sides are scheduled to face Urawa Red Diamonds (J1) and Oita Trinita (J1) respectively. While Kyoto is competing for the J2 title against Iwata, Gunma is fighting to avoid relegation from J2. Led by coach CHO Kwi-jae, who has led Shonan Bellmare to win the J.League Cup title in 2018, Kyoto will seek to win their second Emperor's Cup title since winning their first and only title in 2002.
The latest league matches have been cancelled for Nagasaki, Kyoto, and Gunma, due to the heavy rain that struck wide regions of Japan. The teams will use this time to prepare for the cup matches while gaining extra motivation to showcase a strong performance and deliver energy to those who were affected by this natural disaster.
Also on this day, Gamba Osaka (J1), who was one of the clubs competing in the AFC Champions League (ACL), will play their third round fixture against Matsumoto Yamaga FC (J2). The winner of this fixture will advance to face Shonan Bellmare (J1) in the fourth round on Wednesday 22 September.
Emperor's Cup JFA 101st Japan Football Championship
【1st Round】Sat. 22, Sun. 23 May [Backup date: Mon. 24 May]
【2nd Round】Wed. 9, Wed. 16 June
【3rd Round】Wed. 7 July [Backup date: Wed. 14 July]
【Round of 16】Wed. 18 August [Backup date: Wed. 13 October]
【Quarterfinals】Wed. 27 October[Backup date: Wed. 17 November]