NEWS
Referees in charge of the title match holds training at the match venue - J.League YBC Levain Cup / CONMEBOL SUDAMERICANA Championship Final 2019 Kanagawa
07 August 2019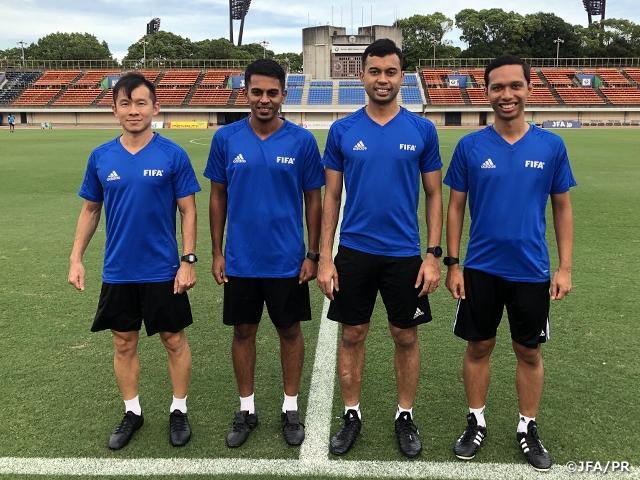 One day before the match between Shonan Bellmare and Athletico Paranaense at the J.League YBC Levain Cup / CONMEBOL SUDAMERICANA Championship Final 2019 Kanagawa, the referees in charge of the match held a practice session at the match venue, Shonan BMW Stadium Hiratsuka, on Tuesday 6 August.
Referees in charge
Referee: Muhammad Taqi Aljaafari Bin Jahari (Singapore)
Assistant referee 1: Abdul Hannan Bin Abdul Hasim (Singapore)
Assistant referee 2: Ong Chai Lee (Singapore)
Fourth official: Letchman s/o Gopala Krishnan (Singapore)
Referee Crew's Comment
It is an honour to be given the opportunity to referee the title match with this referee team from Singapore. This match will be played between two champions. We hope to see both sides play with the spirit of fair play and showcase a wonderful match.
J.League YBC Levain CUP/CONMEBOL SUDAMERICANA Championship Final 2019 Kanagawa
Tournament Date: Wed. 8 August 2019 19:00
Tournament Venue: Shonan BMW Stadium Hiratsuka, Kanagawa
Tournament Information