NEWS
Yokohama FM dominates the "Yokohama Derby" at the Prince Takamado Trophy JFA U-18 Football Premier League 2021
17 May 2021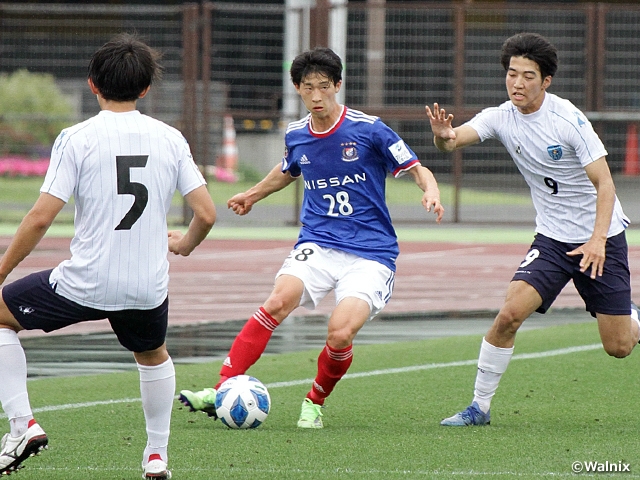 The sixth sec. of the Prince Takamado Trophy JFA U-18 Football Premier League 2021 EAST took place on Sunday 16 May.
Pick-up Match
Yokohama F.Marinos Youth 5-0 (4-0, 1-0) Yokohama FC Youth
At Nissan Field Kozukue Yokohama F.Marinos Youth (Kanagawa) squared off against Yokohama FC Youth (Kanagawa) at the "Yokohama Derby."
This season, Yokohama FM has focused on applying aggressive pressure from their frontline, just like their top team, as striker UCHINO Kotaro (#9) mentioned, "We start the match by applying pressure." Yokohama FC on the other hand started the match by connecting short passes to build their offence, a football style in which coach SHIGETA Yukinori describes, "A style we believe in."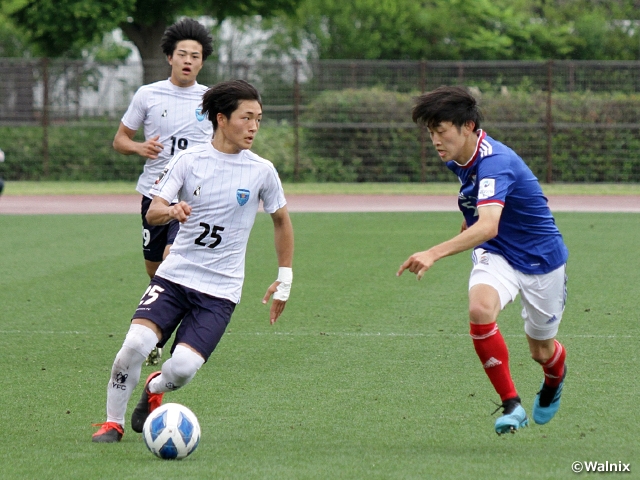 In a match where two vastly different football styles clashed, it was Yokohama FM who took the initiative, as Uchino later mentioned, "We were able to showcase what we have been working in our training sessions." The play came in the 18th minute, when the home side forced a turnover deep in the Yokohama FC territory, allowing YOKOMIZO Kota (#10) to strike a shot. Although this shot was saved by NISHIKATA Yutaro (#41), Uchino was there to convert the loose ball, giving Yokohama FM the lead.
Four minutes later, Yokohama FM forced another turnover in the opposing territory, which led to the goal of SHINOHARA Yudai (#8), who made his return to the starting line-up and mentioned after the match, "I was desperate to contribute for the team."
With momentum on their side, Yokomizo and Uchino scored a goal apiece in the 31st and 41st minute respectively, giving the home side a commanding lead at halftime.
Despite conceding four goals in the first half, Yokohama FC showcased a strong performance in the second half, as coach Shigeta later reflected, "Our players never gave up and fought hard until the end." MIYANO Yuya (#11) came close to scoring a goal, but his shot was denied by the crossbar. The visiting side fell short from scoring a goal, as coach Shigeta mentioned, "We lacked quality and made questionable decisions at the final third."
Yokohama FM's UTSUMI Aoto (#17) converted a PK in the 85th minute, giving the home side a 5-0 victory at the "Yokohama Derby," pushing up the team's rank to fifth place at the EAST.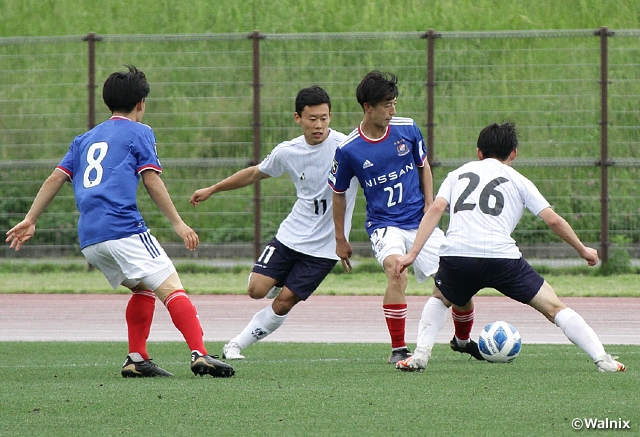 Coaches and Players' Comments
OKUMA Yuji, Coach (Yokohama F.Marinos Youth)
We were able to showcase what we have been working on in our training sessions and this win should give our players more confidence moving forward. Our top team has been playing high-paced and compact football, so we are striving to develop players how can adjust to such playing style. We have also focused on raising the skill level of our players.
FW #9 UCHINO Kotaro (Yokohama F.Marinos Youth)
I consider myself as the first defender, so I feel responsible to lead the team's pressing. We have been training harder than last year, which is allowing us to make more runs in the matches. The ball came rolling towards me, so the first goal was a gift, but I was anticipating for the ball when I scored the second goal.
SHIGETA Yukinori, Coach (Yokohama FC Youth)
We knew our opponent was going to apply aggressive pressure from the frontline, so we had to make appropriate adjustments, but we failed to connect our passes against their pressure. Despite conceding a massive lead, our players played hard until the end and started to showcase their ability to evade the pressure towards the end of the match.
FW #11 MIYANO Yuya (Yokohama FC Youth)
We were down by four goals at the time I entered the match, so I wanted to change the dynamics of the match. (Reflecting on his shot that struck the cross bar) I thought it went in, but it wasn't good enough. There were other opportunities I could have converted, so that is an aspect I must work on. I hope to score a goal next time.
Results of other matches
Funabashi Municipal High School 1-4 (0-3, 1-1) Omiya Ardija U18
Ryutsu Keizai University Kashiwa High School 0-3 (0-0, 0-3) Aomori Yamada High School
Shimizu S-Pulse Youth Postponed FC Tokyo U-18
Kashiwa Reysol U-18 2-2 (0-2, 2-0) Urawa Red Diamonds Youth
Led by the opening goal scored by TAKAHASHI Hikaru (#18) in the second minute, Omiya Ardija U18 (Saitama) scored four goals in their win over Funabashi Municipal High School (Chiba). In the match between two high school sides, Aomori Yamada High School (Aomori) scored three goals in the second half to win over Ryutsu Keizai University Kashiwa High School (Chiba), as the Aomori side extended their winning streak to six. Kashiwa Reysol U-18 (Chiba) welcomed Urawa Red Diamonds Youth (Saitama) to their home, where they came from behind to tie the match 2-2. The fixture between Shimizu S-Pulse Youth (Shizuoka) and FC Tokyo U-18 (Tokyo) was postponed following the state of emergency declared in six prefectures.
Prince Takamado Trophy JFA U-18 Football Premier League 2021
League Duration: Sat. 3 April - Sun. 5 December 2021