NEWS
Kashiwa win their second match of the season after a hard-fought battle with FC Tokyo - Prince Takamado Trophy JFA U-18 Football Premier League 2022
23 May 2022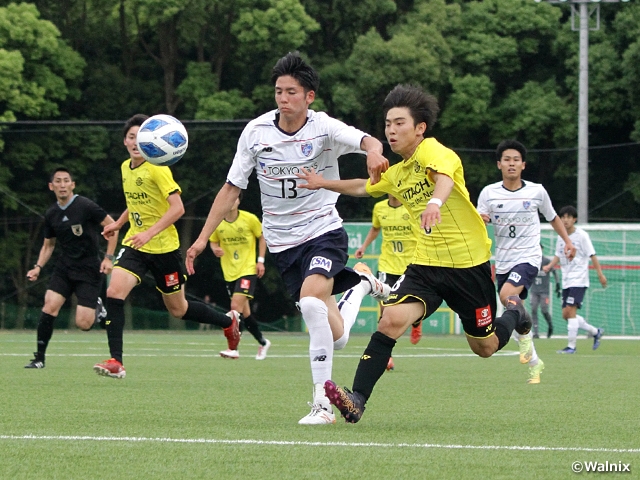 The eighth sec. of the Prince Takamado Trophy JFA U-18 Football Premier League 2022 EAST took place on Saturday 21 and Sunday 22 May. Kashiwa Reysol U-18 (Chiba) welcomed FC Tokyo U-18 (Tokyo) to their home filed, Hitachi Kashiwa Multipurpose Ground, where the two sides showcased an intense battle.
Featured Match
Kashiwa Reysol U-18 3-2 (1-1, 2-1) FC Tokyo U-18
"As the team closest to the club's top team, it is only natural that we try to follow their footsteps," said coach OKUHARA Takashi, who took charge of FC Tokyo U-18 starting this season. The newly appointed coach did not shy away from incorporating new tactics and ways of thinking, as his side took advantage of having three attackers upfront to apply aggressive pressure against the Kashiwa side who relied heavily on their build-ups from the defence line.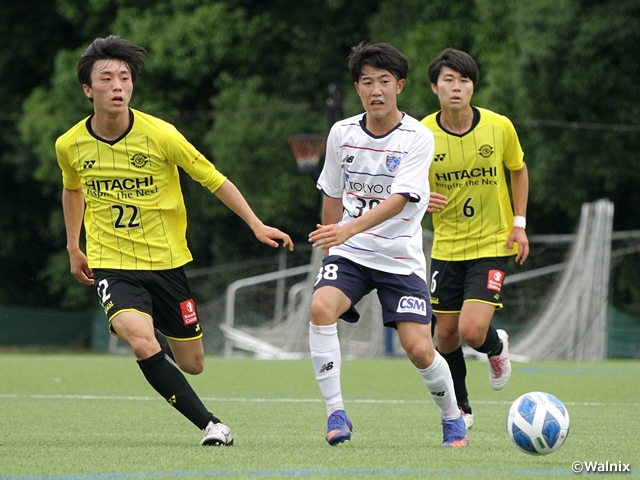 The opening goal scored in the third minute really emphasised the effectiveness of the aggressive approach taken by FC Tokyo, as KUMATA Naoki (#9) intercepted the pass from Kashiwa's goalkeeper to slot the ball into the open net.
Despite conceding the opener from an unfortunate play, the Kashiwa side maintained their composure to execute their game plan, especially coming off a 1-5 loss to Kawasaki Frontale U-18 in their previous match, as OTSUKI Go (#4) mentioned, "There was no time to dwell on it." Kashiwa's goalkeeper Oliver Tiga HERPER (#21), who made the critical error that led to the first goal, also continued to play a key role in the team's build-ups from the defence line.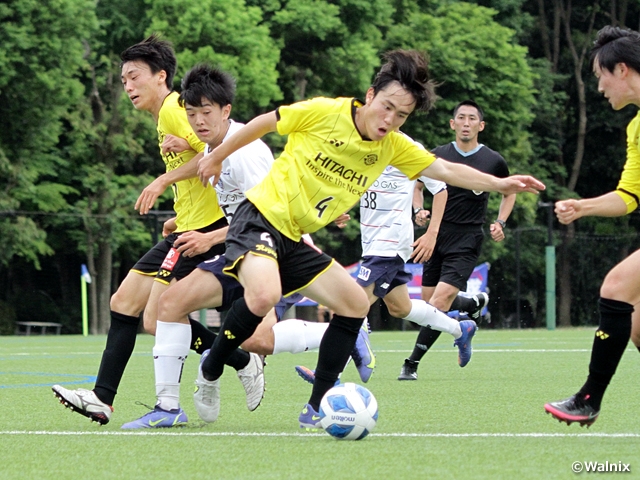 Their unwavering approach came to fruition in the 21st minute, when Herper initiated the build-up from the goalkeeper position. After breaking through the left flank, NISHIMURA Toru (#5) delivered a cross towards the far post, which was headed back by KONNO Nobuhiro (#18) to set up the goal of OHASHI Toi (#6), who made a diving effort to score the equaliser.
"The atmosphere back at the locker room after the first half was the worst I've seen all season. We couldn't mentally recover at half-time," said coach Okuhara, as Tokyo FC entered the second half as the coach described, "too passively."
While the Tokyo side struggled to regain their rhythm, Kashiwa took the lead in the 47th minute, when NAKAMURA Takumu (#8) converted the deflection caused by the shot taken by OKI Kaisei (#28). With momentum on their side, Nakamura assisted the goal of Mohamado Faruzan SANA (#10) in the 56th minute to make it 3-1.
The back-to-back goals scored by Kashiwa revitalised the Tokyo offence, which led to the penalty kick converted by Kumata in the 76th minute to make it 3-2. However, led by the tenacious efforts displayed by Otsuki, Nishimura, and Herper, the home side managed to hold onto their lead, as coach SAKAI Naoki later described, "They showcased their strong determination to defend their lead."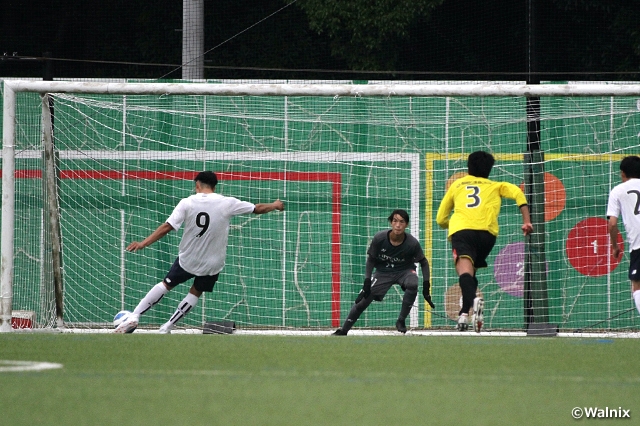 Coaches and Players' Comments
SAKAI Naoki, Coach (Kashiwa Reysol U-18)
The opening goal we conceded was within our expectations. The player who made the mistake showcased his mental toughness through his plays that followed that goal. Each and every play showcased their strong determination to win the match. It is never an easy match when facing a strong team like FC Tokyo.
GK #21 Oliver Tiga HERPER (Kashiwa Reysol U-18)
My mistake cost us the opening goal and caused my team-mates a lot of trouble. But I knew we had to win, so I was determined to save the team at some point. I still have a lot of work to do in terms of my role in the build-ups, but I was willing to take on the challenge. I was relieved when we scored the equaliser. (Reflecting on the late save he made) It is my forte and I was able to showcase what I have been working on.
OKUHARA Takashi, Coach (FC Tokyo U-18)
Kashiwa's coach Sakai and I attended the Class S Coach Training Course on the same year, and we have played against each other since we were in charge of the first-year junior high school players, so I was expecting him to come well prepared today. Our performance in the first half was not that bad, but we were mentally on the receiving end. The players showed great enthusiasm at the end but laced the quality to win the match.
FW #9 KUMATA Naoki (FC Tokyo U-18)
We may have let our guards down because of the way we scored the first goal. We started to play poorly and lacked intensity in our counterattacks. We managed to possess the ball from our build-ups but couldn't find ways to finish our plays with a shot. I personally felt like I needed to be initiating more attacks from the midfield.
Results of other matches
Yokohama FC Youth 1-1 (0-0, 1-1) Maebashi Ikuei High School
Kiryu Daiichi High School 2-1 (1-1, 1-0) Aomori Yamada High School
Ryutsu Keizai University Kashiwa High School 0-0 (0-0, 0-0) JFA Academy Fukushima U-18
Kawasaki Frontale U-18 3-1 (3-0, 0-1) Funabashi Municipal High School
Yokohama F.Marinos Youth 3-2 (2-0, 1-2) Omiya Ardija U18
Yokohama FC Youth (Kanagawa) and Maebashi Ikuei High School (Gunma) each scored a goal in the second half to share a point. Kiryu Daiichi High School (Gunma) scored the decisive goal in additional time of the second half to win over Aomori Yamada High School (Aomori). The match between Ryutsu Keizai University Kashiwa High School (Chiba) and JFA Academy Fukushima U-18 (Shizuoka) ended in a scoreless draw. Led by the brace of OGAWA Jo (#17), Kawasaki Frontale U-18 (Kanagawa) took a 3-0 lead in the first half to win over Funabashi Municipal High School (Chiba). Yokohama F.Marinos Youth (Kanagawa) managed to hold onto their first half lead to win over Omiya Ardija U18 (Saitama).
%F0%9F%8F%86#高円宮U18 プレミアリーグ 2022%F0%9F%8F%86
%F0%9F%94%B4EAST 第8節(5/22)%F0%9F%94%B4

%E2%9A%BD試合結果%E2%9A%BD#桐生第一 2-1 #青森山田#流経大柏 0-0 #AC福島#川崎F 3-1 #市立船橋#横浜FM 3-2 #大宮

結果詳細はこちら%F0%9F%94%97https://t.co/Y65xFaJ4cM#高校サッカー pic.twitter.com/gJaZFif8XJ

— 高円宮杯 JFA U-18サッカープレミアリーグ (@jfa_u18) May 22, 2022
%F0%9F%8F%86#高円宮U18 プレミアリーグ 2022%F0%9F%8F%86
%F0%9F%94%B4EAST%F0%9F%94%B4

%E2%9A%BD暫定順位表%E2%9A%BD
1%E2%83%A3 #川崎F
2%E2%83%A3 #横浜FM
3%E2%83%A3 #FC東京
4%E2%83%A3 #前橋育英
5%E2%83%A3 #横浜FC
6%E2%83%A3 #大宮
7%E2%83%A3 #青森山田
8%E2%83%A3 #柏
9%E2%83%A3 #AC福島
1%E2%83%A30%E2%83%A3 #流経大柏
1%E2%83%A31%E2%83%A3 #桐生第一
1%E2%83%A32%E2%83%A3 #市立船橋

詳細はこちら%F0%9F%94%97https://t.co/xyY4xTh7XQ#高校サッカー pic.twitter.com/mfVXnmOH7F

— 高円宮杯 JFA U-18サッカープレミアリーグ (@jfa_u18) May 22, 2022
Prince Takamado Trophy JFA U-18 Football Premier League 2022
League Duration: Sat. 2 April - Sun. 4 December 2022