NEWS
JFA Futsal Technical Director KONISHI Teppei reflects on the FIFA Futsal World Cup Lithuania 2021™
18 October 2021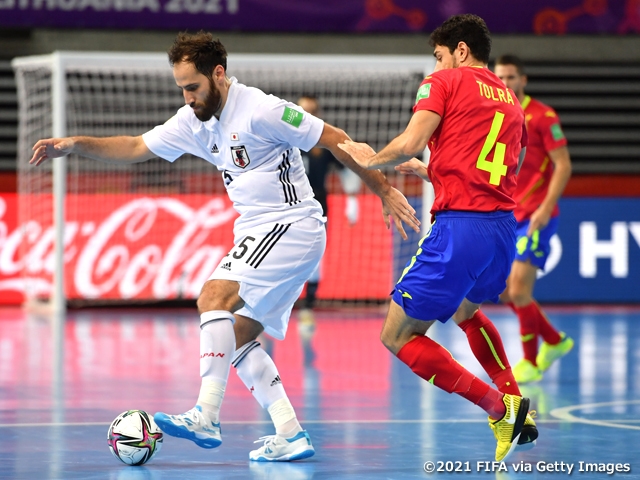 The FIFA Futsal World Cup Lithuania 2021™, which took place from Sunday 12 September to Sunday 3 October, ended with Portugal claiming their first title. The Japan Futsal National Team participated for the first time since 2012 and reached the round of 16.
Japan had planned to hold an extensive domestic training camp and play an international friendly match in mid-August before entering Lithuania. However, due to the spread of Covid-19, the team was forced to make changes to this plan, as they entered Europe early to play two matches in Portugal, three matches in Spain, and one match after arriving in Lithuania to gain match experience ahead of the tournament. JFA Futsal Technical Director KONISHI Teppei reflected on this preparation period, "We had to make many adjustments, so it was mentally very hard, but the players did well to focus on what they can do, and we were able to solidify the team's foundation by overcoming these difficult situations."
Japan got off to a good start with an 8-4 victory over Angola in their first group stage match. Despite suffering consecutive losses, 2-4 to Spain and 1-2 to Paraguay, the team finished third in their group and managed to advance through to the knockout stage. They lost to Brazil 2-4 at the round of 16, falling short from reaching the quarterfinals. While Director Konishi praised the Japan Futsal National Team, "We were able to take the lead against Spain by executing what we had been working on. Compared to the group stage match against Brazil in the 2012 tournament, we were able to take control of the game and create opportunities, which is a huge improvement." However, the JFA Director also pointed out, "There were still some areas where we lacked quality. We need to have the mentality to be able to calmly assess the situation and play with composure even under extreme conditions."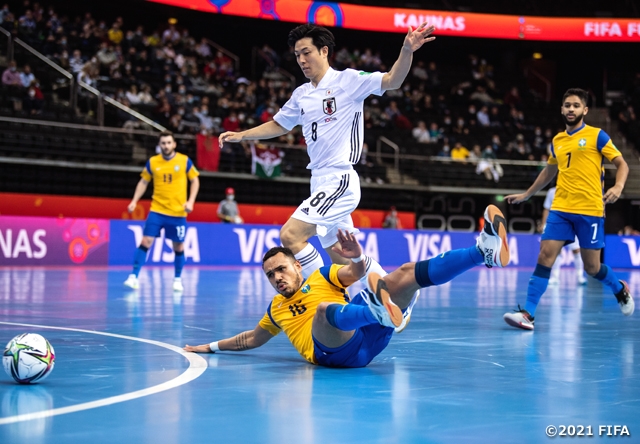 After Japan failed to qualify for the FIFA Futsal World Cup Colombia 2016™, this was their first World Cup appearance since the FIFA Futsal World Cup Thailand 2012™. Director Konishi shared his impressions of Japan's achievements and challenges from this tournament.
"If we understood the principles and played according to the team guidelines based on those principles, we could dominate our opponents, and even when the team is out of rhythm, we could correct it by sharing a common vision, so I strongly felt the merit of playing with guidelines throughout the tournament. However, one of the issues that came up during a post-tournament conversation with Hoshi Shota, who has participated in two World Cups, was that we should not be satisfied with just playing according to the guidelines if we want to reach the quarterfinals and beyond. I felt that we must continue to work on the principles of football from the youth ages, such as attacking straight towards the opponent's goal, pulling back to defend our own goal, which needs to be done by calculating backwards from both a goal scoring and goal defending perspective."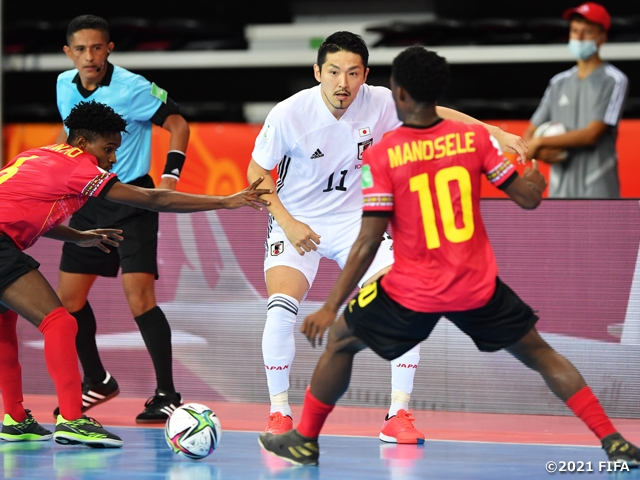 Portugal, Argentina, Brazil, and Kazakhstan advanced to the semi-finals, where Brazil and Kazakhstan used tactics with their goalkeepers actively getting involved in their attacks. In Futsal, a field player may wear the goalkeeper's jersey to set up a power-play, but a technically skilled goalkeeper can create a more natural 5-on-4 numerical advantage, which is a style Director Konishi described as, "a common style of play in recent years, and will probably become a trend in the future." He also added, "Each country will eventually come up with different models according to the characteristics of its players."
In order to establish a unique playing style that matches the characteristics possessed by the players, it is necessary to develop players with remarkable characteristics. "Instead of waiting for such players to emerge, we must be able to develop them," said Director Konishi.
"There are ideal characteristics for each position; a goalkeeper with good footwork, an ala who can threaten the opposition one-on-one on the flanks, a pivo who can control and make turns with the ball, and a fixo who can also score goals. In order to establish a distinctive playing style, I believe that we need to intentionally train players to fit these ideal images."
Portugal, who won the title, has been coached by coach Jorge BRAZ since 2010. His involvement with the national team spans more than a decade if you include his time as the assistant coach. In addition, coach Braz has been involved in the national league, coaching, and player development as a director, and has spent many years working to strengthen futsal in Portugal. Director Konishi visited Portugal in 2020, where he was attended by coach Braz and others and found the environment of Portuguese futsal to be quite advanced.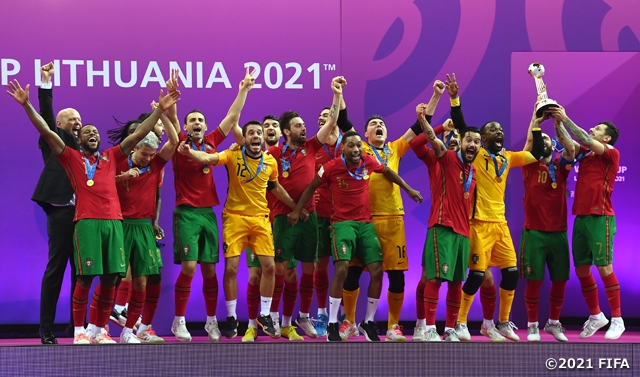 "For example, in Division 1 of the Portuguese league, each club must have a director, and assign appropriate personals to each position designated by the association, such as manager, coach, GK coach, physical coach, and trainer, in order to receive proper support from the association. Teams are also required to have an academy director, which has become a norm in the European football world."
"All of their hard work has finally paid," said Director Konishi, and shared his vision for the future of Japanese futsal, "It doesn't necessarily mean that Japan has to follow their footsteps, but we should definitely refer to them as a successful model. We need to keep a wide perspective of the futsal world, create a roadmap of what is needed in each field, and create a cycle where good players can be produced."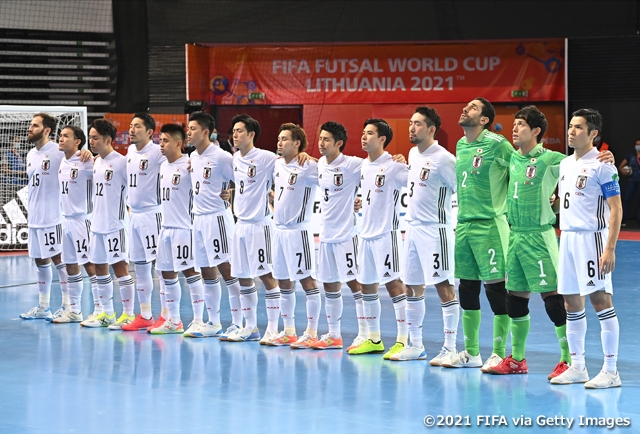 FIFA Futsal World Cup Lithuania 2021™
Tournament Dates: Sun. 12 September - Sun. 3 October 2021