NEWS
【Match Report】U-21 Japan National Team lose to host nation Uzbekistan and move on to the third-place match - AFC U23 Asian Cup Uzbekistan 2022™
16 June 2022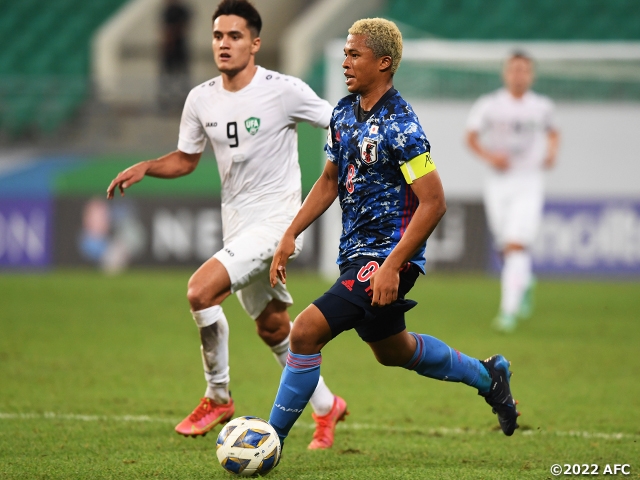 On Wednesday 15 June, the semi-finals of the AFC U23 Asian Cup Uzbekistan 2022™ took place at Milliy stadioni, where the U-21 Japan National Team faced the U-21 Uzbekistan National Team.
Entering this crucial match against the host nation, Japan made one change from their starting line-up against Korea Republic in the quarterfinals. SUZUKI Zion (Urawa Red Diamonds) was given the start in goal, with UCHINO Takashi (Fortuna Dusseldorf), BABA Seiya (Tokyo Verdy), CHASE Anrie (VfB Stuttgart), and KATO Hijiri (V-Varen Nagasaki) forming the four-man defence line. MATSUOKA Daiki (Shimizu S-Pulse) and FUJITA Joel Chima (Yokohama F. Marinos) started as the inside-halves, with FUJIO Shota (Tokushima Vortis) and SAITO Koki (Lommel SK) in the flanks. SUZUKI Yuito (Shimizu S-Pulse) was named as the attacking midfielder with HOSOYA Mao (Kashiwa Reysol) playing as the lone striker.
With their sights set on the Games of the XXXIII Olympiad (Paris 2024) in two years' time, the host country Uzbekistan, like Japan, entered this tournament with their U-21 squad, which is two years younger than the age limit. Head Coach OIWA Go informed his players of this fact and described the match as a crucial match against an opponent who they would be competing against to qualify for the Olympics.
However, the Japanese side struggled to find their rhythm in the early going, as coach Oiwa later reflected, "With the team playing through a series of matches, we were not fully prepared heading into this match. It also felt that we played too passively in the first half."
As several of the players reflected on the fact that their bodies "didn't move" as they played successive matches under extreme heat, there was certainly a difference in physical condition between Uzbekistan, who had three days to rest, and Japan, who had two days, but Suzuki Yuito looked back on the match by saying: "If we couldn't move as usual, we had to do more to play according to our physical condition."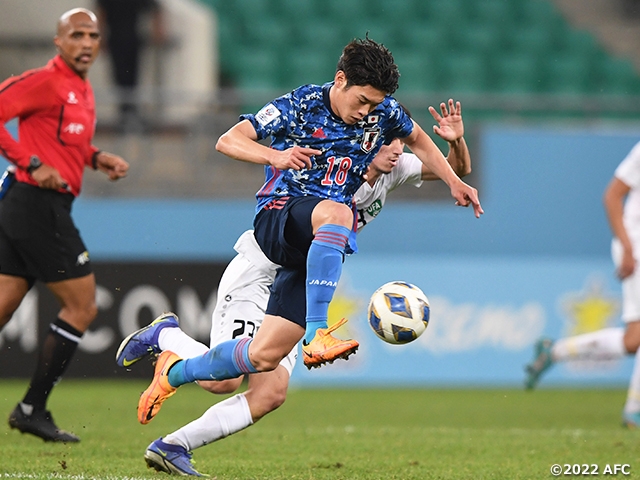 While Japan continued to struggle to pick up their pace, the decisive moment arrived in the 60th minute, when Uzbekistan won the ball at the halfway line and triggered a short counter. The ball was delivered to JALOLIDDINOV, who struck a spectacular shot from distance that captured the upper corner of the Japanese goal, giving the home side the lead.
In efforts to rally back, Japan used their substitutes to add layers to their offence but couldn't find ways to create chances in the final third. Conversely, Japan conceded another goal in the 89th minute to lose the match 0-2 against the host nation.
Following the match, coach Oiwa commented, "We came here to win the tournament, so we are absolutely gutted now, but we have to take this result in our stride." With the team moving on to the third-place match, the coach continued by saying, "We will use this disappointment as fuel for our next match in the third-place play-off."
Japan will now face Australia in the third-place match on Saturday 18 June.
Coach and Players' Comments
OIWA Go, Head Coach
We have to take the result in our stride. It's a very disappointing defeat, but we're looking forward to the next match for third place. We did our best to prepare our conditions, but we had difficulties finding our rhythm in the first half, which affected us in the second half as well. (Reflecting on the opening goal) The goal came after we lost possession of the ball whilst making our transition to attack, and I feel that this is something that we need to address and rectify.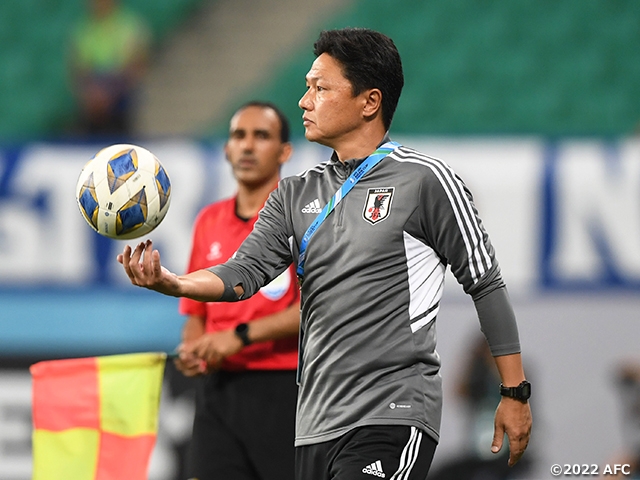 GK #12 SUZUKI Zion (Urawa Red Diamonds)
We made too many mistakes in this match. I think if we had kept it a one goal game we would have had a chance at the end, so we had to be a bit more careful in those stretches of the game when we conceded the second goal. In terms of the build-up plays, I tried to play it safer than usual because I didn't want to take any risks with these pitch conditions, but I now feel that I could have taken a little more risks.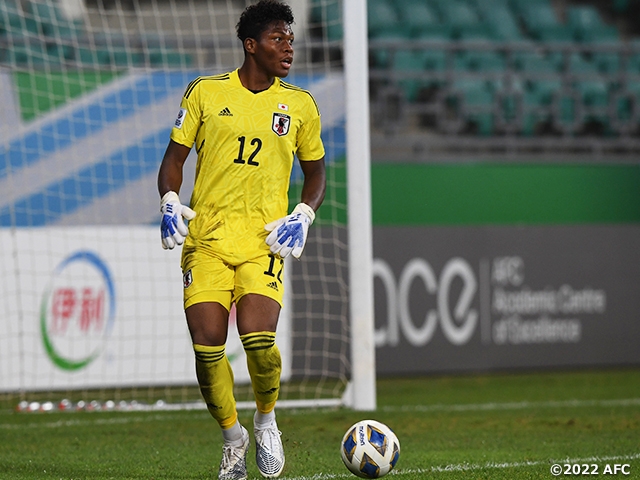 MF #8 FUJITA Joel Chima (Yokohama F. Marinos)
We struggled to find our rhythm from the first half, which ultimately affected the entire course of the match. We must make the necessary adjustments in order to finish this tournament with a win. We lost this match partly because the level of our opponents had risen, but also because I was not committed enough, and I regret that I was not fully prepared for this match. I want to go into the next match with my mind in the right place so that I don't have that kind of regret.
FW #18 SUZUKI Yuito (Shimizu S-Pulse)
We played too passively and were not able to showcase our usual performance. While we knew that there would be difficult matches like this, there are many things we need to reflect on in terms of how we played this game. This match really reminded us that we are still inexperienced and made us realise where we currently stand. We must accept this result and try to make the most of this experience. As an individual, I could have and should have done more to help the team.
AFC U23 Asian Cup Uzbekistan 2022™
Tournament Dates: Wed. 1 - Sun. 19 June 202