NEWS
【Match Report】U-20 Japan National Team score three late goals enroute to victory over Kyrgyz Republic - AFC U20 Asian Cup Uzbekistan 2023
07 March 2023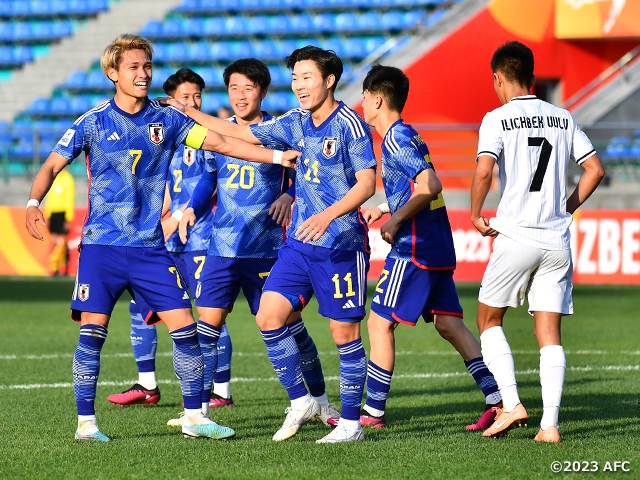 On Monday 6 March, the U-20 Japan National Team played their second group match of the AFC U20 Asian Cup Uzbekistan 2023 at JAR Stadium in Tashkent, where they faced the U-20 Kyrgyz Republic National Team.
Following their 2-1 victory over China PR, Japan made drastic change to their starting line-up, as Head Coach TOGASHI Koichi mentioned, "We have confidence in all 23 players on this squad. We want to showcase the strengths of this team."
KIMURA Ryoya (Nihon University) started in goal with TANAKA Hayato (Kashiwa Reysol), KIKUCHI Shuta (Shimizu S-Pulse), YASHIKI Yusei (Oita Trinita), and TAKAHASHI Cendagorta Niko (FC Barcelona) forming the four-man defence line. YASUDA Kenshin (Oita Trinita) anchored the midfield with MATSUKI Kuryu (FC Tokyo) and SANO Kodai (Fagiano Okayama) playing ahead of him. KODA Hidemasa (Nagoya Grampus) and KITANO Sota (Cerezo Osaka) were positioned as wingers with KUMATA Naoki (FC Tokyo), who scored a brace in the first match, playing the central forward position.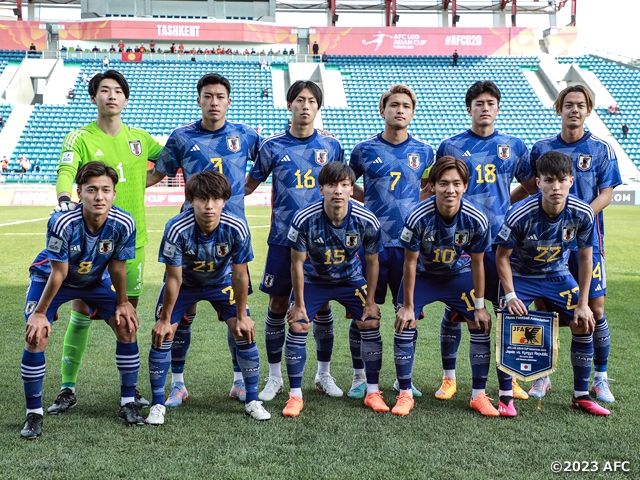 Coming off a 0-1 loss to Saudi Arabia in the first match, Kyrgyz Republic entered this match with their backs against the wall. When asked about their opposition, coach Togashi mentioned, "One of the reasons why this Group D was expected to be a competitive group is because of the strength of this generation of Kyrgyz Republic," while Sano also commented, "They are a strong team with many talented players."
The match started with Kyrgyz Republic showing great aggression to push Japan back, as Sano later reflected, "We were a bit overwhelmed by our opponents at first." Instead of dropping deep in their territory, Kyrgyz Republic kept the pressure on in midfield while anticipating for their chances to counter.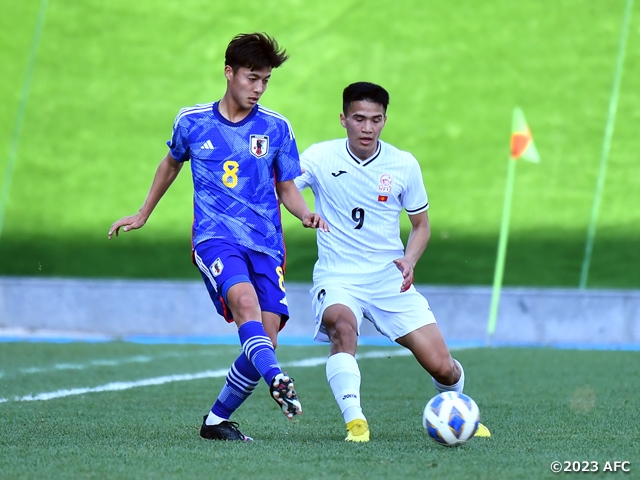 Following a scoreless first half, coach Togashi advanced Matsuki into the number 10 position, as the midfielder later commented, "Kumata was not getting enough support upfront, so we tried to address that issue by shifting the formation."
As the match progressed deeper into the second half, Japan took full advantage of their substitutions to keep their players fresh and to take control of the match over the Kyrgyz side, who seemed to run out of gas.
The deadlock was broken in the 73rd minute, when Matsuki responded to a pass delivered by Kitano and drew a foul inside the box. It was Sano who stepped up to the penalty mark, as the midfielder calmly converted the spot kick to give Japan the lead.
After a close opportunity created by Kyrgyz Republic, Japan scored their second goal in the 75th minute, when Kumata struck a well-placed shot from distance that found the back of the net. SAKAMOTO Isa (Fagiano Okayama), who came on as a substitute in the 79th minute, sealed the match for Japan, as the striker converted a corner kick in the 85th minute to extend the lead.
Japan kept their focus until the final whistle to win the match 3-0. The team will now play their third group stage match against Saudi Arabia on Thursday 9 March.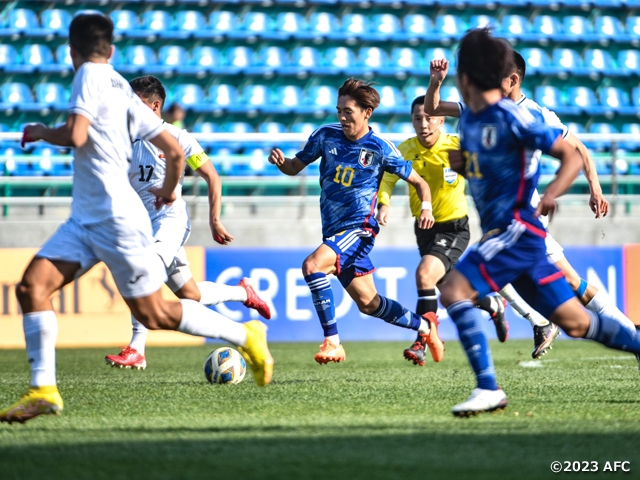 Coach and Players' Comments
TOGASHI Koichi, Head Coach of U-20 Japan National Team
Kyrgyz Republic gave the impression of being a very good team, and the game lived up to that impression. They fought bravely in defence while also countering us with sharp offence. They may have been the better team in the first half. However, I think we managed to carry out our game plan to fight through the entire match and come up as winners after playing 90 minutes. With this being the final round of the qualifiers, we are fully aware that the matches are going to be challenging for any team.
DF #22 TAKAHASHI Cendagorta Niko (FC Barcelona/Spain)
With this being my first official international match, I was a bit nervous before the match and during the first half, but I feel like I was able to showcase my usual performance in the second half. Our opponents were big and strong, but I had been playing against bigger opponents in Spain, so I was used to it.
MF #8 SANO Kodai (Fagiano Okayama)
I have always wanted to score, so I am happy to score my first goal for the national team. I was confident in my ability to take penalties, so I had told my teammates that I wanted to take them. I think I was able to take the spot kick as calmly as I always do. Matches played in Asia have its own difficulties. This match served as a reminder of the importance of risk management and the necessity of maintaining composure at all times.
FW #11 SAKAMOTO Isa (Fagiano Okayama)
I was really disappointed when I missed the close opportunity. However, I followed Coach FUNAKOSHI Yuzo's instructions on the corner kick immediately afterwards and managed to score a goal. I felt very relieved to be honest. I had been struggling to score goals, so I hope this is the first of many to come. We are fully determined to earn our ticket to the World Cup.
YouTube(AFC):#AFCU20 - Group D | Kyrgyz Republic (KGZ) 0-3 Japan (JPN)
AFC U20 Asian Cup Uzbekistan 2023
Tournament Dates: Wed. 1 - Sat. 18 March 2023