NEWS
U-20 Japan National Team make best possible preparations ahead of semi-final against Iraq - AFC U20 Asian Cup Uzbekistan 2023
15 March 2023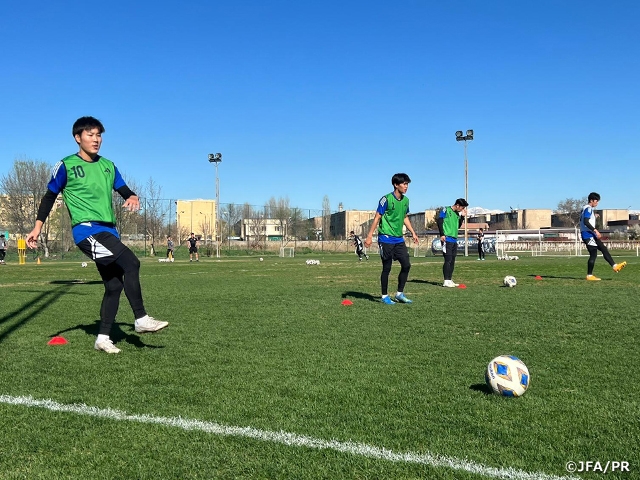 The U-20 Japan National Team held a training session on Wednesday 15 March, one day ahead of their semi-final match against the U-20 Iraq National Team.
Following their 2-0 victory over Jordan on Sunday, where they punched their ticket to the FIFA U-20 World Cup Indonesia 2023™, the U-20 Japan National Team are now striving towards their biggest goal of becoming the AFC champions.
"I felt relieved at the moment we qualified for the World Cup. However, our main goal from the beginning was to win the Asian title. The players have quickly changed their minds and are preparing for the semi-finals with all their might," said YAMANE Riku (Yokohama F. Marinos), who captained the team during the AFC U-20 Asian Cup qualifiers held in Laos last September. The midfielder continued to comment, "The players here are getting better with every match. We are fully determined to win two more matches and further improve our ability to compete on the world stage."
According to Head Coach TOGASHI Koichi, "The teams that made it to the semi-finals are all at a very high level," and shared his impression on his team's next opponent, "Iraq is a very organised team with plenty of talents in their attacking third. An opponent with very similar traits to us."
Ahead of the big match, coach Togashi shared his aspiration, saying, "It is very important for this generation of players to experience as many international matches as possible. In order to provide our players with the best opportunity to develop as players, we are committed to winning both the semi-final and final."
The semi-final match between the U-20 Japan National Team and the U-20 Iraq National Team will kick-off at 15:00 local time on Wednesday 15 March.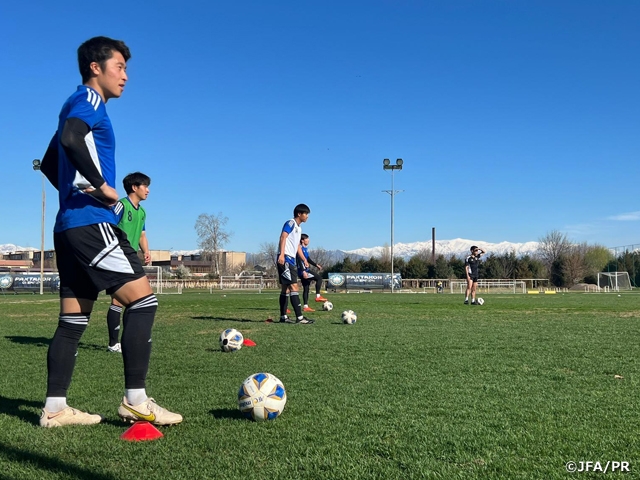 Players' Comments
DF #5 MATSUDA Hayate (Mito HollyHock)
We are about to enter a crucial match for our spot in the final. We will face a tough opponent who have also fought their way into the semi-finals. It will be a difficult match, but we will believe in ourselves and give our utmost effort to win against the opponents in front of us.
MF #16 YASUDA Kenshin (Oita Trinita)
This semi-final match against Iraq is going to be a crucial match for us. Although we have clinched our spot into the World Cup, our goal is to enter and win the World Cup as Asian champions. We are expecting a very difficult match, but we will do our best to win as a team, because victory is a must in order to achieve our goal.
MF #21 KODA Hidemasa (Nagoya Grampus)
Tomorrow's match is a pivotal match we cannot afford to lose if we are to achieve the team's goal of becoming the number one team in Asia. Iraq is also a team that has won their way up to this point, so it will be a difficult battle, but we will work together as a team to get the victory, so please give us your support.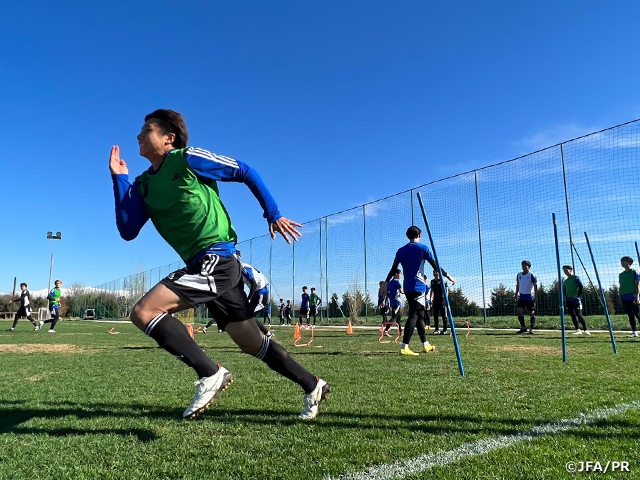 AFC U20 Asian Cup Uzbekistan 2023
Tournament Dates: Wed. 1 - Sat. 18 March 2023