NEWS
U-20 Japan National Team hold final training session ahead of first match as FIFA U-20 World Cup Argentina 2023™ kicks-off
21 May 2023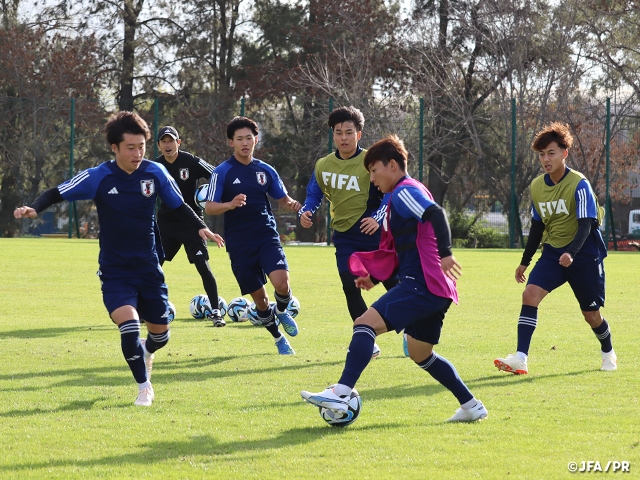 The FIFA U-20 World Cup Argentina 2023™ kicked off on Saturday 20 May with four matches played at two venues in Santiago del Estero and San Juan. The U-20 Argentina National Team got off to a flying start at home, beating the U-20 Uzbekistan National Team 2-1 in front of a crowd of 37,233 spectators.
The U-20 Japan National Team held a training session in Buenos Aires on this day, one day prior to their first group stage match. Ahead of the session, which was closed to the media for the most part, players were heard sharing their enthusiasm, saying, "I am excited be here," and "I cannot wait for the game to begin." Team captain MATSUKI Kuryu (FC Tokyo), also commented after the session, "The entire team is headed towards the right direction."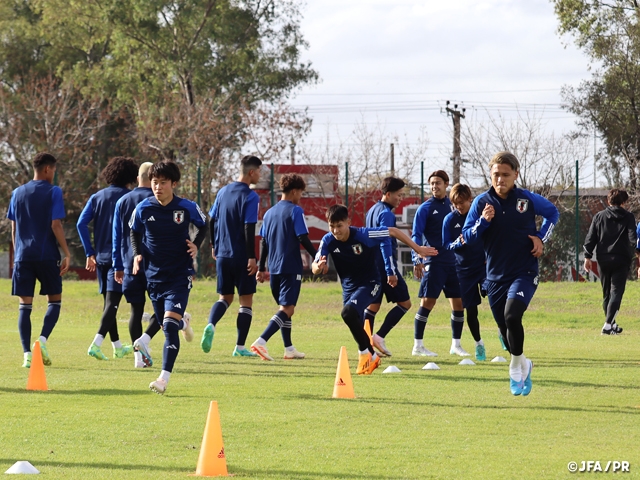 The team was launched for this World Cup under Head Coach TOGASHI Koichi in February 2022. So far, 65 players have participated in the team's activities. At the Maurice Revello Tournament in June, which was the first time they played a match outside Japan, they were "overwhelmed by the speed and intensity" shown by Argentina, and at their tour to Spain in November, they won consecutive matches against Spain and Slovakia but lost to France in the end, leaving them with a lot of tasks to work on.
"This team's journey hasn't been easy from the start. We've lost a lot of matches, but we've also learned a lot from our opponents over time," coach Togashi said. Reflecting on the past year, the coach mentioned, "The players changed their routines and showed a lot of growth in many aspects.
Japan will start their group stage action by facing Senegal on Sunday 21 May at La Plata, kicking off at 18:00 local time (Monday 22 May, 6:00 Japan time).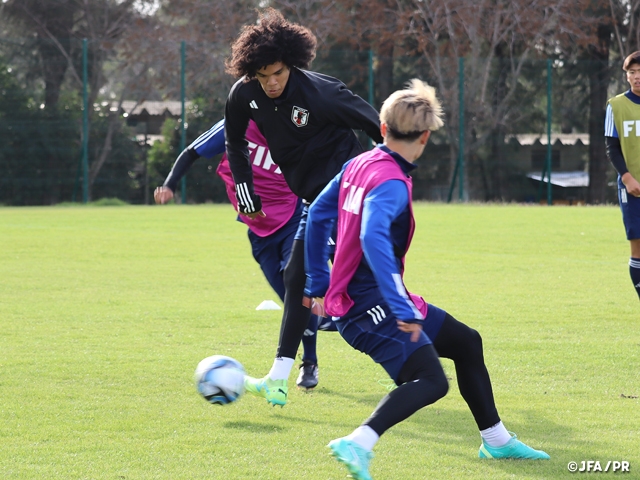 Coach and Players' Comments
TOGASHI Koichi, Head Coach of U-20 Japan National Team
Every player is ready to play, both physically and mentally. The players, who are immersed in the World Cup experience, are expressing their happiness and joy at being here every day. I told the players that even though this is their World Cup, many people have been involved in the journey to this point and they should play with a sense of gratitude and responsibility to carry the nation on their shoulders. The game's main focus will be on whether or not we can fend off Senegal's intense pressure and counterattacks. We want to be in control of the entire 90 minutes because a brief slip-up could cost us. Our strength lies in our capacity to play collectively and adaptably while utilising the unique styles of each of our players. We will fight as a team to live up to the expectations of those who are watching us locally and from Japan.
DF #19 TAKAI Kota (Kawasaki Frontale)
My condition is improving, and I am in great form. I believe that the athleticism of our opponents will pose a serious threat to us, so we will make every effort to counteract that. We hope to showcase a performance that can meet up to the expectations of our fans in Japan.
MF #5 YAMANE Riku (Yokohama F. Marinos)
We want to give it our all and reach the stage we are aiming for because I believe this team has great potential and we have been working hard towards this tournament. I want to cherish each and every play in this tournament because this is a once in a lifetime experience. I hope to play with confidence and enter the match against Senegal with a positive image, so that we can demonstrate what we have prepared.
MF #7 MATSUKI Kuryu (FC Tokyo)
I feel like I am in great form right now. The team has been training in a very positive atmosphere, so I think we are headed towards the right direction. We just need to concentrate on starting the game off on the right foot because I think we have what it takes to score goals.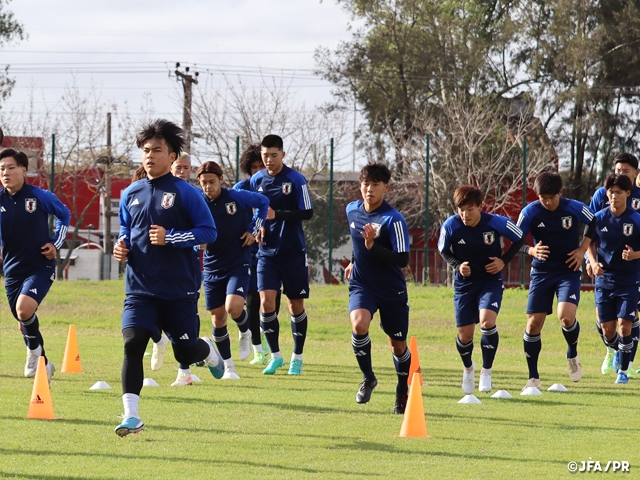 FIFA U-20 World Cup Argentina 2023™
Tournament dates: Sat. 20 May - Sun. 11 June 2023
Tournament Information