NEWS
JFA Academy Imabari Entrance Class of 2017 conducts Spain Tour
08 May 2019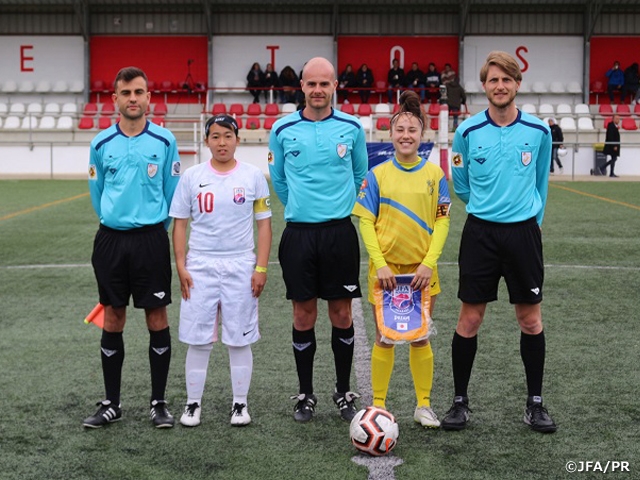 10 players from JFA Academy Imabari Entrance Class of 2017 (third year of junior high school), joined by five other applicants from Shikoku, travelled to Barcelona, Spain for ten days from Monday 15 to Wednesday 24 April. During their stay, the team participated in the "MIC football 2019," where they played matches to showcase the results of their daily trainings.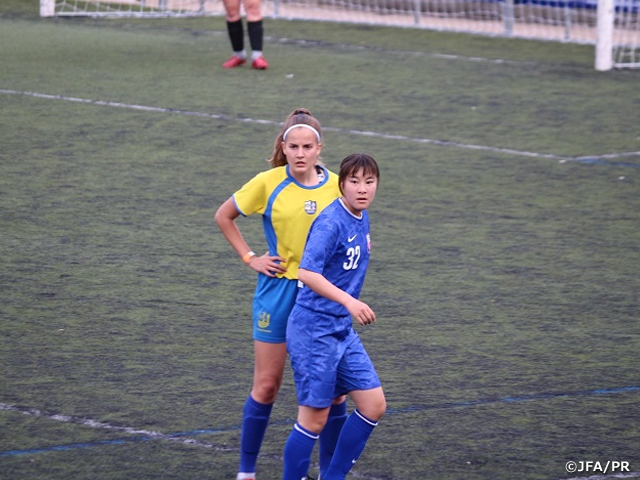 On their time off the pitch, the team observed both men's and women's La Liga matches, and visited the sceneries of Barcelona, such as the Sagrada Familia and Camp Nou Stadium.
The players were given precious opportunities to experience matches against foreign teams, conduct daily routines under a totally different environment from Japan, and feel the world standard of women's football in first-hand. By watching matches and visiting the sceneries, the players were able to indulge themselves in foreign culture, gain great inspiration, and at the same time, realise the great things about Japan as well.
With sincere gratitude towards all the people who made this tour possible, the players will return to Japan and try to implement this experience to further develop themselves as a better football player.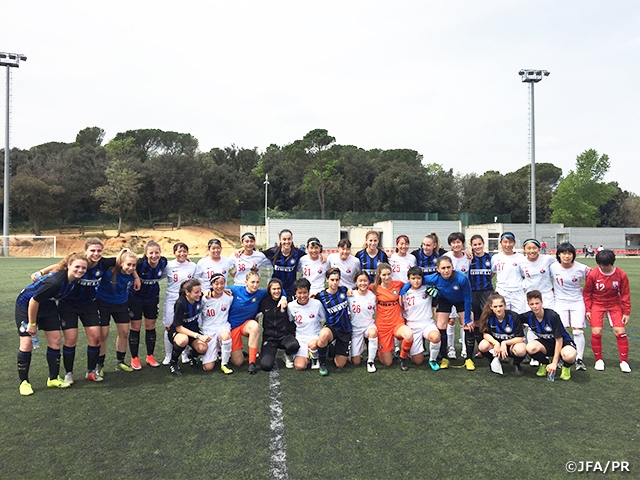 Academy Players' Comments
HADANO Ran (Entrance in 2017: 3rd Class/FC Imabari Ladies)
I was able to learn so much from this Spain tour. The first thing that struck me was how difficult it was to travel long distance. There is a seven-hour time difference between Japan and Spain, and the travel time was very long. We had to be in the same position for a long time on the plane, so it was very important for us to stretch up after the flight. Another thing I noticed was the physical strengths of the foreign players. Many of the players from foreign teams were much taller and faster than us. We were able to finish in the top eight by moving the ball around with accurate passes and communicating well with each other. There were some bitter moments, but I am glad I was able to play with this team. This tour also made me realise the importance of being able to speak English. Most people I met in Spain were able to speak English, so through English, I was able to communicate with many people. Lastly, perhaps the strongest feeling I have right now is gratitude. I am fully aware of the fact that many people have supported us to make this Spain tour possible and allowed us to participate in the MIC. I will not forget this sense of gratitude towards my surroundings and implement what I have learned through this tour to continue to strive for my dreams.
ENOMOTO Itsuki (Entrance in 2017: 3rd Class/Tokushima Lateesha)
We left Imabari with great excitement and anxiety to participate in the MIC. The foreign players were much taller, had longer legs, and played much differently than what we're used to in Japan. However, we kept our focus on playing quick one-touch passes and emphasised on the quality of our plays to finish in the top eight of the competition. It was disappointing to lose in penalty kicks, but it made us realise what we lack and gave me a great learning experience. Also, the foreign people were very friendly, as we huddled up as a group and took pictures together. Although we didn't speak the same language, we were still able to communicate through body gestures and facial expressions. I had so much fun at this tour and it gave me a wonderful memory.
OKURA Yumika (Entrance in 2017: 3rd Class/FC Bayern Tsuneishi Ladies)
I was able to learn so much from this tour abroad. What left the strongest impression was how big the foreign players were. It was very difficult to play against opponents who were much bigger and stronger than us. However, it didn't mean that our football wasn't effective against them. We tied our second group stage match against Inter 0-0, and that was a great match. We knew Inter is a strong team, so we entered the match with a strong intention to win the match. We played aggressive in defence and didn't back down against the bigger opponents to win the ball. It was a bit regretful that we couldn't score any goals and ended up with a scoreless draw. Through this tour, I have learned the importance of respect. The players of Intel and players from other teams gave us a hug regardless of the match result, and I was very moved by their gestures. This tour has made me want to become a better player.