About Academy
"Individual development to aim for world's top 10"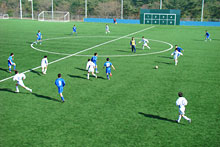 With "Global Standard" as our key word, our purpose is to develop individuals.

We nurture students intensively from a long-term perspective by providing good coaching with unified lower and upper secondary school education, and our lodging system.

By focusing on not only football but also education of the human aspect, we aim to nurture human resources who can lead society with true global standards and who can always (no matter when and whether in Japan or not), take positive action on anything and behave with full of confidence.

He or she being gifted does not always have his or her talent blossom.By providing those who have a talent with good environment and encouraging them to make efforts, we nurture players who can shine in the world.
About the Name "Elite"
As Japanese people have feelings of resistance toward the word "Elite," it has not been rooted in Japan. It may cause misunderstanding, yet we give greater importance to the original meaning of the word and dear to use it.

The original meaning of "Elite" is never the privilege class but a leader of each field of society, and elites rather lead society to take challenges and meet their social responsibility.

We aim to nurture human resources who can be an elite in a true sense and who can become a future leader in society outside football.