NEWS
"I want to continue to create matches that bring excitement to all people" Interview with Referee IEMOTO Masaaki
30 July 2021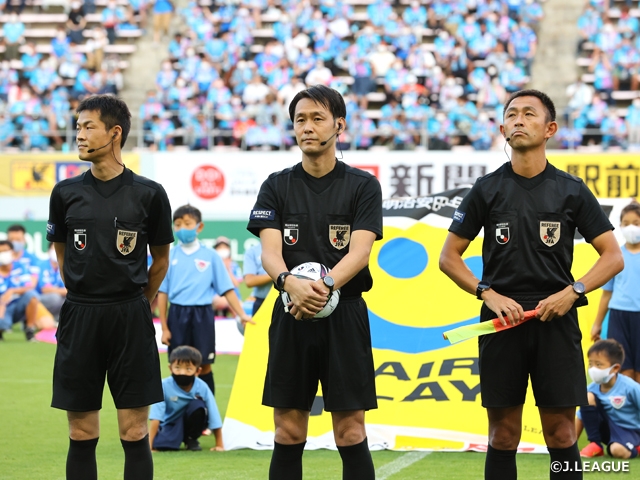 At the match-week 20 fixture between Sagan Tosu and Nagoya Grampus (Ekimae Real Estate Stadium) at the 2021 Meiji Yasuda J1 League, referee IEMOTO Masaaki officiated his 503rd match, breaking the record for most matches officiated in the J.League. Here we will share the interview conducted to commemorate his accomplishment.
○ Interview conducted online on 20 July 2021
――You have officiated 503 J.League matches as a referee. Please give us your thoughts on that.
IEMOTO I am more surprised than anything. I have always prioritised the enjoyment of the fans, providing platform where the players can showcase their best performance, and raise the value of football, so the longevity of my career as a referee was never the purpose or goal, so I am surprised to make it this far.
――What motivated you to reach this far?
IEMOTO Of course, partially for the love of the game, but a referee is evaluated every game by a referee assessor, and if you cannot maintain your annual performance at the top level, you will not be contracted as a professional referee. I don't recall ever dropping my evaluation nor performance, and I have reached this point without any major injury or illness. I need to thank my parents for giving me this healthy body, my wife for managing my diet and health, my children for keeping me motivated to push forward, and all the people who are supporting me to continue on.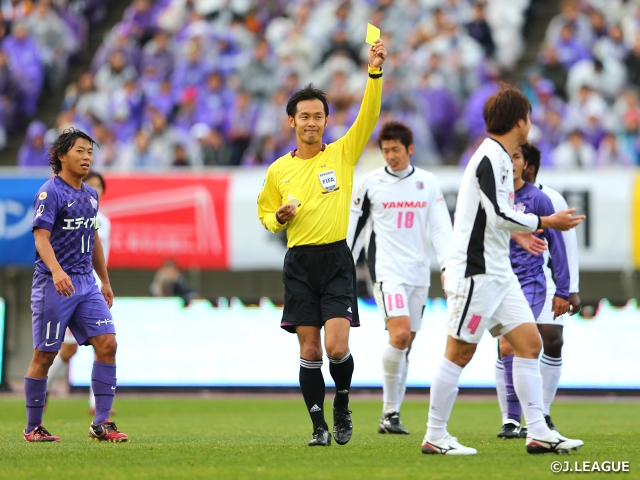 ――Tell us about the match that left the strongest impression.
IEMOTO In terms of league matches, I vividly remember the atmosphere of the match when Sanfrecce Hiroshima won their first title (2012 season, 33rd match-week against Cerezo Osaka). The time Kawasaki Frontale won their first title also left a strong impression (2017 season, 34th match-week against Omiya Ardija). Cup finals are straight forward, but many factors such as luck and timing need to line-up perfectly to be involved in matches that determine the season champion. I was fortunate enough to be involved in two of them. I was also given opportunities to officiate many other wonderful matches domestically and internationally, so it is hard for me to name just one match.
――How do you want to contribute to Japanese football as a referee?
IEMOTO I've always been wondering if we can create an environment where players, teams, and referees can interact with each other on a daily basis. Players practice every day and hold scrimmages to polish their game intuition. Referees also train at a daily basis, but our options are limited, and we have no ways of training in a practical format like a scrimmage. I would like to fix this issue. It would be great if we can create an environment in Japan where the players, teams, and referees can communicate closely in the near future.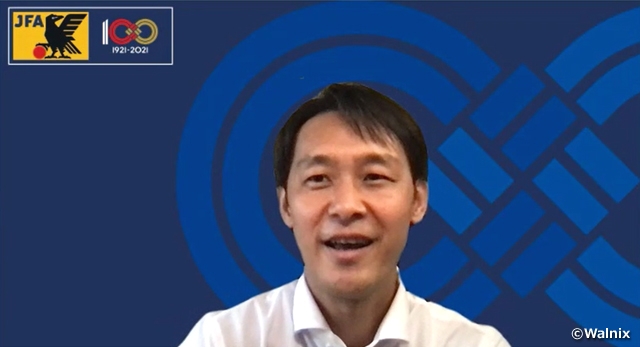 ――Lastly, please tell us your future goals.
IEMOTO I want to continue to create matches that bring excitement to all people, including the players, fans, supporters, media, and sponsors. I would like to officiate a match that makes everyone feel satisfied, fulfilled, and think "This was the best match ever." In order to make that a reality, I always try not to stand out in the match as much as possible. That is the only thing I am particular about. I don't know how many years or matches I have left in me, but I would like to create as many enjoyable matches for the fans as possible, until the moment I hang up my boots.