NEWS
SAMURAI BLUE earns 3-0 victory over Korea Republic – International Friendly Match
26 March 2021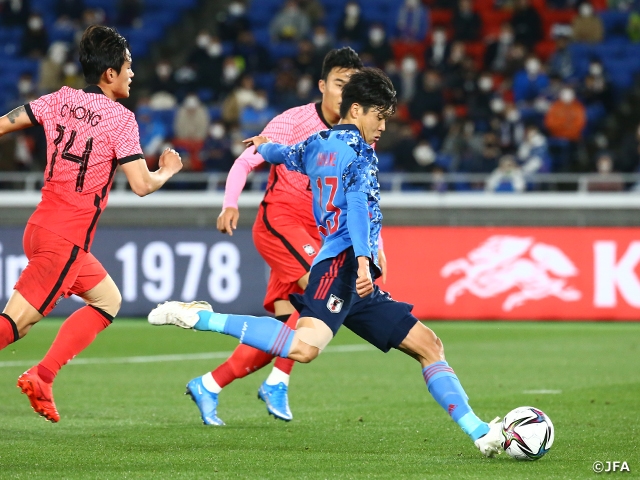 On Thursday 25 March, the SAMURAI BLUE (Japan National Team) faced the Korea Republic National Team in an international friendly match held at Nissan Stadium (Kanagawa), where the team earned a 3-0 victory, thanks to the goals scored by YAMANE Miki (Kawasaki Frontale), KAMADA Daichi (Eintracht Frankfurt), and ENDO Wataru (VfB Stuttgart).
Five players earned their first cap in this match, including Yamane who started the match, and OGAWA Ryoya (FC Tokyo), ESAKA Ataru (Kashiwa Reysol), KAWABE Hayao (Sanfrecce Hiroshima), and WAKIZAKA Yasuto (Kawasaki Frontale) who entered the match as second half substitutes.
Endo and MORITA Hidemasa (CD Santa Clara) anchored the midfield, allowing the Japanese side to apply aggressive pressure to take the initiative. With OSAKO Yuya (Werder Bremen) playing as the lone striker, Kamada, MINAMINO Takumi (Southampton FC) and ITO Junya (KRC Genk) showcased fluent pass works to create chances in the attacking third.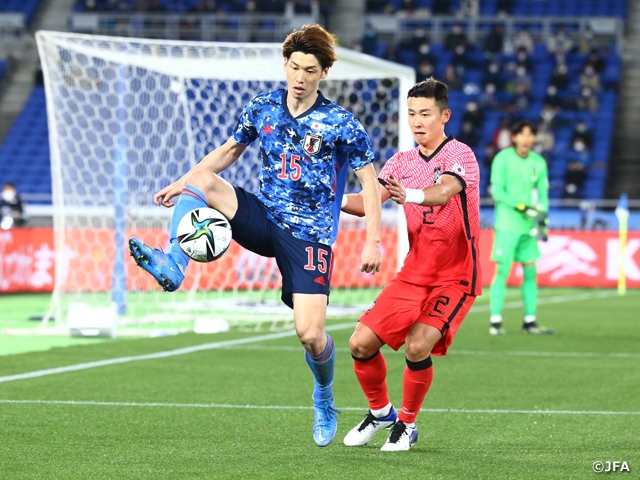 Both fullbacks, Yamane and SASAKI Sho (Sanfrecce Hiroshima) made effective runs down the line to support the Japanese offence, while also showcasing their effectiveness in defence to shutdown the opposing wingers from creating opportunities.
The opening goal came in the 17th minute, when YOSHIDA Maya (U.C. Sampdoria) picked out Morita who attempted to deliver a through-ball into the box, but the ball was deflected by a Korean defender. It was Osako who responded to the deflection and flicked the ball with his heel, allowing Yamane to break inside the box and fire a powerful shot that struck the cross bar before finding the back of the net.
Japan's second goal came 10 minutes later, when Ito initiated the attack after he intercepted a pass inside his own territory. Ito delivered the ball to Osako, who held the ball until Kamada made an overlapping run down the right flank. With plenty of space in front of him, Kamada received the ball, took on an opposing defender before slotting the ball into the far corner, doubling the lead for Japan in the 27th minute.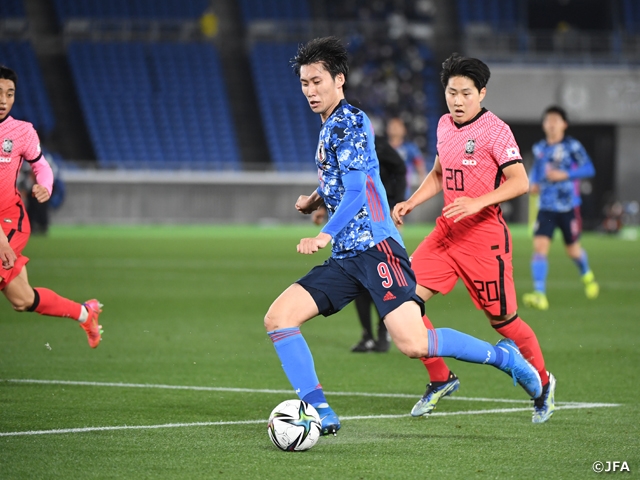 Despite taking a two goal lead, Japan continued to showcase a solid performance in defence, just as coach MORIYASU Hajime demanded prior to this match. In the 34th minute, Morita made a good read to intercept the ball near his own penalty area and initiated a swift counterattack.
With Son Heungmin, who currently plays in the English Premier League, out from the squad due to injury, the Korean side lacked creativity upfront, as they struggled to create opportunities in the first half. Although they started to pick-up their rhythm in the second half, the Korean side who consisted mainly players from the K.League, couldn't find ways to break through the Japanese defence-line led by Yoshida and TOMIYASU Takehiro (Bologna FC 1909).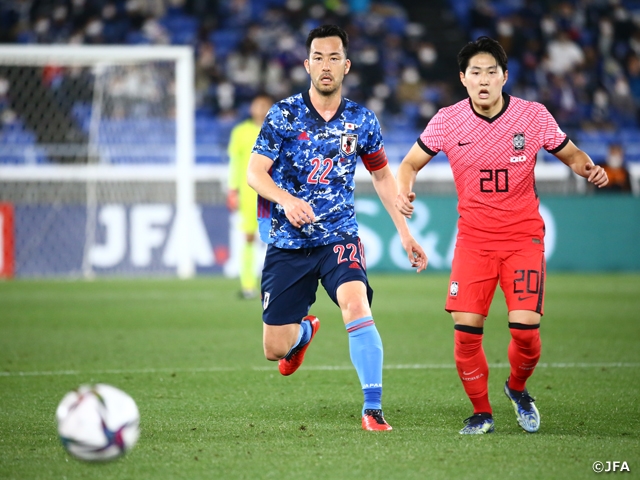 In the early minutes of the second half, Osako nearly assisted another goal, this time setting up a shot for Minamino inside the goal area, but the Korean defenders showcased a tenacious effort to keep the Japanese midfielder from finding the back of the net.
Both ASANO Takuma (FK Partizan) and FURUHASHI Kyogo (Vissel Kobe) were introduced late in the match, as they utilised their speed to threaten the opposing goal. The third goal came in the 83rd minute, when Endo struck a header to convert a CK delivered by Esaka.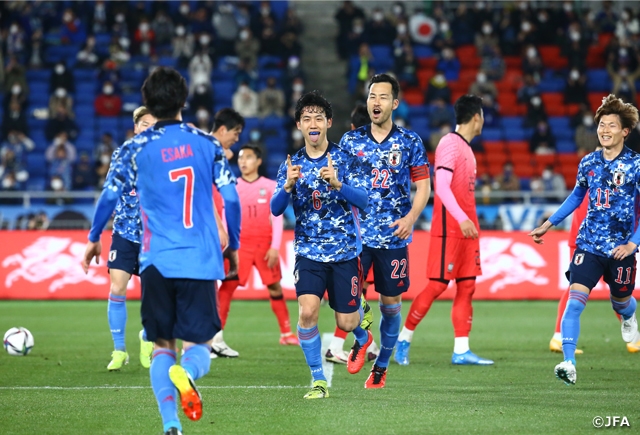 With GONDA Shuichi (Shimizu S-Pulse) making a save to deny the shot of LEE Dongjun at the end, Japan managed to secure a 3-0 shutout victory against their arch-rival Korea Republic.
In measures to limit the spread of COVID-19, the number of spectators for this match was limited to 10,000. The SAMURAI BLUE will now face the Mongolia National Team at Fukuda Denshi Arena, Chiba on Tuesday 30 March.
Coaches and Players' Comments
MORIYASU Hajime, Coach of SAMURAI BLUE (Japan National Team)
While there have been debates on whether or not we should be holding these large-scale events, we wanted to demonstrate that football can contribute to the society by relieving the daily stress of our fans through these matches. With the match being carried out under strict measures to prevent the spread of COVID-19, players traveling from overseas were completely separated from the domestic group, making it very difficult for us to stay on the same page ahead of this match, but the players did a great job preparing under the given circumstance. It is very important that we lead by example, showing the world that we can still deliver excitement to our fans while following the necessary measures to counter the infection.
Today our players played with great aggression and showcased spectacular transitions between offence and defence, while also adding layers to our counterattacks. It is apparent that we have made good use of the Europe tour held last October and November. I wanted our players to communicate and make necessary adjustments on the pitch depending on how our opponent approached the match, and I feel like we were able to do jus that. The players also did a great job keeping a clean sheet while scoring the third goal at the end, showing great maturity in terms of game management.
DF #13 YAMANE Miki (Kawasaki Frontale)
Playing for the national team was my childhood dream. And I am very happy to be able to make my debut in a Korea-Japan match, which has a great significance for Japanese football. I am glad I was able to showcase my ability to score goals. In that moment, I was anticipating Morita to make a play like that, so all I had to do was get on top of the ball and hit the target. I feel like I was able to display all the things I have learned at my former club Shonan and my current club Kawasaki.
DF #22 YOSHIDA Maya (U.C. Sampdoria)
It's been a while since I felt so relieved to hear the final whistle. Matches with the national team are that much special, and I was feeling even more pressure because I was wearing the armband in a Korea-Japan match. Knowing that I was the only one in this squad who played in our last encounter with Korea made it that much more nerve-racking as well. Although we were not in our best condition, we still managed to put in a good preparation and showcase a quality performance. New players produced results, while the team displayed a steady performance, so this was a very meaningful match ahead of the World Cup qualifiers. There were still plenty of room for improvements, so we will work on those aspects ahead of our next match.
MF #9 KAMADA Daichi (Eintracht Frankfurt)
When I broke away in that counterattack, I felt like I had to finish off the play myself, and it turned out well. Coach Moriyasu has been stressing the importance of quick transitions, so that was one of our main focus today. It's something that has been trending among European clubs, so I was familiar with that concept. I didn't feel like I was in my best condition, so I played with a sense of urgency and I think that helped me with my performance today.
FW #15 OSAKO Yuya (Werder Bremen)
I wish I could've score, but I was able to create numbers of opportunities, so I am satisfied with my overall performance. I will reset my mind and try to score some goals in our next match. We managed to showcase a quick transition to score the first goal, while I was able to hold onto the ball to allow Kamada to make a run in that play where we scored the second goal. We entered the match with the intention to apply aggressive pressure, and as an attacker, I focused on my positioning to keep a good distance with my teammates. I personally feel like I was able to play the one-top position fluently, so that was great.
Paulo BENTO, Coach of Korea Republic National Team
We committed too many mistakes and lost possession of the ball in dangerous areas, allowing our opponent to create critical opportunities. Although we managed to play a bit more aggressively in the second half, we didn't have what it takes to level the match. Japan played well overall, and they certainly deserved this win. We must analyse and make use of this loss. We knew what we had to do in this match but failed to execute our game plan.


International Friendly Match
Thu. 25 March 2021 [19:20] vs Korea Republic National Team
Venue: Nissan Stadium (Kanagawa)