NEWS
SAMURAI BLUE's coach MORIYASU looking for "Intense and aggressive plays" against Korea Republic
25 March 2021
On Wednesday 24 March, one day before their international friendly match against the Korea Republic National Team, coach MORIYASU Hajime of the SAMURAI BLUE (Japan National Team) appeared in an online press conference and shared his aspiration to "fight with high intensity and aggression" against their long-time rival.
Due to the effect of the elongated pandemic, this will be the first national team match held in Japan since November 2019. With the team scheduled to play in the second round of the FIFA World Cup Qatar 2022™ Asian qualification match against the Mongolia National Team (Fukuda Denshi Arena, Chiba) on the 30th, this friendly match against Korea Republic will be an important test match for the team to prepare themselves ahead of the World Cup qualifiers which will continue in June.
Coach Moriyasu commented, "We are given the opportunity to face a strong opponent like Korea Republic. We will challenge aggressively and strive to improve ourselves through this match."
The last time the two sides faced each other, Japan lost to Korea Republic 0-1 at the EAFF E-1 Football Championship in December 2019. Japan holds an overall record of 13 wins 23 draws and 40 losses against Korea Republic.
Since August 2018, Korea Republic has been led by coach Paulo BENTO, former coach of the Portugal National Team, and this will be their first match since facing Mexico (2-3) and Qatar (2-1) in Europe last November.
For this match in Japan, coach Bento selected a team consisting mainly players from the K.League, while three players from the J.League, KIM Jinhyeon (Cerezo Osaka), KIM Seunggyu (Kashiwa Reysol), and KIM Younggwon (Gamba Osaka), were selected. Midfielders LEE Kangin and JEONG Wooyeong, who plays for Valencia CF and SC Freiburg respectively, were also named into the squad, but Son Heungmin (Tottenham), Hwang Heechan (Leipzig), and Ju Sejong (Gamba Osaka) were not listed in the squad due to injury.
When asked about their opponent, coach Moriyasu mentioned, "They can play aggressively and dynamically, but also well organised as a team." The Japanese coach continued by sharing his team's approach for the match, "We must play aggressively from start."
Veteran defender YOSHIDA Maya (U.C. Sampdoria) who mentioned "For the past 10 years, I have always looked forward to facing Korea Republic," shared his aspiration ahead of the match against their neighbouring rival, "Every match is important, but as a member of the Japan National Team, this is one of the most important matches, so it's a match we cannot afford to lose." With many of the current squad lacking the experience to face Korea Republic at the senior category, the centre half stated, "I will convey the importance to my teammates through training sessions and through my plays on the pitch."
The 32 year old captain who has 104 caps under his belt, also commented on the fact they are missing both of their fullbacks, SAKAI Hiroki and NAGATOMO Yuto (both Olympique de Marseille), "It's important that we play under different circumstances ahead of the World Cup qualifiers."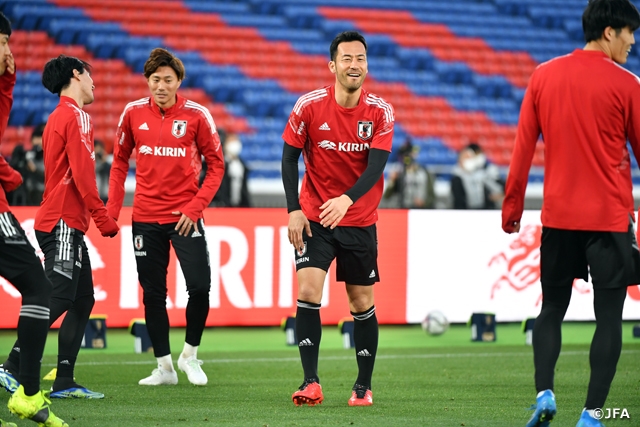 The team will hold a training session at the match venue this afternoon, but the session will be held behind closed doors except for the first 15 minutes.
The jersey numbers were announced ahead of the match, as MINAMINO Takumi (Southampton FC) was given the number 10 jersey, while FURUHASHI Kyogo (Vissel Kobe), NISHIKAWA Shusaku (Urawa Red Diamonds), and MATSUBARA Ken (Yokohama F. Marinos), who all made their return to the national team, were given number 11, 1, and 2, respectively. First time call-ups, YAMANE Miki (Kawasaki Frontale), INAGAKI Sho (Nagoya Grampus), ESAKA Ataru (Kashiwa Reysol) were given 13, 8, and 7, respectively.
The international friendly match against the Korea Republic National Team will kick-off at 19:20 on 25 March. In measures to limit the spread of COVID-19, the number of spectators will be limited to 10,000 for this match.
Coaches and Players' Comments
MORIYASU Hajime, Coach of SAMURAI BLUE (Japan National Team)
Korea Republic has played in the World Cup since I was an active player, so they have plenty of international experience, and continues to be a strong force in Asia. As a rival who motivates and inspires each other, we hope to showcase a spectacular match that can bring excitement to the people watching our match. We are expecting a very intense match, so I want our players to challenge themselves to exceed their limits, fulfil their individual responsibilities, and help the team to win this match. Our opponent is not going to let down easily, so we must anticipate for our opportunities to counterattack and create chances from fast breaks. While our first priority is to win the match, we also hope to showcase a performance that can make our fans and supporters happy. Although we had one of our staffs testing positive ahead of this match, the team is fully focused on the match. Looking at how we trained yesterday, we look well prepared to face Korea Republic. It is not possible to completely eliminate the risk of infection, but we will do our best to follow the guidelines and implement a thorough prevention measures for our players and staffs.
DF #22 YOSHIDA Maya (U.C. Sampdoria)
Korea Republic has always been a tough opponent and they have the upper-hand in terms of physical strengths, so we must focus on winning each individual battle to build our momentum. Our predecessors have always stressed the importance of the Korea Republic-Japan matches, but I am worried that it may not be the case for the younger generations. I hope to convey the importance and the meaning of this match to the younger players.
MF #6 ENDO Wataru (VfB Stuttgart)
I am thrilled to be able to play a national team match in Japan and feel so grateful for the people who made this possible. We must focus on how we want to play as a team with this current squad, while also showcasing how much we have improved at the individual level. Our team still lacks cohesion when our attackers are applying pressure upfront, so that is an aspect we must improve on. It is important that we are on the same page to either apply pressure or to drop back as a team.
MF #10 MINAMINO Takumi (Southampton FC)
I understand that the match against Korea Republic is an important match that attracts a lot of attention in many ways, especially at the senior category, so winning the match is the highest priority. Last year, we lost to Mexico after failing to convert our chances, which made us realise the need to be more critical in the attacking third. The ability to capitalise on the few chances will be a crucial factor at the World Cup, so that is an area we must focus to improve on. I have been able to play in matches more consistently, so I feel like I am in good form right now. It made me realise the importance for a player to play in matches.
FW #15 OSAKO Yuya (Werder Bremen)
It has been a while since we last played a national team match in front of our fans in Japan, so I am extremely excited. I am getting accustomed to the one-top formation, so it should help me ramp-up my condition. These two matches are very important for me as an individual, but I will first focus on helping the team win the match. I saw our match against Mexico, and it seemed like we did a fine job to create a positive momentum in the first half, so we should take the positives out of that match and use them to improve ourselves in these upcoming matches.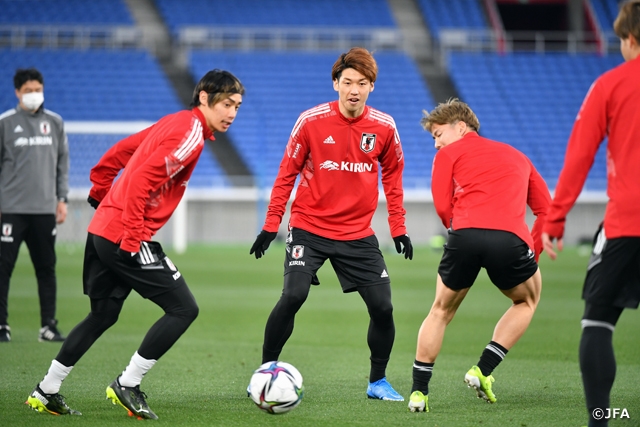 Paulo BENTO, Coach of Korea Republic National Team
We are without one of our main players, Son Heungmin, so I called-up a player with different qualities to fill his role. We are also missing players in the midfield, so we must focus on building the team within a short period of time, but I hope our players will showcase a strong performance. Japan is a well organised team, and they love playing the game of football. They know how to apply pressure and they are capable of initiating quality counterattacks once winning the ball. We are expecting a high level match against a strong opponent, so we hope to showcase our best performance to earn a victory.
International Friendly Match
Thu. 25 March 2021 19:20 Kick-off vs Korea Republic National Team
Venue: Nissan Stadium (Kanagawa)