NEWS
Introduction of the referees in charge of International Friendly Match between SAMURAI BLUE and Korea Republic National Team
25 March 2021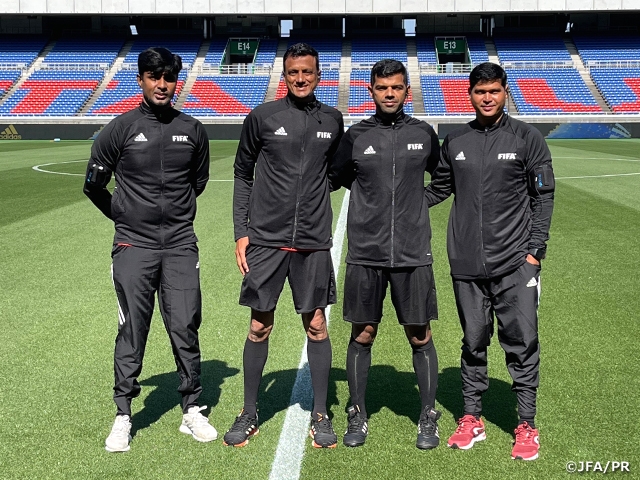 One day ahead of the international friendly match between SAMURAI BLUE (Japan National Team) and Korea Republic National Team, the referees in charge of the match held a practice session at the match venue, Nissan Stadium, on Wednesday 24 March.
Referees in charge
Referee: ARUMUGHAN Rowan (India)
Assistant referee 1: JOSEPH LOUIS Tony (India)
Assistant referee 2: DUTTA Sumanta (India)
Fourth official: COIMBATORE RAMASWAMY Srikrishna (India)
The same crew will be in charge of the SAISON CARD CUP 2021 match between the U-24 Japan National Team and the U-24 Argentina National Team at Kitakyushu Stadium on Monday 29 March.
Referee Crew's Comment
We are grateful to be invited by JFA to officiate these international friendly matches. We are also grateful for the opportunity to be playing a match despite the ongoing pandemic. We will give our utmost efforts on both the 25th and the 29th.
*Same with the players and staffs, referees will also conduct daily tests for three days from the day of their arrival to Japan, and only allowed to train after confirming a negative result. The same procedure will be required if there is a second match on a later date.