NEWS
"A country that is moving forward while cherishing the past" 10 years since the Great East Japan Earthquake – Relay Column Vol.13
01 April 2021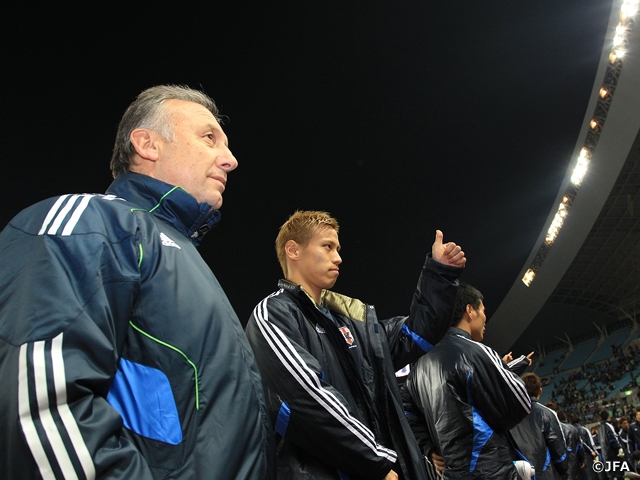 It has been 10 years since the Great East Japan Earthquake. While the restoration has progressed with a ton of support from home and abroad, there is still a long way to go for a full recovery. Here we will deliver essays and columns of people involved in football, reflecting on their own experience and perspective on the Great East Japan Earthquake.
The 13th column is written by Mr. Alberto ZACCHERONI who was the coach of SAMURAI BLUE (Japan National Team) at the time of the Great East Japan Earthquake.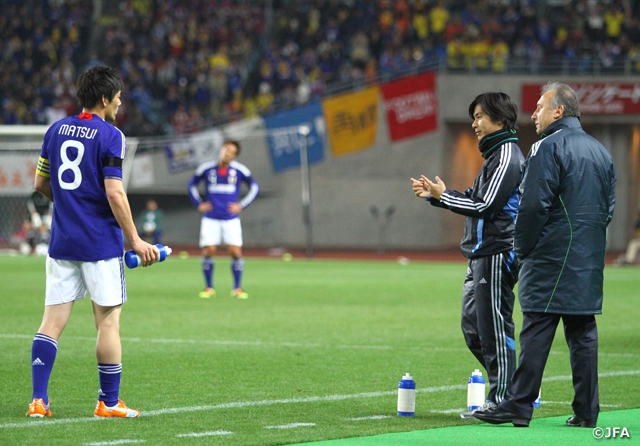 I still vividly remember what happened 10 years ago on 11 March. I was doing research on my home computer when I felt a big shake. Italy is located on top of a peninsula formed by the collision of the African and Eurasian plate, and is known as a country with relatively many earthquakes in Europe. From my experience, I first thought "it will end soon." However, I started to realise that this was not an ordinary earthquake when I stepped outside and saw the housekeeping lady crying as the shaking subsided. As I followed the guidance and used the stairs to reach the first floor lobby, I noticed that other residents had sleeping bags and first aid kits on hand. That was when I fully realised that this earthquake was a big deal even for the Japanese people who are accustomed to earthquakes.
Because of the possibility of an aftershock, we were told to evacuate the premises, and while I was heading towards a nearby park, the second wave came. I was astonished by how the ground swayed. I think the reason I was scared was not because of the shaking itself, but the image of the earthquake scenes in the movies I had seen before. "This is going to cause cracks in the ground. What comes under this ground? What is under the ground of Japan?" I remember thinking about these questions at the moment. When I arrived at the park, there were many business-men and business-women who evacuated from their office buildings. Some noticed who I was and asked for autographs and to take pictures with me. That night, I couldn't reach the coaches I always work with, and I wasn't able to notify my family in Italy about my safety. When I turned on the TV to get a sense of what was going on, it repeatedly showed the footages of the tsunami that struck Miyagi. I lost my words to the shocking images and my heart sank thinking of the affected people. I was finally able to connect to the internet at midnight and notified my family about my safety. But I remember being alone in my room, feeling so empty and sad, which made me think that the world was coming to an end. Every moment that happened 10 years ago are still imprinted into my mind and I will probably never forget them for the rest of your life.
18 days later, on 29 March, a charity match between the SAMURAI BLUE (Japan National Team) and the J.League Select Team "TEAM AS ONE" took place at Nagai Stadium in Osaka. The national team was originally scheduled to play two matches in March, versus Montenegro at Shizuoka on the 25th and against New Zealand at the National Stadium on the 29th, but both matches were cancelled due to the effect of the great earthquake. I am sure there were debates about hold this match, but the charity match did end up taking place at Osaka. The J.League was set to resume on 23 April, which I thought was a very quick turnaround. But I knew that our lives had to move forward, and it was necessary to return things to the way they were before. If our activities can help the country, even in an indirect way, if we can give courage to people, even a tiny bit, if we can deliver donations to where they are needed the most, I thought it would be meaningful for us to take action. We can't get rid of the tragic events that happened in the past, but I thought it would be meaningful if we could make someone forget about their painful feelings for even a short period of time. I think it is necessary for us to look away from the reality at times. Looking back on the situation at the time, everybody was in the depths of despair from the earthquake, tsunami, and the nuclear power plant accident. That is why I thought it would be great if we can alleviate some of those feelings. I knew it wasn't going to be easy, but it was worth a try.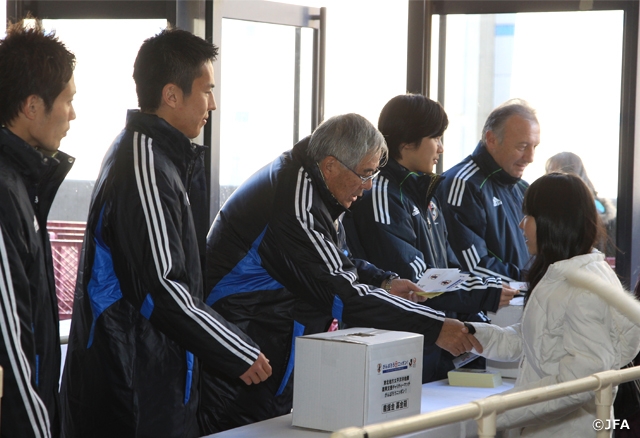 Players belonging to clubs overseas returned to Japan for this match, and we made the training sessions open to the public, while holding fundraisers prior to each of the sessions. I remember that a long line was formed each time we held the fundraiser, and players took turns to greet the fans. I also remember that the team captain, HASEBE Makoto, was there beside me. I was strongly impressed by the smiles of the people there. Considering the players we gathered for this match, I thought the match should be taken seriously. That is why I made our players try out the 3-4-3 formation. With KAWASHIMA Eiji starting in goal, YOSHIDA Maya, KONNO Yasuyuki, and INOHA Masahiko formed the three-man defence line. UCHIDA Atsuto and NAGATOMO Yuto were placed in the flanks as wing-backs, while Hasebe and ENDO Yasuhito served as the defensive midfielders. HONDA Keisuke, MAEDA Ryoichi, and OKAZAKI Shinji were the three attackers upfront. A total of three goals were scored in that match, but I don't really remember the goals we scored. Partly because I was concentrating on how to approach the opponents, but above all, it was because I vividly remember the goal scored by MIURA Kazuyoshi, more than anything else. I'm a person who doesn't like to get scored on, even in a practice game. But in that moment, for the first time in my life, I was happy to see our opponent score a goal against us. The fact that Miura, who is an iconic figure in the history of Japanese football, has scored a goal in that match, created a priceless moment. However, since I am the type of coach who always corrects mistakes, I called MORIWAKI Ryota, who was supposed to mark Kazu, and warned him to "focus." It was an advise I gave to him not for that particular match, but with an eye on his future. It was also a pleasure to see Dragan STOJKOVIC as the opposing coach. I have always admired him ever since he was a player. I still enjoy watching videos of his goal scenes. His best goal is definitely the shot he fired from his own bench into the goal of Yokohama F. Marinos with leather shoes when he was the coach of Nagoya Grampus.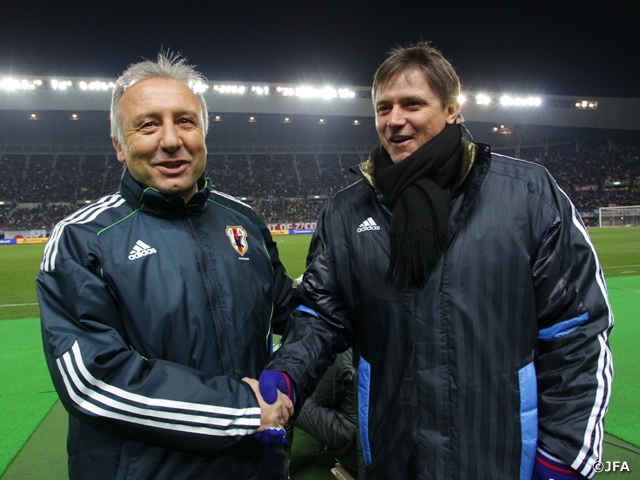 In my long career as a coach, "3.29" is a special match that cannot be compared to any other match. It was a rare match where the outcome of the match didn't really matter, and the match was full of positive intentions. But at the same time, I truly hope that no one will have to play a match after such devastating tragedy ever again. It has been a long time since I left Japan, but I am still attentively keeping an eye on the reconstruction situation in the affected areas of Tohoku, including Fukushima. In fact, I just watched a documentary film about Fukushima the other day. For me, the four years I spent in Japan were the best days of my life. Even after leaving the coaching position of the Japan National Team, I have visited Japan once year to meet my friends. However, I wasn't able to visit Japan last year due to the spread of COVID-19, so I sincerely miss Japan. The presence of Yoshida at Sampdoria and TOMIYASU Takehiro at Bologna are helping to heal my nostalgia for Japan. Both players are taking active roles at their clubs and receiving positive reviews in Italy. They are fighting on behalf of the value and honour of Japanese football. I'm really happy that Japan is constantly sending players to Italy. I want everyone in Japan to know that my thoughts are always with Japan. I have the impression that the Japanese people are always moving forward while cherishing the past. I strongly believe that the recovery from the earthquake will surely be realised. And I am really looking forward to the day we overcome COVID-19 and meet again. (Special thanks to MIYAKAWA Zenjiro and YANO Daisuke)