NEWS
"The spirit of solidarity" 10 years since the Great East Japan Earthquake – Relay Column Vol.14
02 April 2021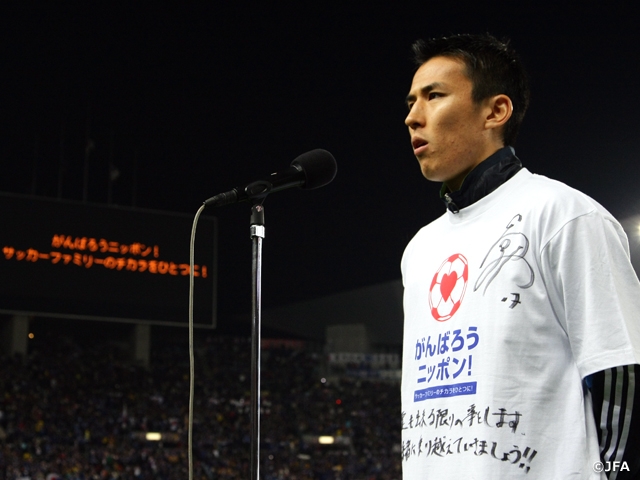 It has been 10 years since the Great East Japan Earthquake. While the restoration has progressed with a ton of support from home and abroad, there is still a long way to go for a full recovery. Here we will deliver essays and columns of people involved in football, reflecting on their own experience and perspective on the Great East Japan Earthquake.
The 14th column is written by Mr. HASEBE Makoto who was the team captain of SAMURAI BLUE (Japan National Team) at the time of the Great East Japan Earthquake.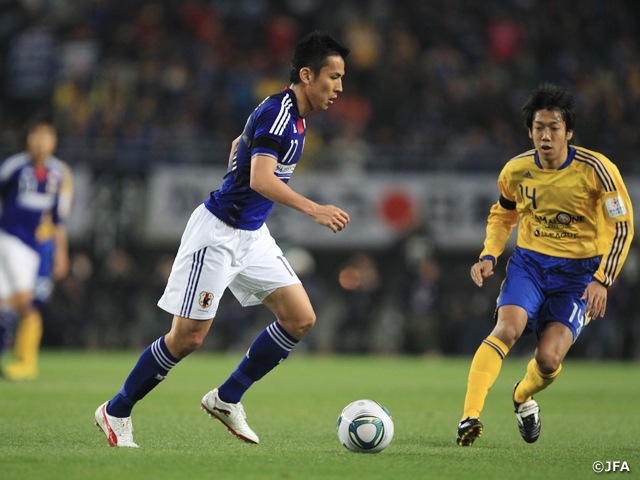 When I heard that a charity match to support the victims of the Great East Japan Earthquake would be held at Nagai Stadium in Osaka, I remember feeling very conflicted. The great earthquake that occurred on 11 March 2011 caused a huge tsunami which struck the coastal areas of Tohoku and severely damaged the Fukushima Daiichi Nuclear Power Plant. JFA announced the details of the charity match on the 17th, just six days after the earthquake. There was certain amount of people who raised their voices, saying "it is too early," and "it is inappropriate to play football under this circumstance." Since I reside in Germany, I wasn't able to get a firm grasp on how the situation was in Japan, but after consulting with JFA and talking with other players, I felt that it would be meaningful for the football community to take action under this circumstance. Before the match took place, I wasn't sure if we were right or wrong, but in hindsight, I think we were able to transmit a positive vibe from not only the football community, but the sports community.
The earthquake struck at 2:46 pm Japan time, which was early in the morning in Germany, I was just about to get up to use the bathroom. I heard my phone ring many times and emails were being sent one after another, which made me realise that Japan was in a serious crisis. Woken by the situation, I was glued to the images and videos posted on the internet for a while. I have lived in Germany for 14 years. Events in Japan are not often featured in the German mass-media, but the news about the Great East Japan Earthquake was definitely an exception. "Nuclear power phase-out" is a major political theme in Germany, and the news regarding the Great East Japan Earthquake were reported as top news on news programmes every day. The same applied to newspapers and magazines. I am sure this was probably the case not only in Germany but all over the world. I played for Wolfsburg at the time, and many of my teammates were veery concerned about me. Coach Felix MAGATH, who is known for his rigorous team management, hard training, and clear distinction with his players, even showed his sympathy to me, saying, "Hase, are you okay? Is your family safe?"
Unlike the Tohoku and Kanto regions that were severely affected by the earthquake, Osaka was less affected, and I felt like I was able to carry on my daily routine. Even so, I felt the strong desire to take action to help the affected regions and victims through our fans and supporters who gathered to take part in our fund-raising activities. That feeling was mutual for the players who gathered, coach Alberto ZACCHERONI, the team staffs, and everybody from JFA. No one had to take the initiative to start the fund-raiser after our training session. Everyone shared the same feeling, so it just came out naturally. I feel like this charity match has allowed JFA, the J.League, and J-Clubs to become more active in raising funds at match venues and delivering them to the affected areas of various natural disasters. That alone makes that charity match meaningful.
If I had to recall one thing from that match, it has to be the goal score by Kazu-san (MIURA Kazuyoshi). After I started in the match, I had already been taken out, so I watched it from the bench. Kazu-san was introduced to the match to replace NAKAMURA Kengo in the 62nd minute and scored the goal in the 82nd minute. When he scored that goal, I remember getting so excited, but realised that we were getting scored on, so I was conflicted at the moment. Everybody on the bench stood up yelling "WOW," but felt they shouldn't be celebrating the goal, so we all kind of just sat down. After the match Zack-san (coach Zaccheroni) mentioned, "I've been a coach for a long time, but this was the first time I'm pleased with an opponent's goal," and that was exactly how I felt too. Recently I heard about an interview where Kazu-san reflected on the match and mentioned, "That goal brought excitement to so many people, including those who have been affected by the earthquake. It really made me realise the power of a single goal." This happened 10 years ago, so Kazu-san was 44 at the time. It's just amazing that he was able to score a goal against the national team. It was a goal that made everyone happy, and it made me think that "football gods do exist."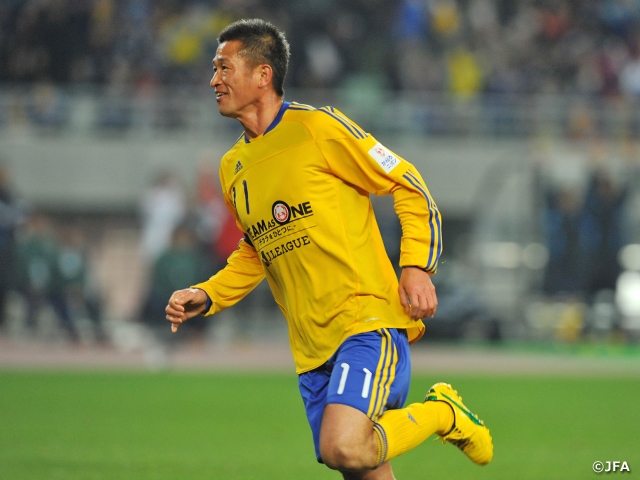 After the match was over, as a football player, I was able to feel the power of sports, the power of football. I was honestly glad that I kept playing football. I also remember being very relieved, because as I mentioned earlier, I was feeling conflicted about this charity match. Considering the circumstance at the time, the affected areas were not in a sufficient condition to watch the match nor did the victims were in a mood to watch a football match. Normally, I strongly demand the correct answer from things, white or black, zero or 100, and I have a personality that I have to clarify things. Such personality has helped me along my professional career, but it has given me conflicts when participating in social contribution activities, which makes me think "Am I just doing this for my own satisfaction?" or "Are my intentions being conveyed to others?" However, thankfully, after returning from Osaka to Germany, I received many positive messages through my blog. I also received many letters from the affected areas through my club. Many of them mentioned their gratitude towards that match. I cannot describe how much I was saved by those words. Through the social contribution activities carried out by UNICEF, which started in 2007, and the reconstruction support activities following the Great East Japan Earthquake, I think I learned that there are various "colours" between black and white. You cannot be always right, and your actions will not be always accepted by others. There are always pros and cons. But not taking action because of fear of failure is probably the worst thing you can do.
Following the charity match, I started to visit the affected areas during the off-season. I have been visiting Minami-Sanriku town in Miyagi each year because I was involved with the reconstruction efforts of Asahi Kindergarten. The children at the kindergarten does not know about the earthquake. The children who were at the kindergarten at the time of the earthquake are now junior and high school students, which makes me feel that time has gone by quickly. Many things have changed over the 10 years. Visible infrastructure has been fixed and rebuilt. But what about the wounded hearts of the victims? It's hard to see what's inside a person's heart, and it's sometimes even harder to understand your own feelings that are hidden deep inside your heart. For instance, with this year being the 10th year since the earthquake, many medias are creating contents featuring the incident, but it makes me wonder how the victims are viewing them. However, I think it'll be strange if I stop doing what I have been doing because of those kinds of concerns. Last year, I couldn't go to Asahi Kindergarten because of the pandemic. What I had been doing for eight years was disturbed by COVID-19. Once the crisis is over, I will make a visit again. It is not like you can understand everything by just going there, but there are certainly many things you can learn by just being there. The important thing is that you continue to do something.
The charity match 10 years ago may have shown a form of solidarity. By gathering mutual feelings and through support, we can generate great power. Rather than having a selfish mind, we must think of others as if it is about ourselves. I think that spirit of solidarity is an important factor in overcoming the current hardship of the corona pandemic. The matches played by the Japan National Team is a great tool to bring out people's sense of solidarity, and I hope that the matches will soon return to Japan.