NEWS
JFA Academy Fukushima Women's Team conduct tour to France
29 March 2019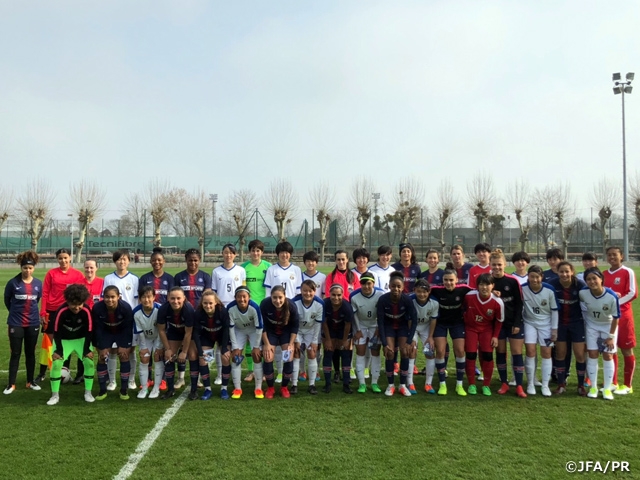 From Friday 22 March, JFA Academy Fukushima Women's Team will be travelling to France for nine days. During their stay, the team is scheduled to train, observe matches, and play four training matches. Through this tour, the players will have the opportunity to learn about different cultures, interact with others using a foreign language, and gain various experiences on and off the pitch.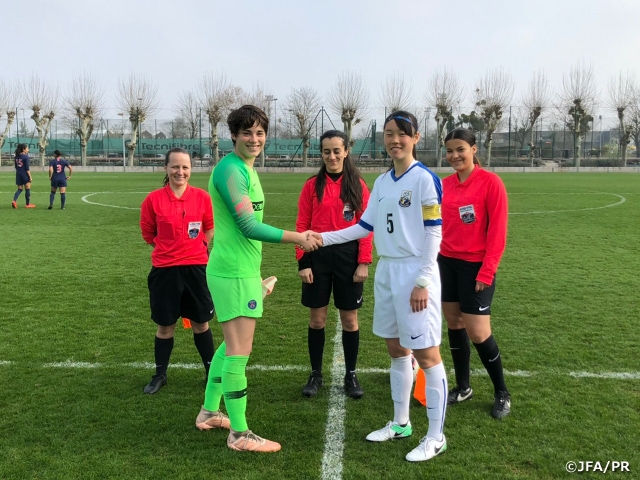 Players' Comments
MIYAKE Sayu (9th Class)
The weather in France is not so different from Japan, but it gets a little chilly in the morning and evening, so we had to take care of our own conditions. We were on the airplane for nearly 13 hours, but we all made sure to stretch our bodies and drink plenty of water so that were ready for the training match scheduled on the next day. Once arriving to our hotel in the evening, we held a light training session that lasted about an hour. We were a little tired from the long travel, but we were able to conduct the session without any injuries. On the second day in France, we played a training match against Paris Saint-Germain. With the opponents being bigger and faster, we struggled to find our rhythm. They were also very skilful, and there were so many things we can learn from them. Despite losing 0-2, I feel like the match was a very productive match for us. The tour has just begun, so we hope to gain as many experiences as possible and try to make the most of our time here in France.
SHIROWA Reina (10th Class)
Following a plane ride that lasted about 12 hours, we arrived at our hotel in France and held a training session for about an hour. On the next day, we played a training match against U-19 Paris Saint-Germain. Despite the long travel, everyone seemed to be focused to enter the match. We lost the match, but we were able to gain so many new findings from the match. On the third day, we played a match against PARIS FC. The pitch condition was not so great, and it caused us to make more mistakes than usual, but we were able to showcase our teamwork to cover ourselves, so that was a positive aspect of the match. I personally was able to score a goal that contributed to the team's victory, so I am happy with the result. However, there were plenty of areas we still need to improve, so we will work on those areas ahead of the next match.
SATO Akari (11th Class)
There were many obstacles I had to overcome during this tour, such as the long travel, time difference, and the local cuisines. Bread and serials were served for our meal, and I was not able to eat as much as I usually do in Japan. It made me realise the importance to manage my diet in order to showcase a good performance on the pitch. We played a training match against Paris Saint-Germain. The opponents were much faster and stronger, and the match allowed us to realise what we need to work on. We must organise what we learned from the match and utilise the information to do a better job in our next match. I hope to make the most out of this France tour to become a better player.