NEWS
[Special feature] Understanding the GK position: Developing world-class GKs - Let's nurture our eyes to see through the essence, Interview with JFA GK Project Advisor/former GK Coach of Netherlands National Team Frans HOEK Vol.1
10 June 2020
In efforts to raise the overall level of GKs in Japan, last year, JFA has welcomed a world-class mentor from the Netherlands. For over 30 years, Mr. Frans HOEK has devoted himself to developing world-class GKs and to raise the status of the GK position. Here we have conducted an interview to ask the veteran coach about the basic principles of his GK development philosophy.
Interview date: 12 December 2019
*This article was originally posted on the Japan Football Association Newsletter, "JFAnews," February 2020 edition.
Blessed with luck during early teens, professional debut at age 16
――Please give us a brief introduction of yourself.
HOEK Last year, I started working as the GK Project Advisor for JFA.
Although I have dedicated myself to football since my mid-teens up to the present, the first sport I got involved in was actually Judo, in which I won a tournament in the Netherlands when I was 12 years old. In high school, I tried playing several sports including volleyball, but I was most passionate about playing football. I liked playing the GK position and I enjoyed making diving saves at the time. Because I did Judo, I was particularly good at landing without injuring myself. I turned professional at age 16 and played as a GK for 12 years.
――Why was Judo your first sport?
HOEK I was influenced by my older brother who was eight years older than me. It was difficult at first, but once I got started, I was able to learn the structure of my body and it enabled me to have control over my body movements. Judo is a sport played one-on-one, so it taught me how to face and compete against an opponent in front of you.
The skills I learned playing Judo have also helped me in football. I was no longer intimidated by my opponents when playing football on the streets. There were not many kids who were willing to play GK, but I was the type that preferred stepping up to protect the goal.
――Is turning professional at age 16 common in the Netherlands?
HOEK No, to be honest, I was truly fortunate. When I was 14 years old, I played for an amateur team. One day, I was unexpectedly named to start a match in place of our first choice GK. I played fairly well in that match, and I started to attract some attention. After getting offers from a few clubs, I chose to play for a club called Volendam.
I was lucky at Volendam, too. When I first arrived at the club, I was supposed to join their youth team. However, their top team did not have enough GKs, so I was promoted to the top team shortly after I joined the club. Since then, I was selected to the national team for each age category except for the senior team and managed to have a decent career as a player.
――Then you started your coaching career in 1985.
HOEK I was forced to retire because of an injury, and when I made that decision, Johan CRUYFF asked me if I wanted to join Ajax. As you may know, Cruyff is a special figure in the football world, and I had no reason to say no, so I started working for Ajax, where I coached for 12 years.
At Ajax, I learned everything about football, and we won all the titles that were available to us, starting from the domestic titles, the UEFA Champions League, and the 1995 Toyota Cup in Japan.
――That is a wonderful career.
HOEK I was also given wonderful opportunities to develop great GKs. At Ajax I coached Edwin VAN DER SAR (former player of Netherlands National Team) and at Manchester United, David DE GEA (Spain National Team). I also spent time coaching national teams for Netherlands, Poland, and Saudi Arabia. Besides coaching, I have also dedicated my time in youth development by writing textbooks and making lecture videos. Since 1995, I have been working as an instructor of UEFA to construct the curriculum for the UEFA Goalkeeping A Licence.
Challenge is my way of living
――What brought you to Japan?
HOEK Ever since I was a player, there were two challenges I wanted to take on. First was to utilise my profession for the future. It has been 35 years since I started coaching as a 28 year old, and I have been able to dedicate my time to coaching at a remarkably high level.
The other challenge is to raise the value of the GK position. That is why I have devoted my time writing textbooks and constructing GK coaching courses. However, when you are coaching for top clubs in the world, or a national team, it is hard to find time to pursue what you really want to do. That is why I decided to stop working at the top football countries. I wanted to have control over what I do.
――Can you tell us what you truly want to do?
HOEK I want to spread the "GK's Way" to all coaches, and this collaboration with JFA is exactly what I was looking for. Upon receiving the offer for this job, I met with Mr. FUJITA Toshiya (JFA Technical Staff in Europe) in November 2018 and heard about the vision of JFA. I am excited to be involved with a new project because challenge is my way of living. After hearing the story from Mr. Fujita, I wanted to learn more about Japan, so I made my way to Japan and observed the measures taken by the JFA GK group first-hand. This allowed me to see how hard the Japanese coaches were studying on a daily basis, and their desire to improve the coaching environments to produce better GKs.
――So there were talks about this project for a while now.
HOEK In the professional world, we are always asked to produce results, and everything seems to be done within a short time frame, however, that is not how it should be done. There is no such thing as a coincidence, and there must be a long term vision for success. As proven in last year's Rugby World Cup, Japan has the capability of being successful.
Dramatic change in GK trends
――In Japan, it is thought that "GK is becoming popular in Europe." Is that true?
HOEK Unfortunately, it is not that popular. If kids are playing football, most kids would want to play as a midfielder or as an attacker so that they can touch the ball as much as possible. That is pretty common, but it does not necessarily mean that they have strong preference on where they want to play. So, in the Netherlands, many teams would make the kids alternate to play the GK position during the age of six to ten.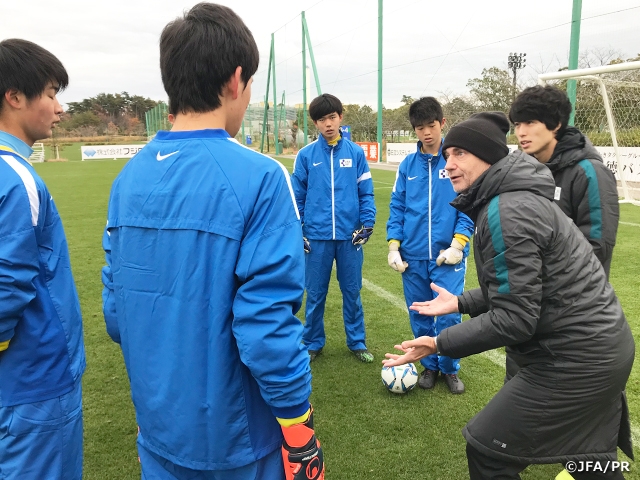 Introduction of Mr. Frans HOEK
Born 17 October 1956 in the Netherlands
Following his 12 year playing career, he became an assistant coach specialised in GK and set pieces. Worked under world class coaches like Johan CRUYFF and Louis VAN GAAL. Coached variety of teams, including clubs like Ajax and Barcelona, and national teams of the Netherlands, Poland, and Saudi Arabia.
【Coaching career】
1985 - 1997 AFC Ajax
1997 FC Barcelona
2000 - 2001 Netherlands National Team
2003 FC Barcelona
2006 - 2009 Poland National Team
2010 - 2011 FC Bayern Munich
2012 - 2014 Netherlands National Team
2014 - 2015 Manchester United
2016 - 2017 Galatasaray SK
2016 - 2018 Netherlands National Team
2018 - 2019 Saudi Arabia National Team