NEWS
[Special feature] Understanding the GK position: Developing world-class GKs - Let's nurture our eyes to see through the essence, Interview with JFA GK Project Advisor/former GK Coach of Netherlands National Team Frans HOEK Vol.2
11 June 2020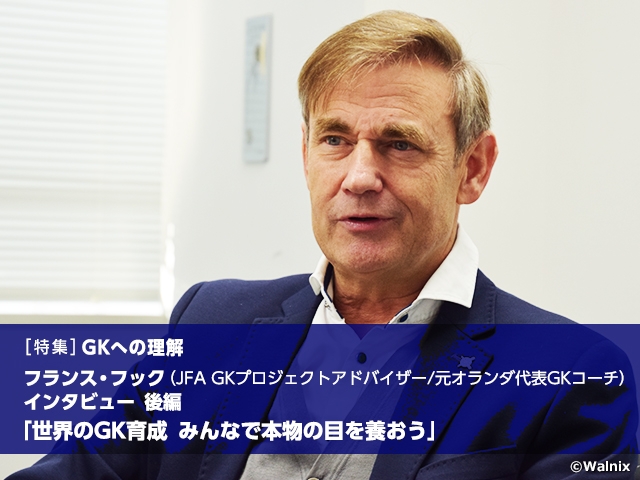 In efforts to raise the overall level of GKs in Japan, last year, JFA has welcomed a world-class mentor from the Netherlands. For over 30 years, Mr. Frans HOEK has devoted himself to developing world-class GKs and to raise the status of the GK position. Here we have conducted an interview to ask the veteran coach about the basic principles of his GK development philosophy.
Interview date: 12 December 2019
*This article was originally posted on the Japan Football Association Newsletter, "JFAnews," February 2020 edition.
――Why do so many talented GKs come out from Europe?
HOEK It does seem like there are so many talented GKs in Europe, but when you look at who is at the top right now, you will notice that they are South American GKs. For instance, last year, the inaugural "Yashine Trophy" was awarded to ALISSON (Liverpool), who is Brazilian, and EDERSON (Manchester City), who also plays in England, is from Brazil as well.
――What makes them so special?
HOEK I think it is because they have great foot-skills and fit well with their team strategy. In the 1990s, player like Peter SCHMEICHEL (former player of Denmark National Team) and Oliver KAHN (former player of Germany National Team), who both had great blocking abilities and showed great presence in front of the goal, were thought to be essential players for the game.
Since the back-pass rule was amended in 1992, the role of GKs saw gradual change over the years. Soon after the amendment, responding to back-passes and clearing the ball without making mistakes became an essential skill for GKs. Furthermore, since 2000, build-up plays to initiate the team's attack became a new prerequisite for GKs.
――So the trend has changed over the years.
HOEK I think it really changed over the past decade. The GKs who managed to take advantage of this change the most were South American players, especially the Brazilian players, and many of these players are field players that were converted to become a GK. Their experience playing in the defence line or in the midfield explains why they have such great understanding of the flow of the game.
Going back to the question, why do we see so many talented GKs in Europe, the answer is because people's attention is focused in Europe. The highest competition is in Europe, which attracts popularity, and naturally, popularity attracts talents and the money to acquire those talents.
――Environment is a key factor to develop talented GKs?
HOEK We must first address the definition of a good environment. We cannot develop good GKs just by having many natural grass pitches. It is not that simple. What is important is the coaches. Regardless of the pitch conditions, good players will develop if there are good coaches.
Regardless of your role, let's all try to understand the GK position
――In Japan, there are many teams without GK coaches, especially for amateur teams.
HOEK It is good that this issue is being recognised. I have heard many JFA staffs mention the need for more GK coaches and their desire to give young GKs proper trainings. As long as the tasks are clear, we can figure out the necessary measures in a timely fashion.
For example, a parent might volunteer to act as a coach for a team without a GK coach. It can be extremely helpful if JFA has a coaching guidebook for such occasion. The most important thing is that the coach is provided with proper knowledge to coach the players. That is an aspect JFA and I must work on.
――It is important that the coaching side has the fundamental knowledge and know-hows to coach.
HOEK Coaches must understand the essence of each training, and have the ability to make the right judgements. That is what matters the most. Coaches who newly obtained their licence have the tendency of coaching too much, which leads to misunderstanding from the players. Sometimes it is better to keep quiet, but that may not be an option for a coach. That is why we must come up with textbooks that can be understood by those who are willing to coach but does not necessary have the tools to actually coach.
――The presence of a specialised coach may not always solve the issue.
HOEK Not limited to the specialised coaches, but all coaches must understand the significance of a GK. In modern football, a GK should be considered almost equally as a field player.
Regardless of what coach you are, all coaches should actively participate in GK coaching courses to have a better understanding on the position. If the entire team can understand the value of a GK, the quality of that team's GK coach will inevitably rise and as a result, the overall level of the team will also rise.
――The team must acknowledge the importance first.
HOEK There are many cases where the GK is held accountable for a conceded goal. Of course, there are times where a simple mistake made by the GK can lead to a goal, but there are many occasions where it is not much of a mistake as people perceive. On the flipside, there are also times where many people think as if the GK made a superb save, but in reality, it was a routine save for the GK. In order to nurture the eyes that can tell the difference, everybody must understand the fundamentals of the position.
I might sound like a broken record, but the point is, it is important that everyone on the team understands the role of a GK. Some might think, "we have a GK coach, so let him/her take care of the GK," but with that approach, the team will never get stronger and cannot develop a good GK.
World-class players will develop by spreading proper assessment
――How important is it to have GK coaches at the grassroots level?
HOEK It is important to have GK coaches at any level, but there is something I want to address first.
GK coaches are considered as specialists, but in order to become a specialist, one must first understand the sport of football.
We often see GK coaches constructing individual training menus just for GKs. They might believe that such trainings that feature specific movements can nurture talented players, but that is not true.
Strikers do not only train with other strikers. They train with teammates who deliver the crosses, or against defenders who mark them. By simulating a real match with or against teammates, players can improve themselves through a training session. The same thing can be said for the GKs.
This is why GK coaches are required to obtain a regular coaching licence. If you cannot see the wood for the trees, you cannot become a good coach.
――What advice would you give to someone who wants to know more about GKs?
HOEK I would like to tell them to take a look at the materials that are currently being created by the JFA GK Project members. We are hoping to send these materials to the JFA GK A Licence holders first, then to other coaches nationwide, including those at the grassroots level. It would be ideal if we see some kind of reaction from the coaches through these activities. That is our goal for this project.
――Do you have any message for the readers of this article?
HOEK "The JFA Declaration, 2005" contains "The JFA Pledge for 2050." In this pledge, JFA states to realise two key objectives by 2050: to increase the football family members to 10 million, and to host the FIFA World Cup in Japan where Japan will become the champions. We still have 30 years to go, so it requires lots of patience, but nonetheless it is a wonderful statement made by JFA.
Understanding the value of the GK position is an essential aspect to develop GKs. By learning and cherishing the position, the overall level of GKs in Japan will certainly improve. "GK is an essential piece for both offence and defence." When this notion becomes a norm in Japan, even outside of the football community, I believe that a world-class GK will emerge from Japan.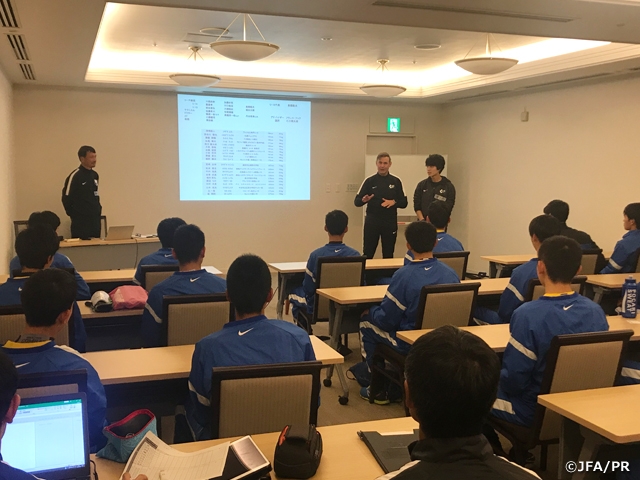 Introduction of Mr. Frans HOEK
Born 17 October 1956 in the Netherlands
Following his 12 year playing career, he became an assistant coach specialised in GK and set pieces. Worked under world class coaches like Johan CRUYFF and Louis VAN GAAL. Coached variety of teams, including clubs like Ajax and Barcelona, and national teams of the Netherlands, Poland, and Saudi Arabia.
【Coaching career】
1985 - 1997 AFC Ajax
1997 FC Barcelona
2000 - 2001 Netherlands National Team
2003 FC Barcelona
2006 - 2009 Poland National Team
2010 - 2011 FC Bayern Munich
2012 - 2014 Netherlands National Team
2014 - 2015 Manchester United
2016 - 2017 Galatasaray SK
2016 - 2018 Netherlands National Team
2018 - 2019 Saudi Arabia National Team