NEWS
[Empress's Cup Special] Interview of KAIHORI Ayumi and STAMBAUGH Hannah (INAC Kobe Leonessa) Vol.1
24 November 2020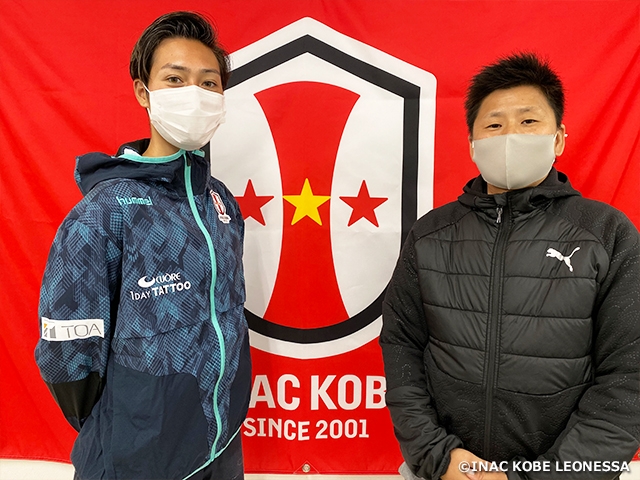 The Empress's Cup JFA 42nd Japan Women's Football Championship is about to kick-off on Saturday 28 November. Ahead of the tournament, we have conducted an interview between former member of the Nadeshiko Japan (Japan Women's National Team) KAIHORI Ayumi and INAC Kobe Leonessa's GK STAMBAUGH Hannah.
○Interviewed online: Thu. 29 October 2020
――To start with, share us with your current status. Let's start with Ms. Kaihori, what have you been up to lately?
KAIHORI After my retirement, I was admitted to the Faculty of Policy Management at Keio University, where I currently study Sports policy, but I am also trying to learn variety of other fields for my future career. I have been involved in starting up U-15 teams and help build environment to play sports. Due to the effect of COVID-19, I have been limited with the number of activities this year, but I have still spent my time holding football clinics and lectures to share my experience. This pandemic has also given me the opportunity to think about the role of sports in our society.
――Ms. Stambaugh, after experiencing a period where all football activities were being suspended, how does it feel to finally be able to play football again?
STAMBAUGH We were voluntarily refraining from our activities during April and early May, and it felt quite lonely not being able to knock the ball around with my teammates. While one side of me really wanted to play football, I also spent a lot of time thinking about things I can do on my own during this time. With the society gradually making its return to normal, I am very thankful to all the people and their support for allowing us to play football.
――With this being an interview between two GKs, please tell us about the attraction of the GK position.
STAMBAUGH It is a position that has direct impact to the outcome of the match, and it is the only position entitled to use their hands, while its presence on the pitch is also required by the rule. Because it is a unique position, it has its own difficulties, but there are so many things that you can do and the process of earning the trust from your teammates is very appealing.
KAIHORI Why did you become a GK?
STAMBAUGH Because I was tall. (with a laugh)
KAIHORI I knew it. (also laughing) I was a field player until junior high school, but once I became a GK, I found out how hard it is to defend that huge goal. You cannot defend it by yourself, so you coordinate with your teammates, which requires practice, and that whole process allows you to see how the trusting relationship is being built between you and your teammates. Now that I am retired as a player, I am realising even more that a GK position is a very unique position. They wear different jerseys and train separately from the team. That is why I feel like we need to convey the attraction of the position more.
――How can we make the GK position more appealing to the kids?
KAIHORI People get the impression that GKs are always involved in plays where the team concedes goals, but we make a lot of fine plays as well. If we can cast light on the positive images rather than the negatives, kids might start to think that they can become a hero and want to play the GK position.
STAMBAUGH In Europe, when I tell people that I am a GK, I get positive reactions, telling me how wonderful that is. Also, it should be mentioned that you will concede goals regardless of how good you are.
KAIHORI Yes, mistakes are also part of football. It is just inevitable.
STAMBAUGH I agree. Just because the GK is positioned closest to the goal, wearing a different jersey from others, we tend to become the focal point, but there are many mistakes made prior to the final play.
――Tell us your impression of each other.
KAIHORI The only time I trained with Stambaugh is when she came to INAC Kobe Leonessa as a trainee for two days. At the time, I got the impression that she was a charming, dedicated, and positive girl. In terms of football, I thought she was more of a "don't think, feel" type of player. Her techniques were still work in progress, but she was very powerful, radiant, and eager to learn everything at the training site, which was really appealing to me.
STAMBAUGH It was during my first year in junior high school when she won the FIFA Women's World Cup 2011™, which I watched on TV, so she was my idol. When I went to that training, it was like she came out of the TV screen, and I was like "That's her!" I knew it was a rare opportunity, so I gave my best efforts to leave an impression.
――What were your impressions as a player?
STAMBAUGH My first impression, after watching her play on TV, was that she was extremely good. At the time, I was not able to play with the confidence level she was displaying, so she really showed me what it is like to be a top player. After seeing and playing with her in real life, I realised how sophisticated her plays were. In situations where I can only come up with two options, she is thinking about 10 options. Her ability to think ahead and her understanding about the opponents were some of the aspects that amazed me.
KAIHORI Like me, I think Stambaugh is a type of player that believes in her own ability and intuition. I know she has great talent, so I hope she cherishes her own intuition and make good decisions on the pitch.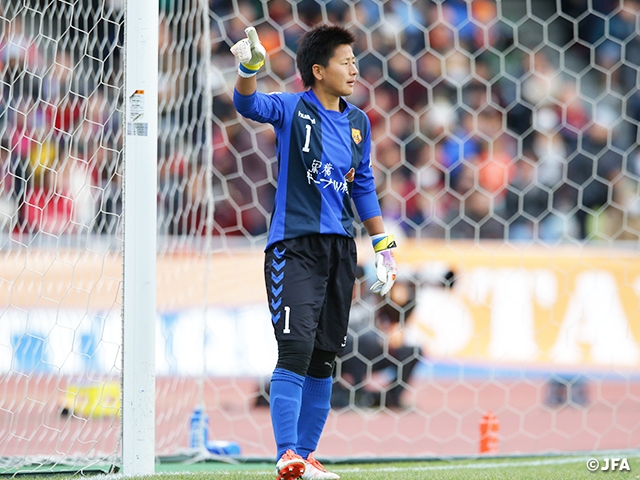 Empress's Cup JFA 42nd Japan Women's Football Championship
Tournament Duration: Sat. 28 November - Tue. 29 December 2020
【1st Round】Sat. 28 / Sun. 29 November
【2nd Round】Sat. 5 / Sun. 6 December
【3rd Round】Sat. 12 / Sun. 13 December
【Quarterfinals】Sat. 19 / Sun. 20 December
【Semi-Finals】Thu. 24 December
【Final】Tue. 29 December