NEWS
FC Tokyo defeat Urawa to claim second win at the Prince Takamado Trophy JFA U-18 Football Premier League 2021 EAST
28 June 2021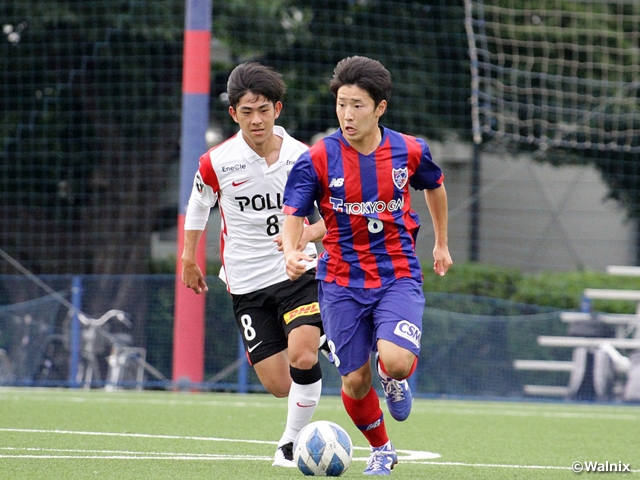 The eighth sec. of the Prince Takamado Trophy JFA U-18 Football Premier League 2021 EAST took place on Saturday 26 and Sunday 27 June at various locations.
Pick-up Match
FC Tokyo U-18 1-0 (0-0, 1-0) Urawa Red Diamonds Youth
At Tokyo Gas Musashino Multipurpose Ground, FC Tokyo U-18 (Tokyo) squared off against Urawa Red Diamonds Youth (Saitama). After three of their recent matches being postponed, this was FC Tokyo's first match at the Premier League since the fourth sec. against Omiya Ardija U18 (Saitama) on Saturday 24 April. With his side returning from a long break, Tokyo's coach NAKAMURA Tadashi mentioned, "We entered the match very passively, especially in defence."
Urawa on the other hand, has struggled mightily in the Premier League, as they are kept winless in seven matches leading to this match. With the team sitting in last place, coach IKEDA Nobuyasu hoped to see his players step up their performance in this match, but saw the opposite, as he described, "Both teams looked stiff, but our team looked especially hesitant in both offence and defence."
The match didn't see much action in the first half, as Urawa's GK later reflected, "Both sides didn't create many opportunities in the first half." However, the second half did not lack action, as the two sides started to exchange close changes back and forth. In the 55th minute, Urawa's first year player HAYAKAWA Junpei (#39) struck a shot that forced Tokyo's GK KANOSHIMA Yu (#1) to make a save, allowing HAGIMOTO Masaki (#14) to respond to the loose ball, but Kanoshima made another spectacular save to keep the clean sheet intact. Kanoshima made another big save in the 61st minute, giving momentum to the Tokyo side.
The deadlock was broken in the 65th minute, when FC Tokyo's NOZAWA Leon (#18) responded to the cross delivered by MIYASHITA Shogo (#6) to strike a header into the Urawa goal, as the ace striker later reflected, "I knew the ball was coming and I was able to free myself perfectly."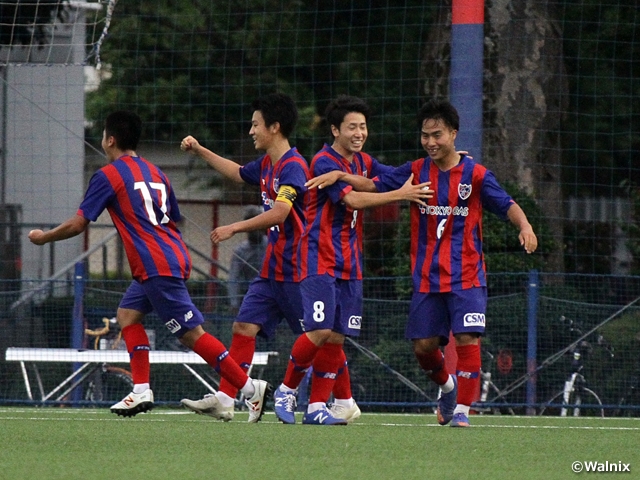 With the one goal lead, FC Tokyo displayed their persistency to keep the Urawa offence at bay, as coach Nakamura commented, "We were able to showcase what we are capable of at this moment." The team will face Aomori Yamada High School next sec., a team coach Nakamura describes as "this year's No.1 team."
Urawa's coach Ikeda on the other hand, commented, "We simply didn't have what it takes to win. I need our players to play more aggressively."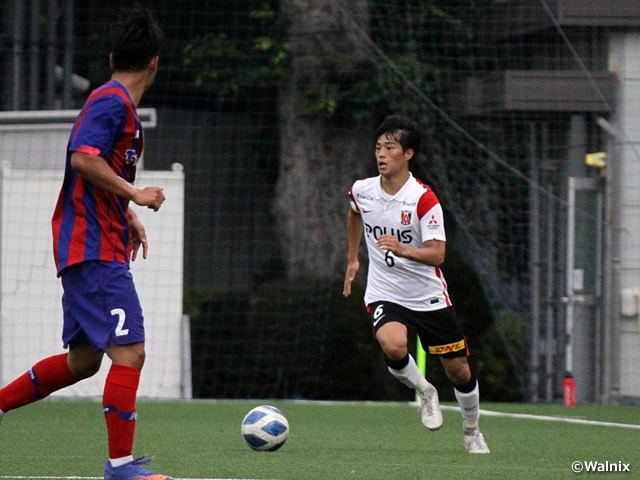 Coaches and Players' Comments
NAKAMURA Tadashi, Coach (FC Tokyo U-18)
We were able to capitalise on our opportunity today. Nozawa proved that he is our ace and Miyashita made great contributions for the team, not just limited to the assist. Our players realised that they need to improve themselves after playing in the Japan Club Youth (U-18) Football Championship during the break, so that was a great learning experience for us.
FW #18 NOZAWA Leon (FC Tokyo U-18)
When I scored the goal, the cross was perfectly placed, so I just had to tap the ball in. I am not a big player, but I learned how to free myself in the box while playing with the top team, so I am glad I was able to make use of it in a match. However, I am still not good enough to compete at the professional level, so I will continue to raise the quality of my plays.
IKEDA Nobuyasu, Coach (Urawa Red Diamonds Youth)
We knew they were going to keep their plays simple and deliver crosses into the box, but we still conceded from a cross, which tells us that we just didn't have what it takes to win the match. We also failed to capitalise on our opportunities in the second half and needed to create more chances in the first half, too.
GK #1 KAWASAKI Atsushi (Urawa Red Diamonds Youth)
It's regretful that we couldn't score from the opportunities we created in the early minutes of the second half. We were defending well until we conceded from that cross. The goal came from a play we were expecting, so that is something we need to work to improve on. We also need to communicate more. I am not a very vocal person, but I will try to make my voice heard from our training sessions and help create a positive vibe for the team.
Results of other matches
Omiya Ardija U18 Postponed Yokohama F.Marinos Youth
Ryutsu Keizai University Kashiwa High School 4-1 (1-1, 3-0) Yokohama FC Youth
Aomori Yamada High School 2-3 (0-1, 2-2) Kashiwa Reysol U-18
Funabashi Municipal High School 0-3 (0-0, 0-3) Shimizu S-Pulse Youth
After the match entered halftime with a score of 1-1, Ryutsu Keizai University Kashiwa High School (Chiba) scored three unanswered goals to win the match 4-1 against Yokohama FC Youth (Kanagawa). First place Aomori Yamada High School's (Aomori) winning streak came to an end after Kashiwa Reysol U-18 (Chiba) handed them their first loss this season. Shimizu S-Pulse Youth (Shizuoka) earned a 3-0 shutout victory over Funabashi Municipal High School (Chiba). The match between Omiya Ardija U18 and Yokohama F.Marinos Youth (Kanagawa) was postponed after one of the staffs involved in the match tested positive for COVID-19.
Prince Takamado Trophy JFA U-18 Football Premier League 2021
League Duration: Sat. 3 April - Sun. 5 December 2021