NEWS
Introducing JFA Academy Kumamoto Uki's effort: GK-Class C coach development course
17 September 2014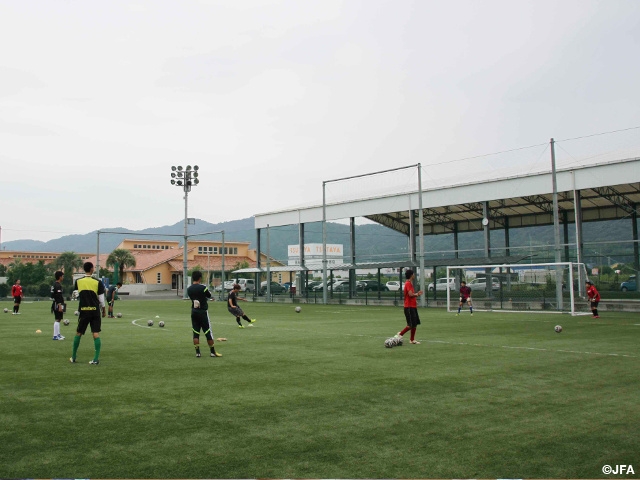 As part of the JFA's attempts to fulfil the JFA Declaration 2005 and establish its regional headquarters, the JFA Academies work as so-called Football Centres for regional associations and play roles such as providing coaches training, organising training centres, doing projects for kids and promoting the sport. In this article, we introduce GK-C Class coach development course (the 6th course JFA Academy Kumamoto Uki).
Instructor Comment
SUMIYA Takashi, Instructor
As well as training goalkeeper coaches who work with the junior and junior youth generation (under 15), we offer a course to nurture human resources that are capable of being a goalkeeper coach leader in each prefecture.
As we provide 10 topics that are supposed to be learned, we work on function training and practical training with playing an actual game.
Some of the participants are involved not only in coaching their own team but also in coaching their local community or prefecture. I hope they take advantage of what they learned today and that eventually improves the level of Japanese goalkeepers.
Participants Comments
MAEDA Kenshi
There were 26 participants from or outside Kyushu in the training course today. We had various discussions through practical training, lecture and coaching in an actual game. I work with Class 2 generation. I thought I want to keep learning coaching methods of GK-C Class that become a fundamental of elementary or junior high school students, and also I want to take advantage of what I learned today. I also want to understand the goalkeeper position even more and work on coaching from now on.
KOYAMA Haruo
We learned about the goalkeeper-specialized coaching today. Today's course turned out to be very valuable as the instructor and participants discussed coaching methods and exchanged their own opinions and questions that came up during the lecture. I will make use of what I learned at the course and work hard for players' further development.