NEWS
Introducing JFA Academy Kumamoto Uki's effort: Coaches training to be qualified as Official Class A U-12 coaches
13 September 2014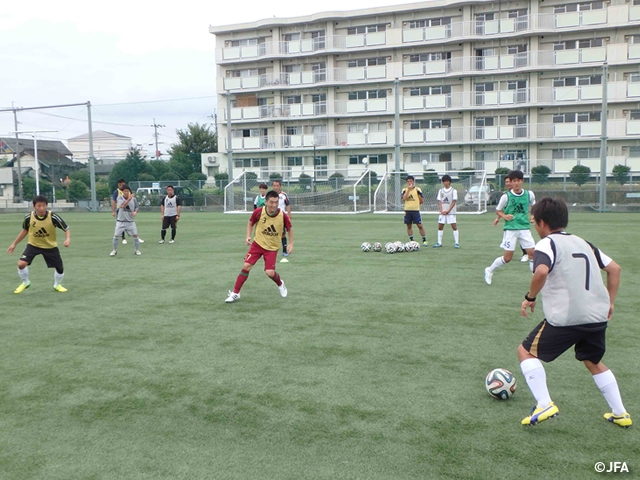 As part of the JFA's attempts to fulfil the JFA Declaration 2005 and establish its regional headquarters, the JFA Academies work as so-called Football Centres for regional associations and play roles such as providing coaches training, organising training centres, doing projects for kids and promoting the sport. In this article, we introduce the coaches training course to nurture Class A U-12 coaches being held as the JFA Academy Kumamoto Uki's 2nd term course.
Instructor Comment
SHIMADA Nobuyuki, JFA Instructor
The Official Class A U-12 Coaches Training Course is designed to develop specialised coaches for training U-12 players and also for taking a leadership role in such efforts. Also those personnel are also expected to be regional leaders to organise and grow training environment and tournaments for that generation.
Participants Comments
KAGUCHI Noboru
There are 21 participants from all over the country for this Academy Kumamoto Uki's Official Class A U-12 Coaches Training Course. The main objective of this 2nd term is to practice coaching. In the period after the 1st term and before this 2nd term, we were supposed to develop training plans under four different themes and actually practiced them in our own clubs or our regional training centres. I would like to see what I am still missing during my time to work with other participants and instructors. I will work hard to improve myself.
NAKAMURA Masato
After the 1st term, we did two months of internship and we all got back to Uki again. Looking at what other people did in their coaching internship and how good shape they are in, I think everyone has done some good work. There is a long way ahead for us as regional U-12 development leaders. I want to share "Japan's Way" and share which direction Japan has to go with my colleagues, and we will grow all together in the limited time we have here for Japan to win the World Cup someday.