NEWS
9th Class of JFA Academy Kumamoto Uki conduct Tour to Germany
07 August 2019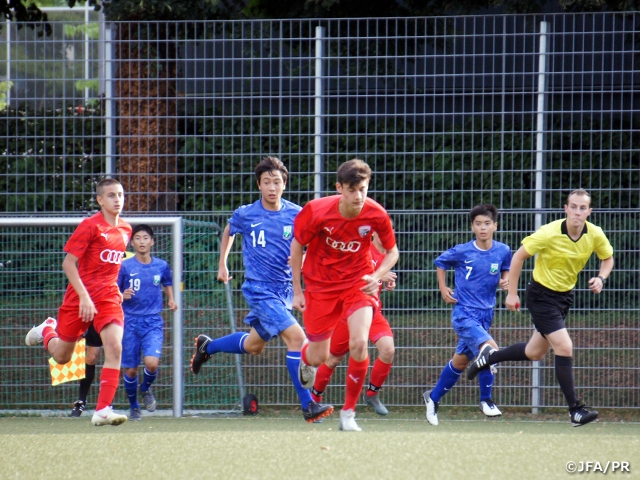 JFA Academy Kumamoto Uki has been conducting their activities mainly on the weekends, but utilising the summer break, they have conducted a tour to Germany, where 15 players of the ninth class attended the tour from Saturday 20 to Saturday 27 July. During their stay in Germany, the team conducted four training matches. Each year, the ninth graders of JFA Academy Kumamoto Uki has been conducting these tours overseas, and this year's team visited Ingolstadt, Germany.
Match Results
Mon. 22 July JFA Academy Kumamoto Uki U-15 0-2 FC Ingolstadt U-16
Tue. 23 July JFA Academy Kumamoto Uki U-15 5-3 VfR Aalen U-16
Thu. 25 July JFA Academy Kumamoto Uki U-15 4-1 Greuther Furth U-16
Thu. 25 July JFA Academy Kumamoto Uki U-15 10-1 FC Coburg U-15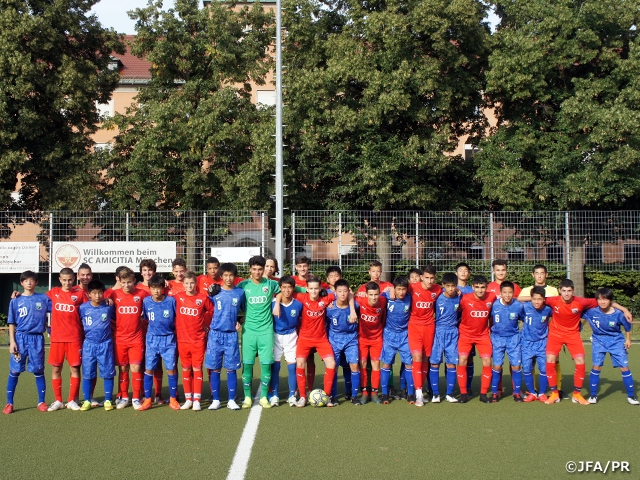 Coach's Comment
OGAWA Hideki, Coach (JFA Academy Kumamoto Uki U-15)
At this tour in Germany, we wanted our players to broaden their perspectives, challenge their strengths, and set their own goals. Through this tour, the players were given the opportunity to learn and experience the quality, strength, speed, and intensity at the world level. Communication skills are vital during the activities held overseas, and the tour gave the players a priceless experience to learn the importance of it. The players are now realising the significance of their daily activities held at the academy, while also learning the need to work even harder to heighten their overall quality. We would like to thank each club for allowing their players to attend this tour, despite intervening with their team schedule. We would also like to thank the staffs of FC Ingolstadt for all of their support. Thank you very much.
Players' Comments
KOBA Kaito (9th Class/Kagoshima United FC U-15 Hioki)
Danube River flows through our tour destination at Ingolstadt. The city was filled with large buildings and covered with vivid colours, giving us a sense of history and tradition. There were numbers of trash cans located by the streets, which prevents people from littering, and I was extremely impressed by the cleanness of the city.
The opponents I faced in Germany were bigger and stronger than me, and I had to really think of ways to break down their defence. By mentally preparing myself for the next option, I was able to make plays facing forward. However, the shots that were effective in Japan were not effective here. Instead of just aiming for the four corners, I must be able to shoot the ball with more power.
In terms of my daily routine, I have been focusing on eating more food. In order to keep that routine in Germany, I told myself to eat more than two pieces of bread along with pasta and meat at each meal. During this tour, we were given the opportunity to hear stories from Mr. SAKAI Goson, and he has taught us the importance to manage our daily diet. I have been a big fan of fried food and fatty food, but I was able to follow a strict diet during this tour.
Mr. Sakai has taught us, "In order to play football overseas, you must challenge yourself in every aspect." I will keep his words to my heart and continue to work hard in Japan, so that I can become a better player.
YOSHIMURA Reo (9th Class/FC ARARA Kagoshima U-15)
The weather in Germany was so much hotter than we expected, and it was also very dry. I knew hydration was going to be an essential part of our routine, so I calculated how much water I would need at each training session and prepared myself with enough water each day. However, I lost more weight than usual after our first match, and it made me realise that I was not drinking enough water. Following that match, I started to prepare myself with extra loads of water, which helped me maintain my body weight and showcase a better performance on the pitch.
During the match, my decision makings were not great when I was playing as a defensive midfielder, which slowed down my plays and caused me to lose possession of the ball. In order to limit the German players from taking advantage of their physical strengths, I focused on keeping my plays simple and passing the ball with more pace, which ultimately helped me possess the ball better.
Once we return to Japan, we must focus on playing with more speed and intensity to fight for the ball, and work to heighten the quality of our attacks.