NEWS
JFA Academy Kumamoto Uki U-15 conduct tour to Thailand
06 August 2018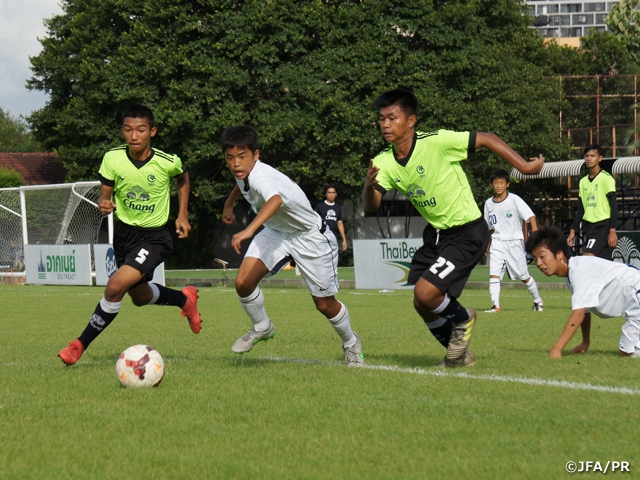 In order to develop players who can thrive at the world level, JFA Academy has emphasised not only the football aspect, but the humanity aspect to nurture individuals who can lead the society. JFA Academy Kumamoto Uki normally conduct their activities during the weekends, but utilising the summer break, 18 players from the U-15 team have travelled to Thailand from Monday 23 to Saturday 28 July. During their stay, the team conducted four training matches. Under the theme, "In order to understand the world standard, let's first understand Asia," ninth graders of JFA Academy Kumamoto Uki have been conducting tours abroad each summer, and this year their destination was Thailand.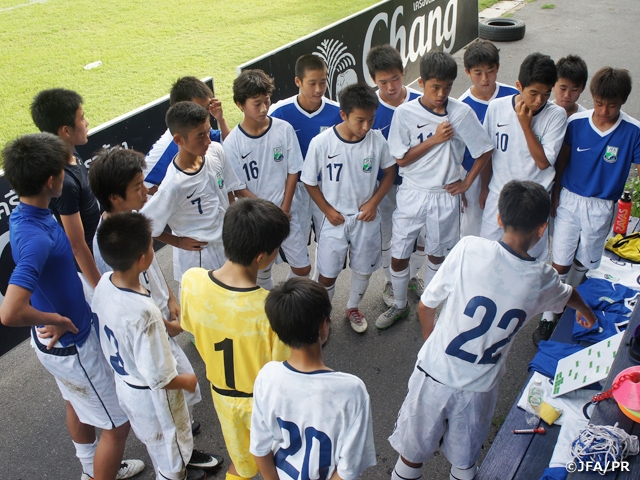 Match Results
| | |
| --- | --- |
| Tue. 24 July | JFA Academy Kumamoto Uki U-15 3-1 CHANG Jr U-15 |
| Wed. 25 July | JFA Academy Kumamoto Uki U-15 4-0 PATTAYA UNITED U-16 |
| Thu. 26 July | JFA Academy Kumamoto Uki U-15 7-0 BANKOK UNITED U-15 |
| Fri. 27 July | JFA Academy Kumamoto Uki U-15 4-1 CHONBURI FC U-15 |
Coach's Comment
MIYAGAWA Shinichi, Coach (JFA Academy Kumamoto Uki U-15)
By putting yourself in extraordinary situations, we can objectively view our daily routines and broaden our perspectives. For most players, this was their first trip outside the country, so they looked perplexed at first, but just as the academy's philosophy suggest, they gradually found their confidence as time went by. This tour gave them the opportunity to realise that, in order to accomplish something overseas, they must work towards it from a daily basis. I hope this tour has given our players a taste of what it's like to play football overseas.
Players' Comments
KONISHI Ryoma (8th Class/V-Varen Nagasaki U-15)
In order to win all four matches at this Thailand tour, I focused on being vocal and tried to be a positive influence for the team. In defence, the Thai players were bigger and stronger, so I had to think of ways to win the ball without making contact. We kept talking to each other to limit the pass courses while also creating numerical advantages in defence. The opponents showed great speed, so we made sure that the furthest person from the goal was challenging the ball. In offence, I focused on making plays while I was on the move, and I was incredibly happy when I was able to score a goal.
Off the pitch, we visited Wat Pho and Wat Arun. Wat Arun was a huge temple that looked like the pyramid and the buildings were very colourful and glorious. There was a giant golden reclining buddha at Wat Pho and the pictures located at the temple showed the history of Thai Buddhism, while the beautiful patterns that decorated the temple showcased the incredible craftsmanship of the people who built the temple. I was surprised by the number of Buddha figures located all around the temple. Each Buddha had a different facial expression, and I learned that you pray towards different Buddha depending on the day of the week.
On the third night, we watched a match of the Thailand FA Cup. In one of the goal scenes, the players exploded their emotions and it really made us feel their strong commitment towards the match. The defensive efforts showcased by the players were also outstanding, as both teams played with great intensity to win the ball. There were few tall foreign players, but regardless of their physiques, each player utilised their speed and technique to leave a strong impression. Through this Thailand tour, I learned the difficulties to manage myself and the team, both on and off the pitch. I hope to reflect on this experience and implement what I have learned into my daily routines.
MORITA Daichi (8th Class/FCK MARRY GOLD AMAKUSA U15)
In terms of football, my goal was to stay eager to score goals. In order to achieve that goal, I had to utilise my dribbling skills, which I consider as my biggest strength. However, I insisted too much on trying to dribble the ball and ended up conceding close opportunities to our opponent. It was a great learning experience that allowed me to realise where I should and should not attempt to take on the opponent with my dribbles. I was also able to learn that my dribbles were effective when I was carrying forward momentum, but not so effective when I slowed down. Some of the areas that were effective in Japan turned out to be ineffective in Thailand. Our opponent showed great physical strengths and their physiques allowed them to reach longer to intercept the ball. In order to maximise the effectiveness of my dribbles, I must heighten the quality of my plays and make better decisions. In defence, I felt like I was not showing enough intensity to fight for the loose ball. I had the tendency to hesitate when the opponent was carrying momentum, because I was scared of making mistakes against a stronger opponent. That is an aspect I must improve on, as I must try to win the ball before the opponent picks up momentum, or even before they face forward.
In terms of our daily routine, I wanted to learn as much as possible through this tour abroad. However, I got off to a bad start because I lost my appetite due to the unique smell and spices of the local cuisine. I regret the fact that I ended up eating the snacks I brought from Japan. I lost weight and also performed poorly in our match played on the following day. This incident made me determined to do what ever it takes to showcase a better performance on the pitch, and after making efforts to get used to the local food, I ended up loving Thai food by the final day.
I was not confident with my ability to speak Thai, so I avoided holding conversations at first, but once I started making the efforts to communicate, the local people warmly greeted back and it gave me the confidence to communicate in Thai. People in Thailand are always smiling, and they bring their palms together when greeting others, and it made me realise the importance to greet others with a smile. This tour to Thailand made me realise that I need to be more committed towards my goal. I will continue to work hard so that I can act with confidence whenever and wherever I am.