NEWS
Futsal Japan National Team – the day before quarterfinal against Thailand
07 May 2014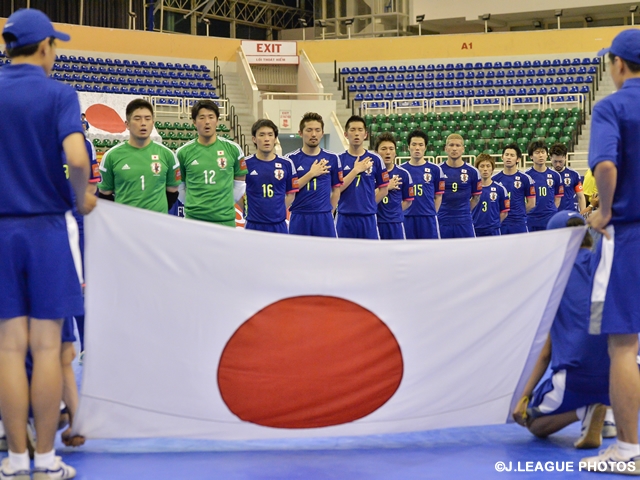 The day after the victory over Kyrgyzstan, the players took some much needed rest and recuperation after the group stage before the coming match against Thailand. They went for a walk and did some stretching in the morning, and spent some time shopping in the afternoon.
The specific rules for the knockout stage of this competition were checked at the managers' meeting this morning. If the match ends in a draw after 40 minutes, it goes into overtime for another 10 minutes. Penalties will be taken to determine the winner, if necessary. The atmosphere was tense, as losing a match at this stage means going home.
The quarterfinal against Thailand - a rematch of the last championship final - kicks off at local time 15:30 on 7 May.
Comments From Players
NAKAMURA Yusuke(Agleymina Hamamatsu)
The knockout stage will begin tomorrow. As losing means the end of the competition for us, we will focus fully on the coming match as a team. Every supporter and every cheer at the match gives us strength, especially when times are tough. So please, give as much support and encouragement as you can - at the match and from Japan.
SEKIGUCHI Yushi(Espolada Hokkaido)
I've been watching my teammates from the bench throughout the group stage. I watched every movement in detail, learning a lot and giving me plenty to think about. The quarterfinal will be a tough fight, but we will do our best to be back-to-back champions.
MORIOKA Kaoru(Nagoya Oceans)
Though we survived the group stage, the quarterfinal will be a difficult match, as Thailand are the favourites. I will play every match as if it is the final. Personally, I've been getting myself in shape through the group stage. So I do hope I can lead the team to triumph, by assisting or scoring.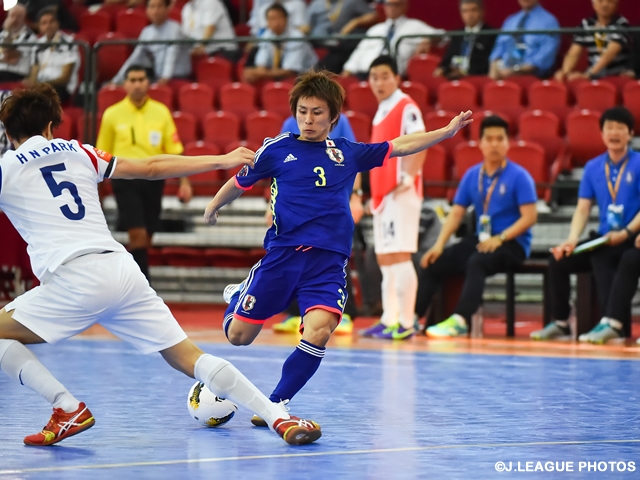 Schedule
AFC Futsal Championship Vietnam 2014
Thu. 1 May
12 - 0
Group Stage 1st leg
vs. Korea National Futsal Team
(Ton Duc Thang University Stadium)
LIVE
NHK BS1 Thu. 1 May 17:40 - 17:49
NHK BS1(Sub ch102) Thu. 1 May 17:49 - 20:00

Video Recording
TV Asahi Channel 2 Fri. 2 May 21:00 - 23:00
TV Asahi Channel 2 Tue. 13 May 17:00 - 19:00
Sat. 3 May
1 - 2
Group Stage
vs. Uzbekistan National Futsal Team
(Phu Tho Stadium)
Video Recording
NHK BS1 Sun. 4 May 08:00 - 09:50
TV Asahi Channel 2 Sun. 4 May 20:30 - 22:30
TV Asahi Channel 2 Wed. 14 May 17:00 - 19:00
Mon. 5 May
4 - 0
Group Stage
vs. Kirghiz National Futsal Team
(Phu Tho Stadium
LIVE
NHK BS1 Mon 5 May 20:15 - 21:49
NHK BS1(Sub ch102) 5/5(月) 21:49 - 22:30

Video Recording
TV Asahi Channel 2 Tue. 6 May 21:00 - 23:00
TV Asahi Channel 2 Thu. 15 May 17:00 - 19:0
Wed. 7 May
15:30
Quarter Final
vs Thailand National Futsal Team
(Ton Duc Thang University Stadium)
 
Thu. 8 May
15:30
18:30
Semifinal
(Phu Tho Stadium)
 
Sat. 10 May
16:00
Third/Fourth-Place Match
(Phu Tho Stadium)
 
19:00
Final
(Phu Tho Stadium)
 
※All match time is local time.
※The time for TV broadcasting is Japan time。