NEWS
Japan edge Thailand, roll into AFC Futsal Championship semifinals
08 May 2014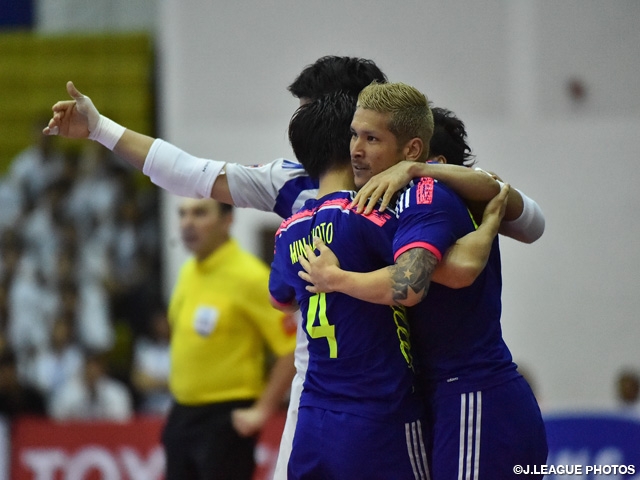 AFC Futsal Championship Vietnam 2014
Wed, 7 May 2014 15:30Kick Off 20 minutes half
Ton Duc Thang University Stadium(Vietnam/Ho Chi Minh)
Japan National Futsal Team 3-2(1stHalf 2-1、2ndHalf 1-1) Thailand National Futsal Team
Scores
7min NIBUYA Kazuhiro(Japan National Futsal Team)
14min OSODO Nobuya(Japan National Futsal Team)
20min Goal Against(Thailand National Futsal Team)
25min Goal Against(Thailand National Futsal Team)
36min MORIOKA Kaoru(Japan National Futsal Team)
Starters
GK:FUJIWARA Jun
FP:INABA Kotaro、HOSHI Shota、TAKITA Manabu、YOSHIKAWA Tomoki
Substitutes
GK:KAWAHARA Hisamitsu
FP:MORIOKA Kaoru、OSODO Nobuya、SATO Toru、NISHITANI Ryosuke、WATANABE Tomoaki、MINAMOTO Akira、NIBUYA Kazuhiro、UCHIMURA Shunta
Players not listed on the game roster
GK:SEKIGUCHI Yushi
FP:NAKAMURA Yusuke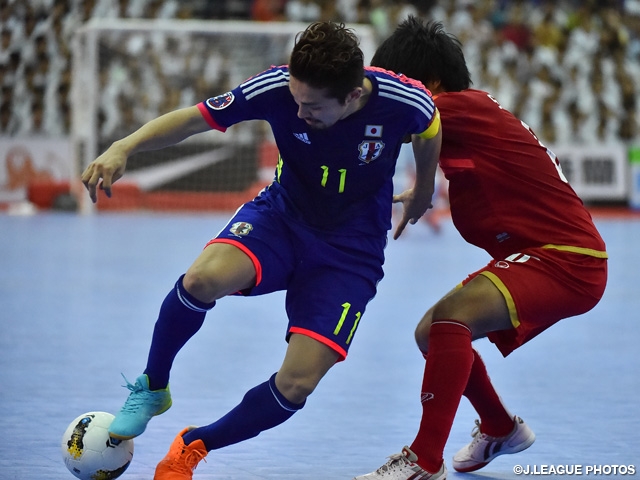 Match Report
The Japan national team, who qualified through their group as the runner-ups, played their quarterfinal match against Thailand, with whom Japan competed with in the final of the previous tournament.
Team Japan had an analytic meeting of Thailand before their lunch time, preparing for the game.
The match began with the kickoff of Thailand. As in their previous contests, Japan grabbed the momentum with their defense in the front. Offensively, they created chances taking advantage of one-on-one situations in the Ala positions, but they would not be able to score.
On 7th minute, Nibuya netted a sliding goal on a cross of Minamoto from his right, breaking the deadlock tie. With that score, Japan earned a pace and added another goal as Osodo, who robbed the ball off an opposing player and brought it before the goal by himself, made a shot to give him team a 2-0 lead.
But Japan committed their sixth foul to give Thailand their second penalty kick, which the opponents made, and entered halftime with a 2-1 score.
Thailand, who got some momentum back with their goal before halftime, coming aggressive on Japan both offensively and defensively from the early second half. Japan managed to handle their fierce attacks, yet their defense got off-balance by Thailand, allowing them to equal the contest on 25th minute.
Japan, however, did not get let down by that and quickly re-established themselves from defense, and regained the momentum by possessing the ball. And then, Morioka fired a shot for a go-ahead score in the 36th minute.
Thailand then came on with power plays, but Japan survived their surge and finished the game ahead 3-2, clinching the ticket for the semifinals for the 13th straight time in the tourney.
Comments From Head Coach
Miguel Rodrigo, Head Coach
It was a very tight game and a contest that eight side could have won it. But we had more shots than them. Thailand were lowering their defense until about the 15-meter line, trying to have counter attacks by seducing us. We kept our attacks even after we took the lead by two goals, but our shot chances decreased and it gave them some energy and allowed them to take the momentum. We had hard times with that pace until about the 7th minute in the second half, but we had a great save by our goalkeeper Fujiwara and retrieved the momentum back to us and scored the third goal. We first played in a 2-2 formation against their power plays but did not work out, so we made it back to a 1-2-1 and were abele to preserve the lead until the final whistle. This game ended up being something that we were given a big mental test, but successfully overcame it. We have our semifinal match tomorrow against Kuwait, led by a great head coach. They possess a variety of tactics and a lot of offensive options. We would like to get the momentum in our hands by being aware of our defensive plays and do our best to post the victory in the end.
Comments From Players
HOSHI Shota(Bardral Urayasu Futbol Sala)
It was a very tough game, but we were able to earn the victory taking advantage of our past experiences. Our mood on this team is getting better as guys keep supporting their teammates and encouraging them, no matter how bad of a situation they are in. I believe that if we keep believing in ourselves with that mood, we will be able to grab the title. We have another game tomorrow, so we want to rest well for that.
NIBUYA Kazuhiro(Vasagey Oita)
We gave up two goals after we built the lead of two. We allowed Uzbekistan to come from behind and lost in the group stage. But in this game, we were still having fun even after we were tied, keeping our composure, and could still win it. We have our semifinal game tomorrow, so we want to make some growth, playing as the team, and earn another win!
FUJIWARA Jun(Bardral Urayasu Futbol Sala)
It was a tough game but we came on top. It was a game that either team could have won it, but we ended up being the winners. That is a prof of our growth. But at the same time, we have not achieved anything yet. Our goal is to go to the final and play against Iran. In order to do that, we must win tomorrow's game against Kuwait. We have received so much support here and from Japan. We would like to become as one and win it.
OSODO Nobuya(Vasagey Oita)
We played against Thailand, who were very tough opponents. It was a game in the knock-out stage, in which if you lose, you are gone. Really, we were forced to play hard until the very end, but we were able to come out on top because we played as the team. We want to enjoy the tough experiences and pressure in these games, and channel them into some power for us. We will play as hard as we could in tomorrow's game while we have the emotions of a lot of people in our chests.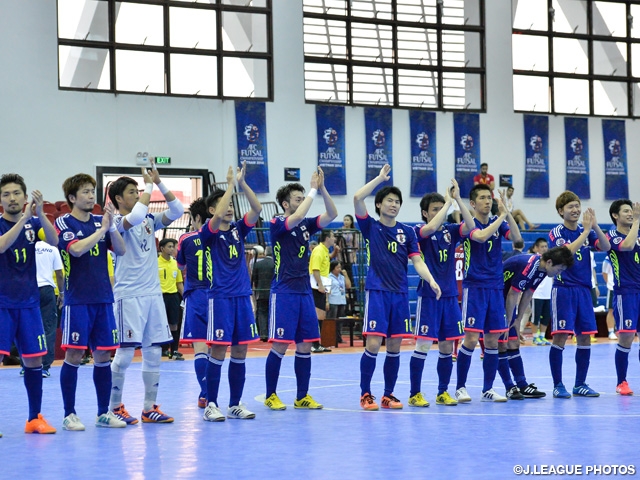 Schedule
AFC Futsal Championship Vietnam 2014
Thu. 1 May
12 - 0
Group Stage 1st leg
vs. Korea National Futsal Team
(Ton Duc Thang University Stadium)
LIVE
NHK BS1 Thu. 1 May 17:40 - 17:49
NHK BS1(Sub ch102) Thu. 1 May 17:49 - 20:00

Video Recording
TV Asahi Channel 2 Fri. 2 May 21:00 - 23:00
TV Asahi Channel 2 Tue. 13 May 17:00 - 19:00
Sat. 3 May
1 - 2
Group Stage
vs. Uzbekistan National Futsal Team
(Phu Tho Stadium)
Video Recording
NHK BS1 Sun. 4 May 08:00 - 09:50
TV Asahi Channel 2 Sun. 4 May 20:30 - 22:30
TV Asahi Channel 2 Wed. 14 May 17:00 - 19:00
Mon. 5 May
4 - 0
Group Stage
vs. Kirghiz National Futsal Team
(Phu Tho Stadium
LIVE
NHK BS1 Mon 5 May 20:15 - 21:49
NHK BS1(Sub ch102) 5/5(月) 21:49 - 22:30

Video Recording
TV Asahi Channel 2 Tue. 6 May 21:00 - 23:00
TV Asahi Channel 2 Thu. 15 May 17:00 - 19:0
Wed. 7 May
3 - 2
Quarter Final
vs Thailand National Futsal Team
(Ton Duc Thang University Stadium)
LIVE
NHK BS1 Wed. 7 May 17:15 - 17:49
NHK BS1(Sub ch102) Wed. 7 May 17:49 - 19:30
TV Asahi Channel 2 Wed. 7 May 17:25 - 20:00

Video Recording
TV Asahi Channel 2 Thu. 8 May 21:00 - 23:00
TV Asahi Channel 2 Fri. 16 May 17:00 - 19:00
Thu. 8 May
15:30
18:30
Semifinal
(Phu Tho Stadium)
LIVE
NHK BS1 Thu. 8 May 17:15 - 17:49
NHK BS1(Sub ch102)Thu. 8 May 17:49 - 19:30
TV Asahi Channel 1 Thu. 8 May 17:25 - 20:00
Sat. 10 May
16:00
Third/Fourth-Place Match
(Phu Tho Stadium)
 
19:00
Final
(Phu Tho Stadium)
 
※All match time is local time.
※The time for TV broadcasting is Japan time