NEWS
Cherishing the power of positive values and initiatives - Elimination of Violence in Football Vol.109
31 August 2022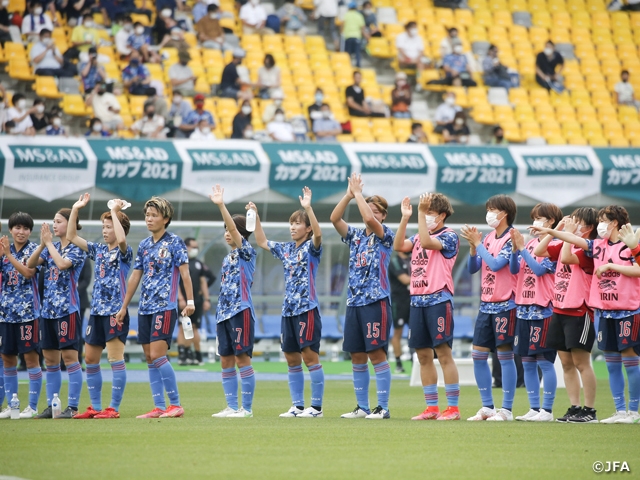 In order to realise a healthy football environment free of violence, abusive language, and harassment, JFA has taken various initiatives, led by the Respect/Fair play Committee, to ensure that children can play football happily, safely and with peace of mind. At the Respect Symposium to be held on Saturday 24 September, we would like to share one such initiative, the Safeguarding Policy, with everybody and provide an opportunity to think about how we can allow our children to reach their full potential.
Here we would like to share the report of Chair IMAI Junko of the JFA Respect/Fair play Committee, from the May issue of Technical News Vol. 109.
---
Eliminating negativity and promoting positivity at the same time
I have been appointed Chair of the JFA Respect/Fair play Committee in March 2022 and I look forward to working with everyone.
The Respect Project, which began in 2008, has continued to implement and disseminate various initiatives that are important for the Japanese football community. From my own experience of accompanying the Japan Women's National Team, I have strongly felt that Japan has been regarded as a highly respectful team at each age category, which helps to build a supportive atmosphere for the team as the tournament progresses.
Although we never made deliberate efforts to win the award, we often won the championship and the fair play award at the same time on many occasions. This is not necessarily something that only the national teams are committed to but is something that is firmly practised through day-to-day activities across the country. Therefore, we have always thought that we should share our joy with those involved in football across the country. This is, of course, not limited to women's football.
The SAMURAI BLUE (Japan National Team) cleaning up the dressing room and leaving a thank you note that read "Spasibo" (Russian for "Thank you") after being eliminated at the Round of 16 at the 2018 FIFA World Cup Russia™, and the Japanese supporters cleaning up the venue after the match, are some of the virtues of the Japanese football community that needs to be cherished and passed down.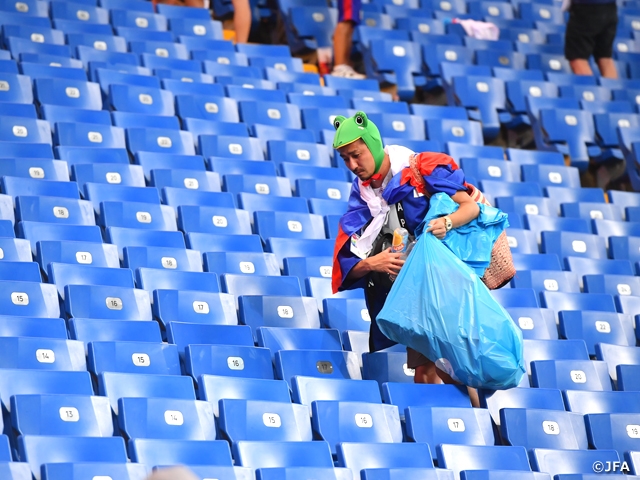 From the 2018 FIFA World Cup Russia™
Meanwhile, we have been working since 2013 to eradicate violence and verbal abuse in football, which is a major challenge. Violence and verbal abuse by coaches, disputes between teammates, and objections to referees, are just some of the examples of what needs to be addressed in the Japanese football community as a whole. Everyone involved in football must step up to take responsibility and work with a sense of being a stakeholder.
We need to work on a number of fronts, such as establishing consultation services to eradicate violence and other forms of violence, and appointing "Welfare Officers," but must first work to ensure that these initiatives reach the grassroots of our community. If these problems develop into something serious, they are very difficult to resolve and in many cases impossible to restore the situation back to normal. It would be ideal if everyone could communicate their discomfort before it becomes a bigger issue, but this is not easy to do. That is why we are working to place a Welfare Officer for each club.
We want to eliminate negativity, while simultaneously promoting positivity. We also want to cherish the power of positive values and initiatives.
The importance of communicating and thinking with children
In 2021, as part of JFA's centenary celebrations, the "JFA Children's Conference" was held to provide a platform to think about the future of Japanese football for the next 100 years. Three online meetings were held for each of the U-12, U-15 and U-18 categories. In addition to the topics of "what I like about football" and "how to make football a better sport," the participants learned about the 100-year history of Japanese football, and ways to spread the spirit of respect and fair play. As a result, the participants expressed their desire to hold more children's conferences and to spread respect. While discussing the topic of "how to make football a better sport," they shared their willingness to end "verbal abuse," "bullying," and "rough plays." The conference reminded us once again of the possibilities and importance of communicating with children and thinking with them.
In the "JFA Safeguarding Policy" compiled last year, we set out to "listen to the children's voices and engage in conversations with them." In terms of safeguarding, the importance of listening to the children, informing them, and getting them to think, rather than just assuming that things are supposed to be in a certain way, has become common among the football communities around the world. We would like to see this notion being implemented across the country, and we would like to provide specific examples on how to do this.
【Reporter】IMAI Junko (Chair of JFA Respect/Fair play Committee)
*This article was originally posted on Japan Football Association "Technical News," June 2022 edition.