NEWS
S-Licence Coaching Course 2020 Module 5/Final Exam Participant's Report Vol. 15
25 December 2020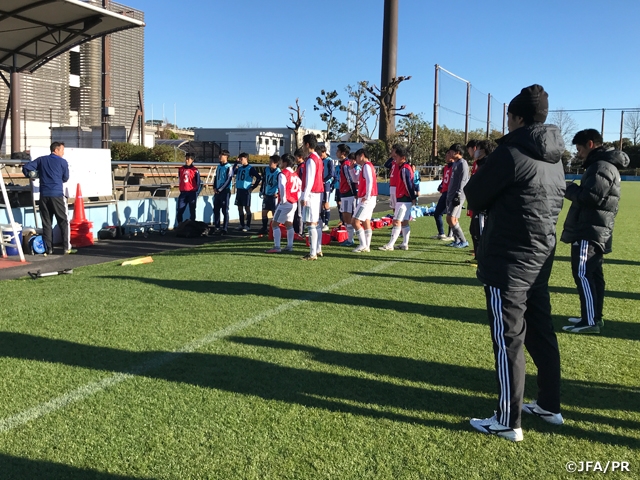 After conducting online lectures and onsite courses for three and a half months, the S-Licence Coaching Course 2020 that started on 29 August came to an end. As usual, SmartAmp tests were conducted to all participants before arriving at Shimizu National Training Centre (J-STEP).
The final exam was held under a tense atmosphere as each participant conducted their coaching sessions with hopes to improve the Meikai University players, who had been supporting the course since September.
With the deep understanding and cooperation of all parties involved, the 2020 edition of the course, which was held under an unprecedented schedule and format due to the corona pandemic, was able to conclude the final exam without having anybody infected. From the bottom of our heart, thank you for all of your support.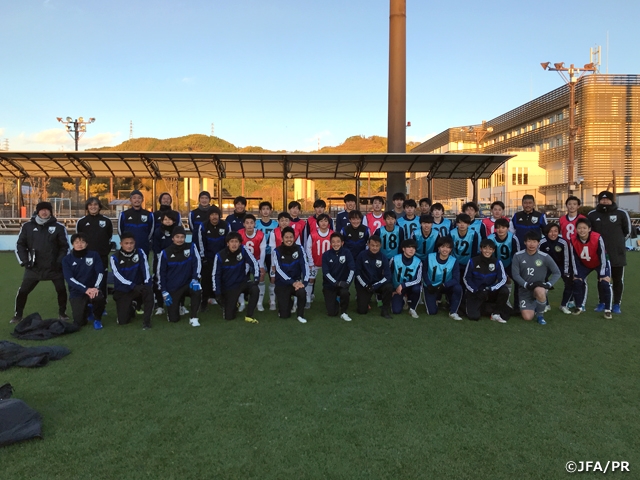 Module5 Final Exam
Duration: Mon. 14 - Thu. 17 December
| | |
| --- | --- |
| Mon. 14 December | Physical Check-up, Guidance, Conditioning check |
| Tue. 15 December | Coaching Session |
| Wed. 16 December | Coaching Session |
| Thu. 17 December | Closing ceremony, Personal interview |
The S-Licence Coaching Course 2021 is scheduled to start in April.
Comment
Coach WATARI Takashi (Okayama Yunogo Belle)
On 14 December, we arrived at J-STEP after conducting the SmartAmp tests at YUME Field. The final exam started following the guidance held in the afternoon. The participants showed everything we have learned at this course to finally reach the closing ceremony. Although this course was originally scheduled to start in spring, the schedule was postponed entirely due to the effect of COVID-19. Now looking back, we have spent a very special and productive time at this course. We worried if this course was ever going to take place. We saw the pandemic viciously spread through the nation and environments surrounding football were being shut down. Despite all of our worries, with the support of so many people, the course started in August.
When we were assembled for the first time, it really made us feel that this was actually going to happen. Unlike the previous years, many of the lectures were going to be held online, which created a new barrier we had to overcome. However, the online platform allowed lecturers from other countries to hold classes for us, which was one of the biggest upsides of this new format. The ability to convey messages and express our feelings online is a new skillset we must acquire as we enter the new normal, and this course allowed us to work on those qualities. The lecturers have also made the adjustments to the online courses, as they used their creativity to conduct interesting classes.
SmartAmp tests were conducted every time we gather, and the equipment were being disinfected each time we use them, leaving tremendous amount of work for the staffs. This year's course required more people's help than usual, and we are thankful for all the people involved. The course also made us realise how powerless we were, but it gave us the opportunity to learn many new findings. My peers have shared their opinions to shed light on different perspectives, which takes courage at times. The group works have made us realise the power of teamwork, as it gave us ideas and strengths to achieve a common goal. I am truly thankful to be given the opportunity to participate in this course.
It was also great that we managed to conclude the course without having anyone infected by COVID-19 or injure themselves. At the closing ceremony, we were told that the acquisition of the S-Licence is not a goal, but rather a starting point. I will keep those words to my heart and continue to work with the awareness and responsibility as a coach. I will also continue with my education as a coach and strive to become a coach that can contribute to the growth of the Japanese football community.
I would like to thank all the instructors, lecturers, and staffs for holding this course under such unprecedented times. I would also like to express my gratitude towards the players and students who helped us conduct our training sessions. 2020 has really taught us not to take for granted of our normal lives. This was certainly a priceless experience for us, and I am thankful towards football more than ever. Thank you very much.