NEWS
U-20 Japan National Team to play Israel for a place in the Round of 16 - FIFA U-20 World Cup Argentina 2023™
27 May 2023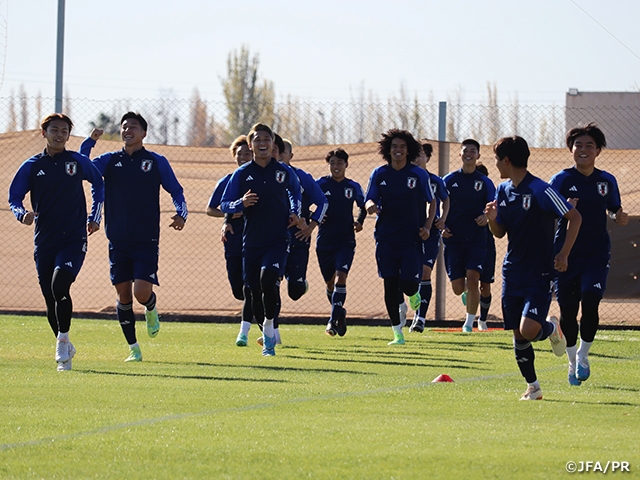 The U-20 Japan National Team held a training session on Friday 26 May, one day before their third group stage match against the U-20 Israel National Team at the FIFA U-20 World Cup Argentina 2023™.
With the matches being played every three days in the group stage, the team travelled to Mendoza, the site of their next match, on Thursday 25, where they held a light training session before checking into their hotel. The training session held on Friday was closed to the media, except for the first 15 minutes where the team went through their warmup routines.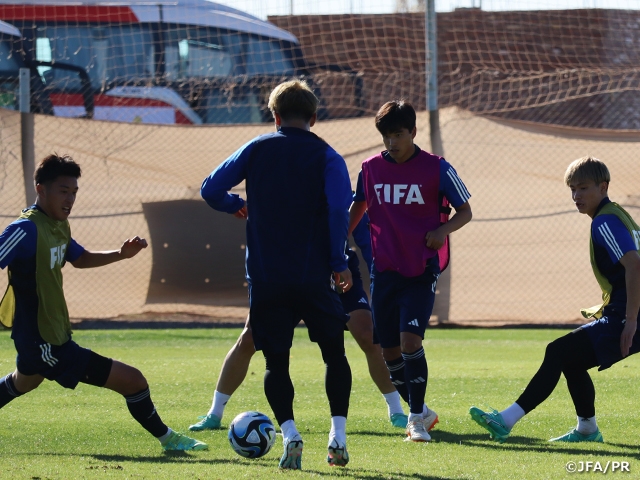 "We are fatigued from the back-to-back matches, but we are ready to play," said FUKUI Taichi (FC Bayern Munich), who is among the 10 players who started in Japan's first two matches, as the midfielder continued to share his aspirations, "Israel is an attack-minded team with many talented players. They will certainly try to control the ball possession against us. I will do everything in my power to contribute to the team's win. I want to lead the team to victory with my goal."
With three points, Japan is currently second in Group C behind Colombia. Japan can clinch a top two finish and a place in the knockout stage with a win over Israel. In case of a draw or a loss, Japan's fate will depend on the results of other fixtures including the other Group C match between Colombia and Senegal.
"The players are developing through each and every match we play," said Head Coach TOGASHI Koichi. The U-20 Japan National Team's match against the U-20 Israel National Team will kick off at 18:00 on Saturday 27 May (6:00 on Sunday 28 May, Japan time).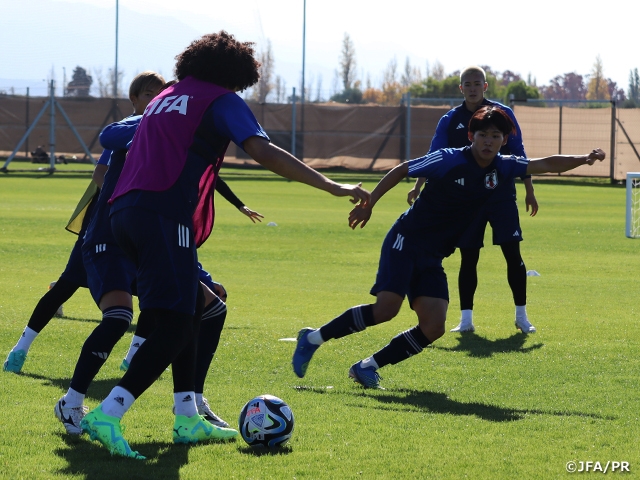 Coach and Players' Comments
TOGASHI Koichi, Head Coach of U-20 Japan National Team
The players are showing signs of fatigue from the travel, but are fully focused on the match, both on and off the pitch. Israel is a very strong team, who is capable of playing both a technical and collective game. We share a similar playing style, so we are expecting a very tight match that requires a lot of patience. I am sure everyone is expecting I think everyone is looking at us with high expectations, and we also have high expectations for ourselves. We hope to showcase a performance that can exceed our limits.
DF #2 MATSUDA Hayate (Mito HollyHock)
Before our next game, we need to work on our individual mindset because I believe that was what set us apart from Colombia the most. We kept on encouraging each other after the game, and we are now fully focused on the match in front of us. The fact that we were able to capitalise on the few opportunities we had gives us confidence, so we hope to make the most of the experience in our future matches.
MF #8 SANO Kodai (Fagiano Okayama)
We are tired from the two matches, but we are totally ready for the next one. Compared to our first two opponents, Israel is a completely different type of team. Since they are a well-organized team, we must all plan to win the second ball and be aggressive in our pursuit of goals. We will work hard to prepare ourselves because getting through is what matters most.
MF #17 MATSUMURA Kosuke (Hosei University)
My objective was clear when I entered the match against Colombia as a substitute with the team down by a goal. The opponents' intensity level was very high, and we could feel their strong determination for the match. Personally, I wanted to be more involved with the ball, so I hope to be more involved in our next match if I am given the opportunity to play.
FIFA U-20 World Cup Argentina 2023™
Tournament dates: Sat. 20 May - Sun. 11 June 2023
Tournament Information