Museum Map
1F Upper Stand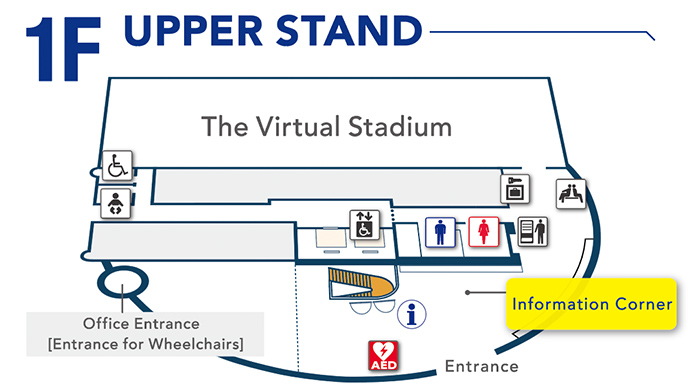 Virtual Stadium
The facility is available for futsal competitions, seminar and other events.
B1 Lower Stand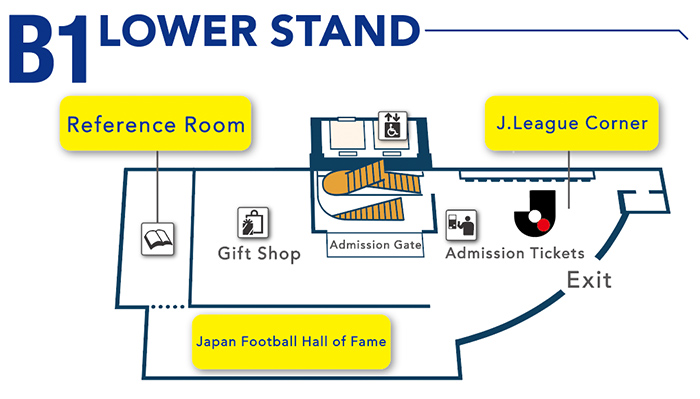 Reference Room

Reference Room offers various documents that the Museum owns. Documents search via computers is available. Please schedule an appointment in advance.

Japan Football Hall of Fame
"Japan Football Hall of Fame" exhibitions are placed on this floor. You can enjoy footsteps and legacies of legends which have been passed on from generation to generation.

J.League Corner
J.League Corner is a booth with valuable items from all clubs in the league. If your visit is on a game day, you can enjoy live J.League matches on the three televisions above the booth.
Shop
Museum Shop at the basement sells Museum's original goods, official Japan National Team and J.League gears, and toto lottery.
B2 Pitch (Paid Floor)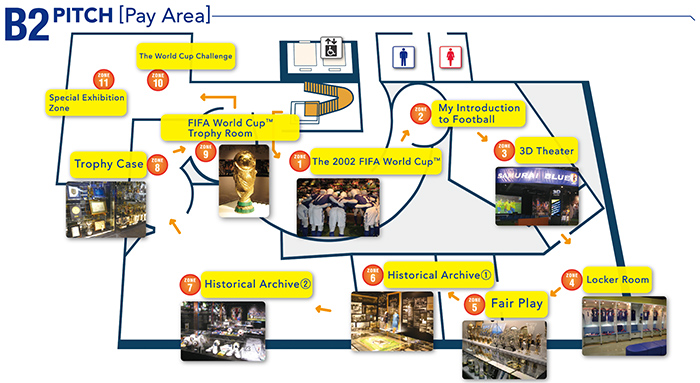 ZONE1 2002 FIFA World Cup™
Abundant video recordings and statistical records restage the dramas of 2002 FIFA World CupTM such as the final on 30 June 2002.
See more details here

ZONE2 My introduction to Football
You can see episodes and pictures of the days when world's top players met football for the first time.

ZONE3 3D Theater
You can enjoy exciting, 3D football videos on a 150-inch screen.

ZONE4 Locker Room
The locker room of the 2002 FIFA World Cup™ is replicated. Japan National Team's past player kits and exhibits are updated for every tournament and every match.

ZONE5 Fair Play
The Fair Play Awards are Japanese football's proud assets. Enjoy the evidence Japanese teams at each category have fought fair every time they had a match.
See more details here

ZONE6 ZONE7 History Archive
You can see the history of Japanese football from early days to present with rare items.
See more details here.

ZONE8 Trophy Case
Various trophies narrate the bright and glorious history.
See more details here.

ZONE9 FIFA World Cup™ Trophy Room
Your love for football leads Japan to the world champions. Hold the World Cup Trophy up high. See more details here
See more details here.

ZONE10 The World Cup Challenge

ZONE11 Special ExhibitionsCheck out exhibitions and events info here

Past player kits since the Berlin Olympics in 1936
See them all here