Greetings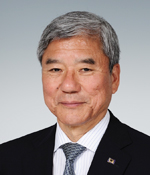 Memorial of the 2002 FIFA World Cup™, Japan Football Museum Director
DAINI Kuniya

Japanese football has had a number of great matches and touching dramas over 95 years of its history. The JAPAN FOOTBALL MUSEUM is a place to learn its history and tradition and to inherit them to the development of succeeding generations.

I am sure visitors can feel the spirit of Japanese football and the passion for its development from the precious literatures and items documents as well as achievements of our forerunners who laid the foundation of Japanese football.

Our museum has an array of emotional scenes such as the 2002 World Cup Korea/Japan and the wonderful performance by Nadeshiko Japan who gave a ray of hope to Japan in the devastation of the Great East Japan Earthquake back then.

Japan Football Association is about to mark the 100th anniversary and will seek to further enhance the collection and visitors' experience with our aim to become a museum for the sports in the future.

I hope many people from world football family will visit the museum and together build the future of our beautiful game.